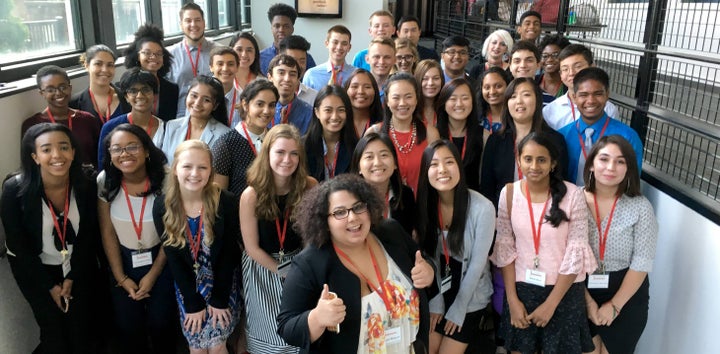 High school students from across the country gathered in Philadelphia this week to receive hands-on training in writing, reporting, photography, broadcast and online media from professional journalists. For the 17th year, the Asian American Journalists Association (AAJA) hosted its signature student program, JCamp, for 42 freshmen, sophomores and juniors from across the country.
"This is a critical time for the news industry to reach the next generation of journalists and that generation must represent the diversity of this country," said Arlene Notoro Morgan, special assistant to the dean for external affairs at Temple University's Klein College of Media and Communication.
"Over the years I have watched AAJA grow into an energetic teaching organization. The camp is a strong example of what every journalism organization should be doing to grow the next generation of young people who will represent the diversity that is the United States." said Morgan, adding that "the Klein College of Media and Communication at Temple is proud to support."
Since 2001 AAJA has impacted more than 650 students with a significant number going on to pursue journalism in college.
"When people ask me what makes JCamp so special, I point them to our students," said Arelis Hernandez, political reporter for The Washington Post and JCamp 2004 alumna.
"In its 17th year in operation, JCamp alumni have gone off to stellar careers and become leaders within their own communities and fields, taking to heart the one-on-one instruction on fact-finding, the deep social questions we explore and the sense of duty we promote to tell the truth even when it hurts," said Hernandez, this year's JCamp program director.
"Our mission is not limited to creating the next generation of media professionals, but of building civic leaders who value the freedom of the press, diversity and critical thinking," said Hernandez.
With more than 1,700 members throughout the United States and parts of Asia including Tokyo, Hong Kong, Seoul, Singapore, the Philippines and Bangladesh, AAJA is a professional and educational nonprofit organization. Encouraging Asian Americans and Pacific Islanders (AAPI) to enter the ranks of journalism, AAJA advocates for fair and accurate coverage and to increase the number of AAPI journalists and news managers in the industry.
As JCamp concluded, AAJA kicked off its 27th Annual National Convention - Rise & Revolutionize, the first time the gathering has been held in the City of Brotherly Love. The four-day convention features plenary sessions, panel workshops, seminars, a career fair & expo, scholarship & awards banquet and other activities with interactive discussions about industry and community issues. AAJA is also celebrating the 27th anniversary of its VOICES program, a leadership and mentoring program aimed to increase diversity in journalism by providing job-ready candidates for hiring media employers.
"It was an incredible experience today moderating the #AAJA17 Sports Task Force panel on the NBA: A Pioneer in Asian Appeal," said ESPN host and reporter, Cassidy Hubbarth.
Founded in 1981 by Los Angeles journalists, Tritia Toyota and Frank Kwan of KNBC-TV News; Bill Sing, Nancy Yoshihara and David Kishiyama of the Los Angeles Times; and Dwight Chuman of Rafu Shimpo, a local Japanese American newspaper, AAJA expanded into a national organization in 1985 with the establishment of local chapters.
"Being an AAJA member is all about paying it forward," said Tom Huang, Sunday & Enterprise editor at The Dallas Morning News and Ethics and Diversity Fellow at The Poynter Institute.
"I feel such a kinship with the organization; I've got to do whatever it takes to help other Asian American journalists who are coming up, who need guidance," said Huang who sits on AAJA's Governing Board.
"25 years after joining AAJA, I'm paying it forward. I've been mentoring younger journalists and helping them find their voice. And now I see many of them beginning to pay it forward, too. That's the way it should work," said Huang.
Asian American Journalists Association JCamp 2017 Participants
Nell Mari Barrios (Linn-Mar High School - Marion, IA) | Hadassah Betapudi (Evangelical Christian School - Memphis, TN) | Rafael Bitanga (Kodiak High School - Kodiak, AK) | Meseret Carver (Davis Senior High School - Davis, CA) | Andrew Cha (Bethesda-Chevy Chase High School - Bethesda, MD) | Claire Choi (Sidwell Friends School - Washington, DC) | James Chang (Horace Mann School - Bronx, NY) | Kaleb Clyde (Winslow High School - Winslow, AZ) | Savannah Collins (Mercy High School - Baltimore, MD) | Alyssa Dean (George County High School - Lucedale, MS) | Melat Eskender (Olentangy High School - Lewis Center, OH) | Josie Frazier (Hugo High School - Hugo, OK) | Ian Ginther (Leeton High School - Leeton, MO) | Kimberly Gonzalez (Godinez Fundamental High School - Santa Ana, CA) | Karishma Gottfried (Corvallis High School - Corvallis, OR) | Mekhi Granby (Science Leadership Academy - Philadelphia, PA) | Joseph Guzman (Souhegan High School - Amherst, NH) | Sho Sho Leigh Ho (Castilleja School - Palo Alto, CA) | Hareena Houston (Wilmington Friends School - Wilmington, DE) | Aurora Jorell (Bottineau High School - Bottineau, ND) | Zeynep Karadeniz (Yonkers High School - Yonkers, NY) | Ian Krupkin (Miami Beach Senior High School - Miami Beach, FL) | Nia Lartey (Penn Wood High School - Lansdowne, PA) | Kainoa Lowman (McClatchy High School - Sacramento, CA) | Michael Matlock (Life Learning Academy - San Francisco, CA) | Miah Miller (Jackson High School - Jackson, OH) | Ramona Park (Santa Fe High School - Santa Fe, NM) | Sibani Ram (Dubuque Senior High School - Dubuque, IA) | Sireesh Ramesh (Chattahoochee High School - Johns Creek, GA) | Omar Rashad (West Torrance High School - Torrance, CA) | Joytsana Sangroula (Freedom High School - South Riding, VA) | Udani Satarasinghe (McKinney High School - McKinney, TX) | Carter Schmidt (Colman-Egan High School - Colman, SD) | Dante Silva (Northville High School - Northville, MI) | Amanda Su (Dougherty Valley High School - San Ramon, CA) | Gregory Svirnovskiy (Marquette High School - Chesterfield, MO) | Alix Swann (Montgomery Blair High School - Silver Spring, MD) | Valerie Trapp (Trinity Preparatory School - Winter Park, FL) | Kelly Trinh (Prosper High School - Prosper, TX) | Katelyn Vue (North High School - North St. Paul, MN) | Lily Wickstrom (Eldorado High School - Albuquerque, NM) | Matteo Wong (Stuyvesant High School - New York, NY)
Asian American Journalists Association VOICES Class of 2017
Ala'a Ibrahim (Senior, The University of Texas at Austin) | Alexandra Yoon-Hendricks (Junior, UC Berkeley) | Aparna Verma (Freshman, Stanford University) | Austin Ma (Junior, UCLA) | Avery Yang (Sophomore, Emory University) | Ayah Galal (Junior, Quinnipiac University) | Janaki Chadha (Senior, Sarah Lawrence College) | Jasmine Espy (Senior, Wayne State University) | Kristine Tuzon (Senior, California State University, Fullerton) | Lawrence Wu (Senior, New York University) | Mehrunisa Khan (Sophomore, University of Michigan) | Nour Coudsi (Senior, University of California, Berkeley) | Peregrine Frissell (Recent Graduate, University of Montana) | Rachel Jude Ramirez (Junior, University of Portland) | Sheila Raghavendran (Junior, Indiana University)
Related
Popular in the Community