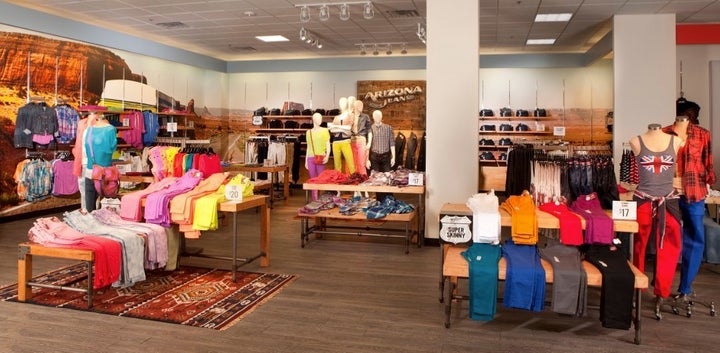 A hundred shops are better than one, according to J.C. Penney.
On Monday, the department store opened the first of its new stores within stores, a concept it calls the "shops," in New York City's Manhattan Mall. The retailer eventually plans to open 100 of these shops inside its stores. By 2015, it expects all of 1,100 J.C. Penney locations to be divvied into individual branded spaces, according to Ben Fay, J.C. Penney's new executive vice president of retail and store design. This fall, 683 of its stores will get shops.
"It's meant to be an immersive environment," said Fay while giving a tour of the concept on Monday. At the new Levi's men's shop, wooden tables with metal fixtures displayed cuts of jeans alongside an iPad for shoppers to browse. By the end of next year, J.C. Penney hopes to eliminate the need for cash registers by arming sales associates in these shops with iPads and other mobile devices, CEO Ron Johnson said at a conference last week.
The move is J.C. Penney's latest attempt to salvage a rebrand that has largely flopped. In May, the company's stock price plummeted after it announced that sales at stores open at least a year had declined 18.9 percent in the first few months of Johnson's tenure. Earlier this month, J.C. Penney said it was cutting 350 jobs from its headquarters. It is not yet clear whether cashier jobs will be eliminated alongside the cash registers in the store renovations.
Levi Strauss & Co., i Jeans by Buffalo and Arizona Jeans were the first brands to debut as shops on Monday. Soon, edgier brands like Nanette Lepore and Michael Graves will get spaces.
Ron Johnson, who left Apple to become J.C. Penney's CEO in November, said he hopes customizing 100 unique shopping experiences will help the retailler attract customers beyond frumpy moms on a budget, its long-time demographic. For years, J.C. Penney neglected building a brand in favor of pushing discounts, a strategy that Johnson overturned this spring by eliminating coupons and sales in favor of consistently low prices.
So far, Johnson's plan has alienated more shoppers than it has attracted. Some analysts have said that Johnson and his team tried to reinvent J.C. Penney's image before its stores evolved. Others speculated that J.C. Penney's loyal small-town customers had been put off by hipper marketing.
At the tour on Monday, Fay talked about the company's inspiration for the new shop for Arizona Jeans, a wholly owned clothing brand. "We imagined a couple kids taking a VW bus on a cross country trip and making a stop in Arizona," he said, pointing to orange desert wallpaper and a Navajo rug.
Suppliers will work with J.C. Penney to train employees and design the individual shops. In the case of some larger shops, the supplier may contribute to the costs of building them, Fay said. Shops will come in three different sizes -- above 1,400 square feet for a large "store" like Levi's, above 750 for a "shop," and under 750 for a "boutique."
"J.C. Penney is trying to borrow some equity from brands," said Stephen Hoch, a professor of marketing at the University of Pennsylvania Wharton School of business. "The question becomes how do you coordinate a hundred different experiences?"
At J.C. Penney's MNG by Mango and Sephora shops, two brands with which it partnered before Johnson was hired, shopping experiences are distinct from the rest of the store. At the Manhattan Mall location, MNG by Mango boasts a wood floor, low hanging-chandeliers and a custom soundtrack. The new shops that opened Monday were less unique. Like the rest of the department store, the Levi's, Arizona Jeans and i Jeans by Buffalo shops all had generic gray carpeting and fluorescent lighting.
For Hoch, even 100 branded spaces might not be enough to trick people into forgetting they're shopping at J.C. Penney. "J.C. Penney is a middle-of-the-road retailer," Hoch said. "It's a tough road. You can borrow equity from other brands, but I don't see how it all rolls up into making J.C. Penney a destination."