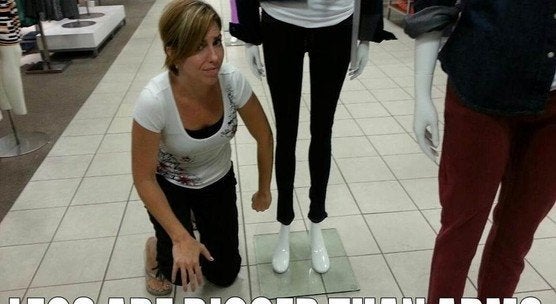 Dae Sheridan says she is "truly disturbed" by the mannequins at J.C. Penney.
When the mom of two went to the department store last week near her home in Temple Terrace, Florida, the stick-like leg of one of the mannequins made her so mad that she started an online petition.
"The legs on the mannequin were not just 'super-skinny,' they were extraordinarily, shockingly thin," Sheridan wrote in a public letter to J.C. Penney posted on the petition site Change.org. A professor and practicing psychotherapist, Sheridan included a link to her professional website and her phone number on the petition. As of Thursday afternoon, it had garnered 5,800 signatures.
Sheridan is far from the first shopper to take issue with mannequin size. In the past two years, Gap and Club Monaco were both lambasted for their skinny mannequins. In 2007, the Spanish government negotiated an accord with top retailers like Zara and Mango to have them only display mannequins that were a size 38 or higher (a U.S. size 6), citing problems with eating disorders among Spanish women.
But there's another side to the story. Mannequin industry insiders argue that the products aren't designed to be realistic representations of human bodies. Rather, they say, mannequins are abstract versions of bodies designed to display clothing -- more creative versions of clothes-hangers. "I don't think of mannequins as realism," said Ralph Pucci, a well-known mannequin and furniture designer who works with high-end fashion brands. "They're sculptural. They are abstractions of what's going on at a certain moment in pop culture."
Lately, the trend in mannequins has been towards the abstract and expressive. "You're seeing towering shapes, some as tall as nine feet, and a lot of color options and finishing treatments outside of the classic glossy white," said Anne Dinardo, editor-in-chief of Visual Merchandising and Store Design magazine, a trade publication.
J.C. Penney mannequins are fairly classic, with some abstract flairs: glossy skin the color of printer paper, flat faces and no spaces for toes in their feet. The company recently ordered 55,000 new mannequins and is trying design its stores more creatively as a part of a larger rebrand. "We've got teams that are dressing mannequins in a whole new way," JCPenney CEO Ron Johnson, the former Apple retail chief, told Bloomberg Businessweek last month. "Historically the merchant picked the mannequin. We now let the design teams do that, because they tend to mix things in a way that is really artful."
But even "artful" forms can do psychological harm if people try to emulate them, Sheridan says. Experts say that mannequin design has always been closely linked to body ideals. In the 18th and 19th centuries, the first mannequins reflected a curvaceous male vision of the female form, according to Eric Feigenbaum, chair of the Visual Merchandising department at LIM College in New York. "The study of mannequins is really like studying sociology," he said.
In the Victorian age, stores installed window curtains to preserve the modesty of their wax figures, according to Smithsonian Magazine, as shoppers couldn't bear to see male clerks undressing female mannequins.
Today, we worry less about mannequins offending our morals and more about their power to bend our body image. "Adults may know mannequins are just a hanger or a plastic form, but teenage girls and children don't," argued Sheridan. "When we walk by mannequins we can't help comparing and contrasting our bodies to them subconsciously."
J.C. Penney did not respond to a request seeking comment by press time.
REAL LIFE. REAL NEWS. REAL VOICES.
Help us tell more of the stories that matter from voices that too often remain unheard.
BEFORE YOU GO
PHOTO GALLERY
Mannequins Through The Ages