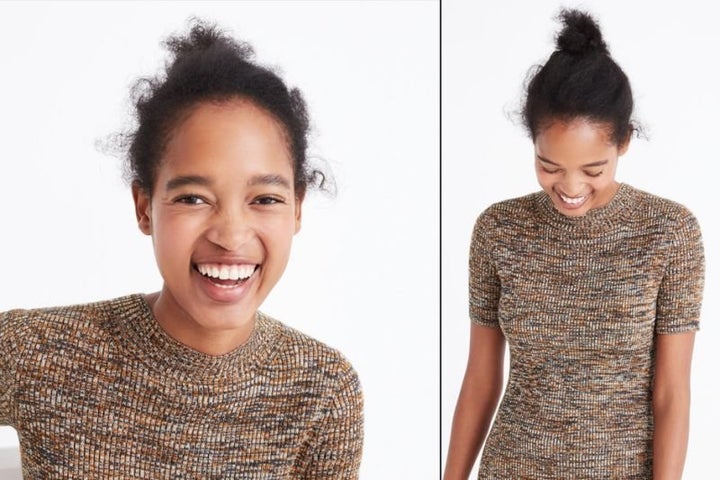 J.Crew is being called out on Twitter for irresponsibly styling a black model's natural hair — and people have a lot to say about it.
Atlanta-based makeup artist Dae Louise took to Twitter to post a screenshot from J.Crew's website where a model is pictured with what's supposed to be a "messy bun" — but is really just a mess. The image shows the young woman with her hair sloppily pulled back and edges unlaid, which commenters are saying is the work of a hairstylist who simply doesn't know how to style black hair.
"J.Crew…girl…ya'll wrong," Louise wrote in her call-out, which has since garnered a viral response, and over 300 replies — most of which are expressing either disappointment in the brand or confusion.
Others are taking part in the conversation to play devil's advocate and defend the brand. Pointing out that J.Crew often goes for the "messy" hair look with their models, with users even posting photos of some of the women featured in their catalogues with seemingly similar hair looks.
However, nobody's been afraid to point out that the tousled look on the white models cannot be achieved the same way on a black model's natural hair. For that reason, the issue comes down to a lack of experience with black hair, or even a lack of concern.
As for getting the attention of the brand, one user finally tagged J.Crew in her reply where she pointed out the difference between natural and unkempt hair, to which the brand responded.
J.Crew isn't the first to have this incident involving a model. A few users posted screenshots from ASOS to show that other brands have illustrated the same carelessness before.
Read more from Yahoo Lifestyle:
Popular in the Community