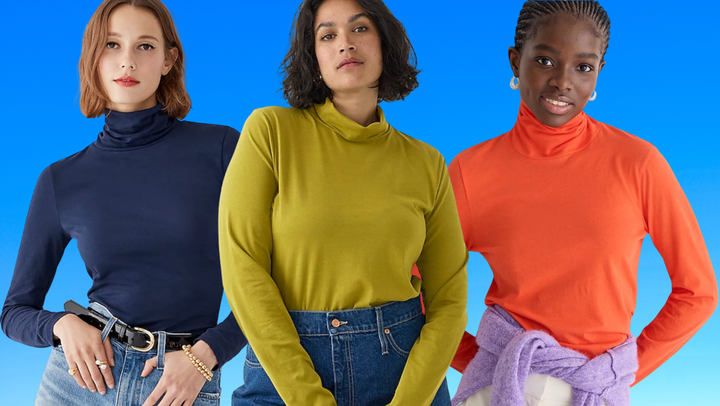 HuffPost may receive a share from purchases made via links on this page. Every item is independently selected by the HuffPost Shopping team. Prices and availability are subject to change.
Once cold weather hits, I become a layering queen. While I love a good chunky sweater or being ensconced in luxuriously warm fabrics like cashmere and wool, I loathe being overheated and need to be able to remove an item of clothing or two if I've entered an overly warm space (or when my own radiator is acting a fool). This is why I've come to rely on a winter wardrobe staple that is as understated as it is an absolute necessity: J.Crew's tissue turtleneck.
This lightweight 100% cotton turtleneck is a game-changer when it comes to staying cozy and warm and looking chic while you're at it. I make it a point to stock up on a couple of new tops every season.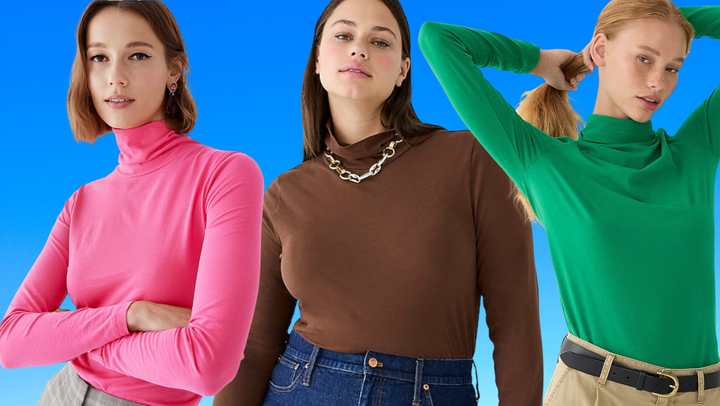 This super soft turtleneck has a classic silhouette that is fitted and body-skimming, so it won't bulk you up under a sweater and make you feel like the Michelin man. That said, it isn't skin-tight, which is imperative for all-day comfort that looks timeless and elegant. I often hear people complaining that turtlenecks can make them feel claustrophobic, strangled and sweaty, but I am pleased to report that this isn't the case with tissue turtlenecks. The fabric is breathable and I've never felt like it was too tight around my throat. It has a slight give that keeps it loose in the neck area while still providing warmth. It's no wonder it's been a bestseller since it was first launched by J.Crew in 2007, and this year the brand slightly shortened the length for a more updated, stylish fit.
It comes in 11 different colors, including a few striped options that are oh-so-French and sophisticated. Come fall, I live in these turtlenecks straight through the spring. The neutral hues are perfect everyday staples while the more vibrant shades add a punchy pop of color to otherwise simple winter outfits. Many reviewers also note that since it's such a lightweight top, it's ideal for climates that don't get very cold in the winter, like Southern California or Florida. Just because the sun is shining doesn't mean you don't want to get cozy during the long winter season!
Cotton turtlenecks are a dime a dozen, as ubiquitous and necessary as a good scarf. But the reason I find myself coming back to J.Crew's tissue turtleneck year after year is the quality of the soft and thin yet durable cotton, the profoundly flattering cut and how seamlessly they layer under sweaters and coats. There just isn't anything else on the market that is quite up to the same standard.
If you've yet to treat yourself to this quintessential turtleneck, then do yourself a favor and stock up now. While you're at it, take a peek at some majorly convincing reviews from J.Crew's website. We've still got quite a lot of winter ahead of us, and there's no better way to fortify the spirit than with sartorial essentials like these.
Promising reviews:

"A must-have. These are my favorite turtlenecks. I just purchased 9 of them for the season to add to the others I have. The fabric is so soft, they are the perfect weight to wear by themselves or under a fleece. Sometimes turtlenecks are very restricting around the neck but these are just right. A perfect addition to my fall and winter wardrobe. True to size with no shrinking after laundering." — Polly

"Great light turtleneck. This is pretty much exactly what I signed up for! The material is thin, but not so think that it shows my bra - so just perfect. I'm typically a size medium, but I sized down to a small to get a tight fit so that I could tuck it into pants, skirts, etc." — Ella

"The perfect turtleneck! I love wearing turtlenecks but live in Los Angeles and it's rarely cold enough to wear wool or cashmere, so I was so happy when I found the tissue turtleneck! It is the perfect material for our 'cold' winters when the temperatures range between 55 and 65. They come in a variety of colors and pair well with a cardigan or jacket, if you need a little more warmth. Thank you J.Crew for thinking of us who live in warmer climates. I have two and will purchase more colors this fall!" — SoCalLover

"I love this turtleneck! Usually, I'm way too hot and feel trapped. The neck on this is exactly right, and the tissue paper weight is exactly what I have been looking for. I bought two of them last year and this year I bought five more. I really love this turtle neck and it's a basic staple in my wardrobe. I purchased it in two sizes because the smaller size I will wear as a layer piece under a sleeveless dress. The medium I will wear as a regular top." — Evie
Before You Go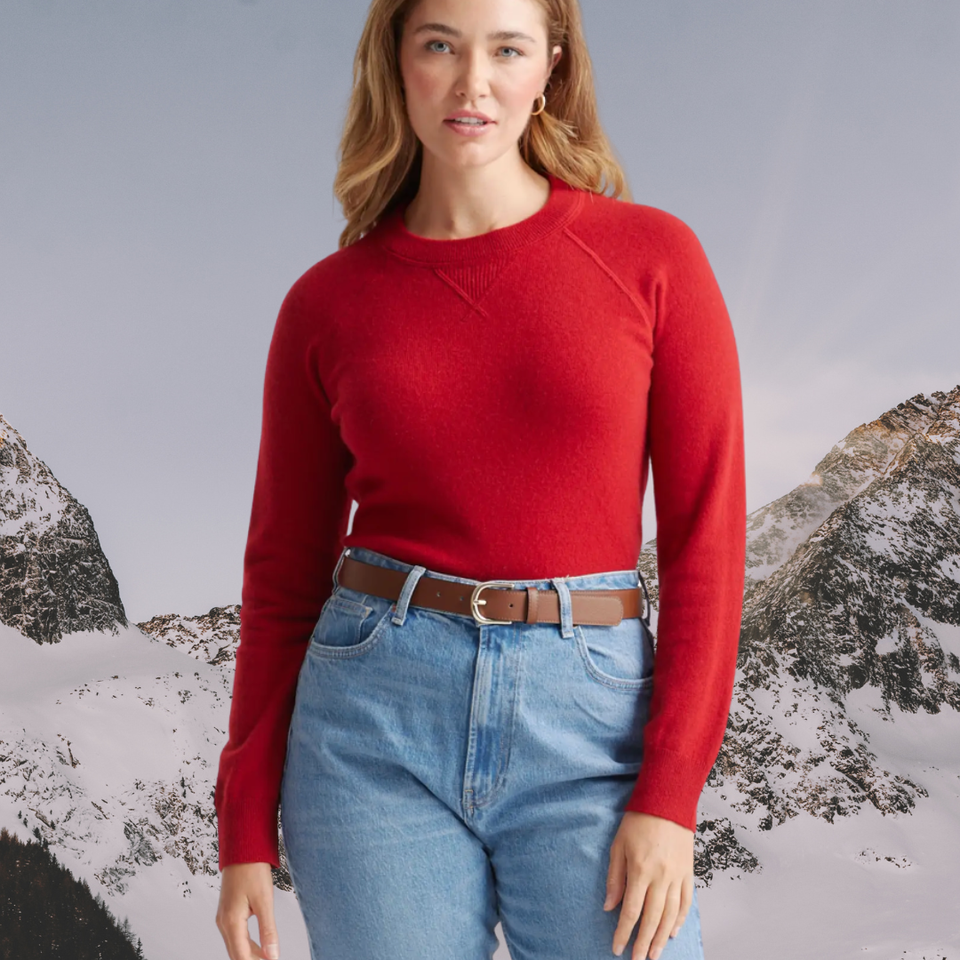 The Best Affordable Cashmere Sweaters For Women