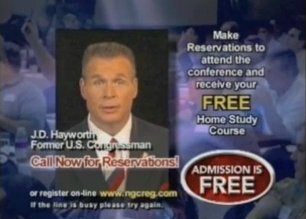 Former Rep. J.D. Hayworth, who is vying to unseat Sen. John McCain in Arizona's Republican primary race for Senate, appeared in a 2007 infomercial as a pitchman for seminars promoted as teaching people how they can get federal grant money for free.
While Hayworth has made his self-proclaimed fiscal conservative values a cornerstone of his campaign platform, the Arizona Republican conveys quite a different economic message in the recently surfaced half-hour long spot:
"But I'm telling you, this is really true. About 25 years ago, a decision made to get money in the hands of the American people. And though we talk about it as if it's free money, let me remind you, it's not free money, it's your money. It's money you've already surrended to the government in terms of taxation, but the government has a chance, and you have chance, to make an investment in yourself and, in fact, improve not only your personal economic situation, but put people to work and really help rebuild the economy, on your block, in your neighborhood, happening on Main Street instead of Wall Street."
Later in the television promotion, Hayworth assures viewers that the free money seminars are the real deal, dismissing any possible speculation that the offer might be too good to be true.
"You may think that what you've heard is too good to be true, but let me assure you, it is real, it's available, and it's something you should take advantage of," Hayworth stresses. "You should come to one of the National Grants Conferences."
The Arizona Republic reports that National Grants Conferences, a Florida-based company responsible for putting on the seminars as well as for producing the informercial, has come under widespread scrutiny in both political and business communities. Numerous state attorneys general took aim at the group in a letter to the FTC in 2007, while its practices earned an 'F' rating from the Better Business Bureau.
Hayworth made his debut infomercial appearance after loosing his re-election bid for congress in 2006, but now in the eyes of the Senate hopeful, the promotional video is no more than a blip on the radar screen of his non-political past.
Hayworth campaign spokesman Mark Sanders acknowledged Monday that the Republican contender "did a couple of commercials" for National Grants Conferences, but said that "he hasn't had any relationship with them that has continued since then."
WATCH: J.D. Hayworth Stars As Pitchman For 'Free' Federal Money In 2007 Infomercial
REAL LIFE. REAL NEWS. REAL VOICES.
Help us tell more of the stories that matter from voices that too often remain unheard.