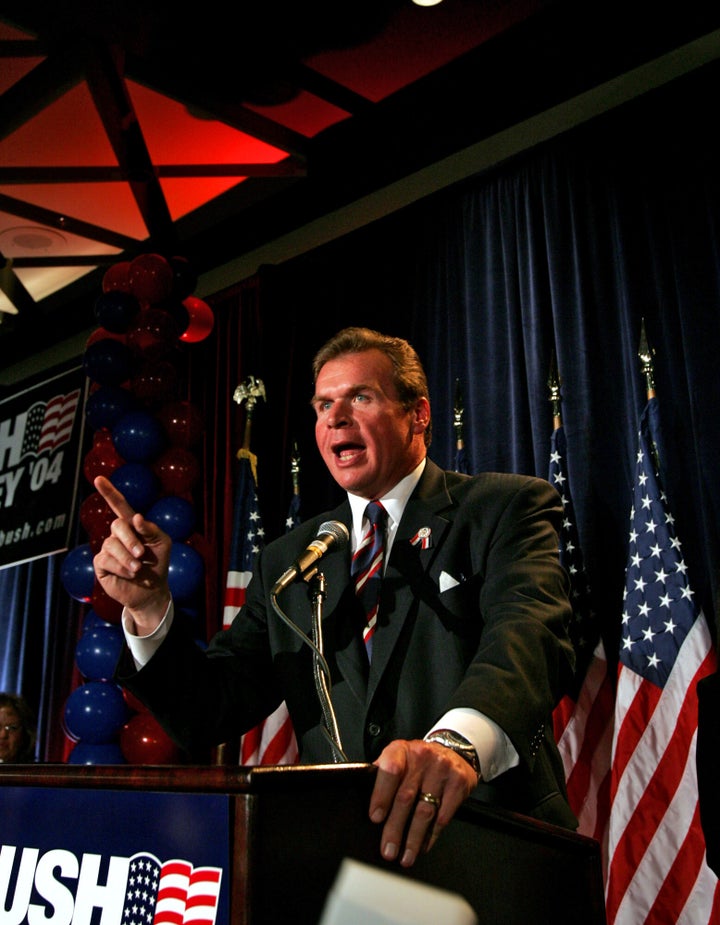 PHOENIX, AZ -- After months of speculation that popular talk show host and former Rep. JD Hayworth might challenge Sen. John McCain (R-AZ) for his senate seat, Hayworth took the first concrete step by resigning from his talk radio show Friday night. Later, he told reporters that he is not ready to make a formal announcement but is "moving forward to challenge John McCain."
In late November, Rasmussen unleashed a torrent of speculation when they released the results of a poll that showed Tea Party supporter JD Hayworth, who had not indicated any serious interest in running, within the margin of error in a hypothetical primary race against McCain. Hayworth has been a vocal rival of McCain for years and often pans McCain on his talk radio show, even boasting sometimes about the possibility of challenging McCain for his senate seat.
McCain, who has not faced a viable challenger in at least two decades, told reporters that he is taking the potential challenge seriously and got an early start on his campaign over the last few weeks. A couple of weeks ago, McCain began running attack ads (criticizing Hayworth's previous Congressional voting record) on the same radio station that runs Hayworth's talk radio show:
JD Hayworth. That's not what Arizona wants. He sounds conservative on the radio, but JD was one of the biggest spenders in Congress. In 2005 they passed a bill with 6,500 pork barrel earmarks worth more than $24 billion. JD voted for every one. He would be the wrong direction for Arizona. McCain is the right direction. Character matters.
McCain has also become more vocal in the press and began taking steps further to the right on hot button issues like healthcare in recent weeks. Despite these efforts, McCain is clearly in trouble among the party faithful in his own backyard. McCain was clobbered in a straw poll conducted at the Maricopa County Republican Party (Phoenix metro) Convention. According to precinct committeepersons in attendance, McCain earned only 10.5 percent of the vote while Hayworth earned 68 percent.
On Wednesday, just one day after Scott Brown was elected to replace Sen. Ted Kennedy (D-MA), the McCain campaign was robocalling Arizona voters using a recording by Brown:
Hello. This is newly elected United States Senator Scott Brown from Massachusetts. I am honored at the role that your Senator John McCain played in my election yesterday. When few thought I had a chance of winning, John stood by me and supported my campaign. He was the first one. I want to thank him for his support for me, and I want to encourage you to continue to support John. I look forward to joining him as he fights against wasteful spending and a government takeover of your health care. Please call his campaign today.
Hayworth also announced this week that lawyers from his station's parent company, Clear Channel, had ordered him not to discuss McCain or anything related to a potential senate race on his show. In fact, Hayworth was instructed not to even defend himself against the attack ads. This decision was handed down by Clear Channel's legal department in response to a complaint filed with the FEC against Hayworth by McCain's former Chief of Staff, Grant Woods. The complaint alleged that Hayworth illegally used his talk radio show to promote his potential candidacy. Under gag order on his own show, Hayworth appeared on another talk radio show on the same station to defend himself.
Friday morning, Rasmussen released a new poll that was conducted right after McCain announced that his former vice presidential candidate, Sarah Palin, will be traveling to Arizona to campaign for McCain. Politicos had been speculating whether Palin would campaign for fellow Tea Party darling Hayworth or former running mate McCain. The new Rasmussen poll has McCain up by 22 points (53-31).
Friday afternoon, Hayworth told fans to listen to KFYI at 6:06 PM for an important announcement. He began by recounting a meeting with a Clear Channel representative earlier in the day. Hayworth said he understood their position, "the station was between a rock and a hard place .... a broadcast license can be a very valuable thing," and acknowledged difficulty following the guidelines, especially not being able to answer the attack ads that McCain is running against him on the same station.
Rather than continue hosting his show under these circumstances, Hayworth announced that he is leaving talk radio "to prepare for my next great adventure." He told his fans they would see him again in the public arena, explaining, "Another chapter begins. The call to public service remains .... sometimes public office offers the most tangible kind of public service."
In a statement that was clearly meant for McCain, Hayworth said, "Thank you for your service .... but it is time for you to come home."
UPDATE: At the Arizona Republican Party State Committee meeting Saturday morning, Hayworth announced his intention to run for McCain's senate seat. He says he will file and make a formal, official announcement very soon.
Popular in the Community