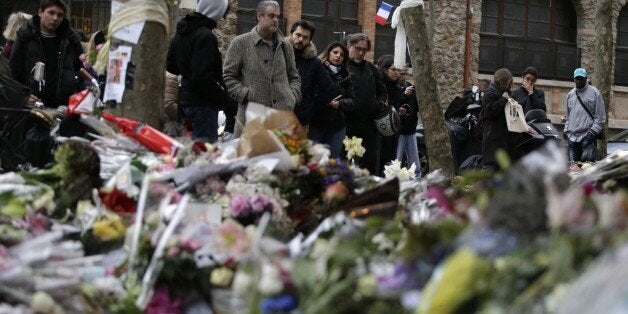 THE STORY
WHAT EXACTLY HAPPENED?
On Friday -- just one day after ISIS claimed responsibility for twin suicide bombings in Beirut that killed more than 40 people -- three teams of terrorists carried out coordinated attacks throughout Paris. The attacks started with suicide bombings outside a stadium where French President Hollande was attending a soccer game. There were also shootings at several bars and restaurants, and a shooting and suicide bombings at a concert hall where a hostage situation unfolded. These are the deadliest attacks in France since World War II.
WHO DID THIS?
Hollande said ISIS was responsible.  It's unclear how many attackers there were. Officials say seven attackers are dead. It's thought that at least one of them snuck into the EU through Greece along with tens of thousands of migrants and refugees (psst...here's your Skimm on that). Now, there's a manhunt going on for an eighth suspect. He has been living in Belgium, where police think these attacks were planned.  Officials think the attackers may have communicated through PlayStation 4, which has a message feature that authorities can't monitor very easily.
WHAT HAPPENS NOW?
Great question. The one thing that is clear is the current strategy against ISIS and its affiliates isn't working out too well. Now, world leaders are struggling to answer tough questions like, does the US-led coalition need to revamp its strategy in defeating ISIS in the Mideast? Yesterday, France said 'oui' in a big way, by ramping up airstrikes against the group in Syria. And, how will these attacks change the EU's approach to the flood of migrants and refugees crossing its borders? Many of them are seeking to escape terror like this in the first place. Overnight, French police started conducting anti-terror raids in homes across the country. This all comes as world leaders are meeting in Turkey this week for the G20.
PS...WHICH ONE IS THE G20?
The one with 19 countries and the EU, where they chat about things like the economy and, it just so happens, world crises. Over the weekend, President Obama and Russian President Putin reunited and whispered sweet nothings to each other on the sidelines. They tried to talk about Syria (we Skimm'd that for you too), which not so coincidentally is where ISIS is flourishing. Both leaders have different regional interests (think: Russia likes Syrian President Assad and is trying to help him out, the US does not and is trying to help rebels get him out), but President Obama wants to try to put differences aside and work together to get rid of ISIS there.
theSKIMM
Last week's attacks just catapulted ISIS and its affiliates into a much larger global crisis. This was the worst terrorist attack in the EU in more than a decade, and demonstrates just how sophisticated ISIS and its affiliates have become. 
REAL LIFE. REAL NEWS. REAL VOICES.
Help us tell more of the stories that matter from voices that too often remain unheard.