"You know, you can catch a Daddy anywhere! It's a simple strategy of catch and release!" says Jillian with a wink as she posts her story while in leather lingerie on Instagram. Jillian, whose name has been changed to protect her identity, is a companion to a different "Daddy" most days of the week. A different "deserving" Sugar Daddy that is. And with her imaginary fishing rod all over social media and on sites seeking arrangements, she is sure to catch the biggest fish in the pond.
"The trick is knowing that although you can use the same bait for most of them, you can't treat them all the same! Believe it or not, there's a lot of psych work that goes into me adapting to what their different needs are. Once I get that down, I become man's best friend, like the perfect lap dog" says Jillian.
Jillian goes on to say that her Mother taught her how to be a mistress as that is how her Mother treated her throughout her childhood. "There was literally no evidence of me ever having been born, no pictures of me in our house, I thought it was because she thought I wasn't pretty enough. It turned out that my Mother never liked girls, and having given birth to one devastated her! It wasn't postpartum she suffered from, she simply didn't want me because I was a girl. She would always say that "having another woman in the house is just giving your husband temptation" only I wasn't another woman, I was her little girl. We would sneak around, my Dad and I, to catch a quick hug or kiss on my forehead when she wasn't around like we were having an affair. Just imagine being born the other woman, only I was a child" says Jillian as her voice trails off.
Jillian says that her Mother told her to "go fish elsewhere" and find her own man when she threw her out of the house on her 18th birthday. Insisting that nothing inappropriate ever happened between her Father and her, she says that she mastered stealth like skills to be invisible from her experiencing a horrific childhood and has used this skill as a useful means of survival in her line of work.
"I'm 20 years old, not old enough to drink yet and sometimes I feel like I've already lived a lifetime. But I have to keep going, you know? I can't let myself think of how much I wasn't wanted growing up!" Jillian says that she is a junior at The University of Houston with a major in Business and "I have a plan" says Jillian. She also says that although her Father was more than aware of her situation at home, he never intervened as the fear of losing his wife was greater than his need to protect his daughter from his wife's jealous rages. "Listen, we all have a story right? This just happens to be mine. See no one expects me to win except me, I expect to win!"
Jillian says that she doesn't come cheap as she knows what her lovers expect from her and that comes at a price. And that price is her time. "You can use your imagination for what I provide for them, you know they're all so different! I will tell you that one of them likes for me to treat him like a baby and change his diaper, he's 53 years old! Really?" says Jillian cocking her head to the left, "the service I provide is a small price to pay when you consider that every aspect of my life is taken care of collectively by my business companions. Granted, one does not know about the other and IF one of them did find out? Well I would just replace them, this is business and I don't see a recession anytime soon!"
Jillian also says that she imagines she is a lot less expensive than any of her business companions significant others as she brings in an estimated $20k a week as a master companion, a term she likes more so than mistress. "You know, I don't have any friends really, so I don't worry about someone finding out that this is what I do for a living. But it's not all about sex or role playing, it's my job. And getting an education will ensure I won't have to be a mistress, any longer than I have to."
She says she has not seen nor spoken to her parents since her 18th birthday and although she misses the "idea" of family, it's not a real thing to her and doesn't think she'll ever have one of her own. "My Mother taught me how to be a mistress and my Father helped me master it. This is what I'm good at and I don't think I'd be a suitable partner to anyone. A companion yes, partner no" says Jillian stressing that she does not see herself as damaged or broken. But does see herself mid-way through a marathon she has been running since she was born.
As Jillian is getting ready for her date with "Wednesday Daddy" she says that he's by far the one she has the most fun with as he likes to try new things. And tonight, they're going to a class to learn country western dancing. "I try not to think of my past and live in the moment because what I come from is not where I'm going. And, I have to remind myself that this is just business, none of these men belong to me, they all have someone else they go home to."
With one more year before graduation, Jillian says that she plans on not continuing any of her relationships as she has saved quite a bit of money and plans on moving to New York where she can get lost amongst the hustle and bustle of the city that never sleeps.
Jillian may want to "get lost" in the city that never sleeps, but my wish for her is to find someone who is DESERVING of HER. I think she deserves that and I also think she's worth it!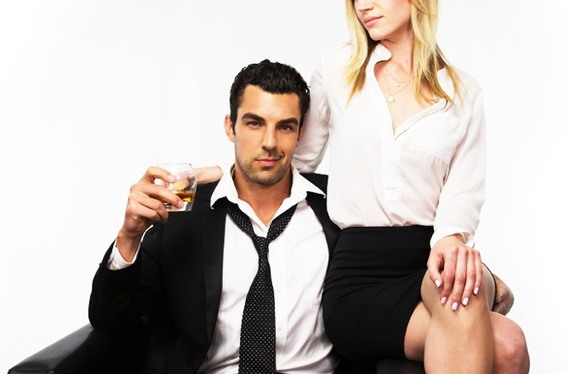 REAL LIFE. REAL NEWS. REAL VOICES.
Help us tell more of the stories that matter from voices that too often remain unheard.