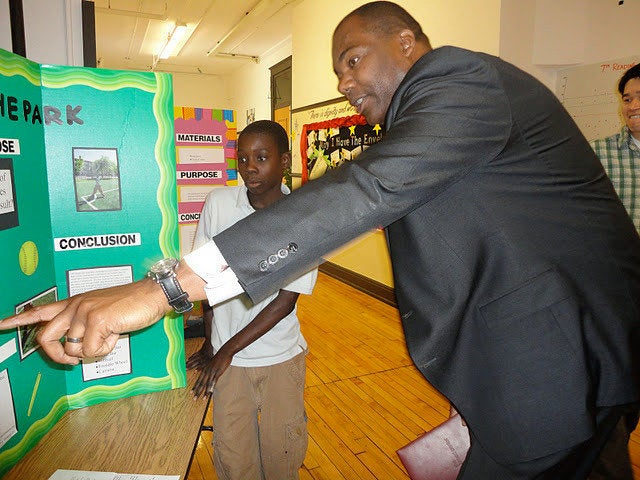 How do you bring focus to students in a system where their education is complicated by budget shortfalls, labor disputes and violent crime in their surrounding neighborhoods? How do you connect the prospect of high school graduation to career success for students who've seen unemployment hit staggering highs?
Jean-Claude Brizard wants to teach them a trade.
Before he became the Chief Executive Officer of the Chicago Public Schools system, Brizard was the principal of George Westinghouse High School, a vocational school in Brooklyn, New York that turned out rappers like Lil Kim, Jay-Z and Biggie Smalls, but many of the students did not meet state academic requirements.
Brizard saw potential, and made an experiment of the school, creating the nation's first Career Technical Education high school -- CTE for short, a word he and many educators now prefer to "vocational." In addition to academic courses, students at all grade levels studied computer programming or computer-aided design. And student performance, behavior and graduation rates improved.
"My school in Brooklyn was a pretty challenged school," Brizard told The Huffington Post. "As the program got better, and better aligned to industry--the school was pretty troubled--but when kids see a real connection between what they're learning and how this will affect them outside of high school, they see more reasons to commit to it. The relevancy element is fundamental. If the program is a dead end, you're going to have disciplinary issues. But when you have programs kids have made an active choice to be a part of, and they see progress, that 'I could actually get a job out of this, or I could go to college,' you'll find them behaving in a much better way."
It's a formula he has seen work time and time again, and he thinks that beefing up Chicago's CTE programming could have the same positive impact. And in an employment landscape that's stacked against anyone whose education stopped after high school, he's probably right. In December 2010, the seasonally adjusted unemployment rate was 4.8 percent for adults 25 and older, according to the U.S. Bureau of Labor Statistics. For those with only a high school diploma, the unemployment rate was nearly double, at 9.8 percent.
CPS has certainly had its share of behavioral problems and shortfalls in student academic success. Brizard says he believes that, like his troubled school in Brooklyn, diversifying the educational options available to students could solve a lot of them.
"Kids will tell you, 'I'll put up with that math class or science class, because I know I'm going to go to auto shop in the afternoon,'" Brizard said. "That tends to be a huge driver, and it drives completion. Kids are finishing high school in higher numbers at CTE schools than at comprehensive academic schools."
At Sullivan High School in Rogers Park, 80 percent of graduating students went to college last year, according to CPS. In their pre-professional health program, where students can earn certifications or advanced college credits while in high school, 10 percent more enrolled in postsecondary education. Brizard attributes that to the added momentum students build up by having a pre-professional focus in high school--and it's a type of movement he'd like to see all across CPS schools.
To do that, Brizard is working closely with Aarti Dhupelia, a Northwestern and Harvard grad appointed Director of Career and Technical Education by his predecessor, Ron Huberman, in 2009. They believe CTE could be a missing piece in the puzzle of CPS' performance gaps, and she's in the third year of a long-range transformation strategy to reinvent CPS's CTE programming, which currently serves about 20,000 students -- about 20 percent of Chicago's public high school students.
Chicago currently has five CTE-exclusive schools where all students are taking career training courses on top of their core requirements, Dhupelia says. CTE programming is also offered at about 60 high schools of the 110 in the CPS system, where students have the option of taking a focused curriculum in 12 industry areas including health care, engineering, construction and information technology in place of other non-core electives.
Dhupelia says the common image of "vocational" high school classes full of less successful students goofing off in an auto shop is as outdated as perceptions of that industry.
"An auto mechanic manual requires a sophomore college reading level to understand it," she said. "It's not lower-performance students taking, quote, 'vocational' classes. Today's auto technician is not your parents' auto mechanic. It's a very different type of world."
Procuring the right tools for this kind of up-to-date, career-focused training isn't easy, especially for a cash-strapped district. Thanks to the Carl Perkins Vocational and Technical Education Act of 1998, federal grants help fund CTE programs, which are significantly more expensive.
Brizard estimates that CTE classes cost about $1,000 per student, and Perkins funding covers about 60 percent of that cost.
To accommodate these budget constraints, Chicago CTE programs try to work together. Two weeks ago, Brizard visited the Chicago High School for Agricultural Sciences (known by many as "the Ag") in Mount Greenwood on the city's Southwest Side, where they had just received two horses. They share their food labs with other schools' culinary arts programs, where visiting students learn about food science, applying their mandatory core chemistry studies to lab work that pertains to their area of study. Students also use the school's farm stand to sell produce -- incorporating math and economics classes.
Brizard thinks this kind of creative collaboration is the key to making CTE programming work well in Chicago, and on a budget. But to gain the support he needs, one of his biggest obstacles will be changing people's opinions from visions of Grease-era autoshops to the high-tech training labs he hopes to build across the district.
Brizard is not the only one who thinks revitalizing the landscape of vocational training in the public school system could be a pathway to success.
On his Discovery Channel reality show "Dirty Jobs," Mike Rowe spotlights many of the trade workers who have come out of career-oriented secondary education programs. On June 8 he testified before the U.S. Senate Committee on Commerce, Science and Transportation, advocating for both a philosophical and policy-driven reconsideration of the workforce sectors that are populated by vocational school graduates.
He spoke of the staggering 450,000 vacancies in trade, utilities and transportation industries in contrast to the country's current job deficit. In Alabama, Rowe said, a third of all skilled tradesmen are now over 55, and retiring fast, without a new workforce to replace them.
He recalled a story he'd been told by Secretary of Agriculture Tom Vilsack, about a governor he knew who was unable to move forward on the construction of a new power plant. They had sufficient funds and support, but couldn't find enough qualified welders able to do the job.
Rowe blamed this problem on a lack of vocational programs in high schools, and, on a deeper level, on increasingly negative perceptions of trade-based career paths. He called for a "PR Campaign for Skilled Labor"
"In high schools, the vocational arts have all but vanished. We've elevated the importance of 'higher education' to such a lofty perch that all other forms of knowledge are now labeled as 'alternative.' Millions of parents and kids see apprenticeships and really valuable on-the-job-training opportunities as 'vocational consolation prizes,' best suited for those not cut out for a four-year degree. And still, we talk about creating millions of 'shovel ready' jobs for a society that doesn't encourage people to pick up a shovel.

In a hundred different ways, I think we have slowly marginalized an entire category of critical professions, reshaping our expectations of a 'good job' into something that no longer looks like work. A few years from now, an hour with a good plumber, if you can find one, is going to cost more than an hour with a good psychiatrist. At which point we'll probably all be in need of both."
Brizard and Dhupelia say the negative perceptions of CTE programming that Rowe references are real, and one of the main challenges they face in making these schools successful.
"Their reputation [used to be] that if you cant succeed in a traditional academic school, why don't you go over there and work with your hands," Brizard said. "That didn't work well because those kids didn't choose to be in that program. If you look at the traditional landscape, districts have a habit of pushing low-income kids into these programs. But we push back."
The misconception about these programs sells short the amount of work that faces its students, especially at schools where training classes are added on to mainstream coursework. Students who sign on for CTE at a public school essentially have to choose a major at 14 or 16. While their classmates may have electives in choir, or band, or other courses less academically rigorous, CTE students will have a series of concentrated, project-based courses, often with training tacked on outside the classroom, and certification tests on top of the usual standardized exams. But Brizard thinks that students who choose to be in these programs, even if they're having trouble with core high school classes, are already poised for success.
"Our message here in Chicago is that this is about choice," Brizard said. "We really believe that the highway to credentialing, to high school graduation, is a multi-lane highway, not a single lane highway. We push for choice, so the kid who has a drive and a want to be in that program should be accepted. So the pushback is that we want kids to choose. I'm a big believer that choice should be the primary driver. If a child says 'I really love this,' then they already have the biggest skill they need to be successful."
Brizard and Dhupelia have big plans for the future of CTE at CPS. Brizard describes his vision with a metaphor he rattles off so frequently it could be CTE's tagline: he wants to make sure Chicago Public School students have a "portfolio of options" across the district--to make sure that wherever they end up, they themselves have applied, competed, or fought to be there, and it's a good fit.
They want to make the programs more intensive and graduate students with stuffed resumes. CPS recently partnered with the Chicago Workforce Investment Councel to identify the hottest job market areas in the city and figure out where they should be beefing up their programming, where the jobs are and what they should be teaching toward, so they can tailor their curricula to match, Dhupelia said.
"Our IT training used to focus on keyboarding and word processing," she said. "Now, we emphasize game programming, networking, web design and other skills that match the demands of the current market."
They're also working with industries to extend the classroom experience, with visits to local businesses, internships, apprenticeships and summer projects that enrich the technical classes CTE students take on top of their core academic classes. Dhupelia admits that the program still needs a lot of work.
"We haven't had great line of sight into how our students are doing along the way in CTE in the past so we're launching an assessment of all our programs so we can hone in on how students are doing, and where they need support," she said. "Right now, we know we need stronger partner engagement to get students paid internships, job experience, and a better pulse on industry climate."
That means updating programs to match ever-improving technology, and keeping up on certifications and college credits that students most need to be prepared for work or higher education on the day the graduate. It also means making sure the faculty--many of whom come straight from industries, not the district--hold the same certifications they'll be preparing students to earn.
"I had a student last year who went on a visit to Microsoft on a field trip," Dhupelia said. "The student was on the verge of dropping out, and he met a guest speaker who just inspired him, who came from the same neighborhood. And this student turned his life around--he's a senior now and he's going on to study information technology. That's an example of this system working."
Watch Mike Rowe's Congressional testimony:
Related
Popular in the Community