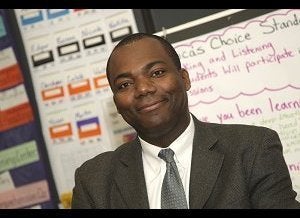 Mayor-elect Rahm Emanuel is setting his sights on Chicago schools. As he prepares to tackle what will be the signature issue of his first year in office, he announced Monday that he has chosen a leadership team to implement his reforms.
At the head of that team will sit Jean-Claude Brizard, currently the Superintendent of the Rochester City School District in New York. Emanuel announced Monday morning that Brizard will be the new Chief Executive Officer of the Chicago Public Schools.
Brizard has spent three years at the helm of the Rochester schools. His tenure saw improved graduation rates and higher test scores in math and English, but was also marked by clashes with teachers' unions over a push for increased charter schools and merit pay. An overwhelming 95 percent of teachers voted "no confidence" in Brizard, in an unprecedented vote taken by the Rochester Teachers Association.
Before that time, Brizard worked as a regional superintendent for the New York City schools, where he supervised over 100 K-12 schools. The Haiti native began his career as a junior high and high school science teacher in New York, according to his bio at RCSD.
Also named in the announcement: Dr. Noemi Donoso, a former principal and instructor who now serves in the Denver Public Schools, will be Chief Education Officer; Tim Cawley of the Academy for Urban School Leadership will be Chief Operating Officer; and Diana Ferguson will stay on as the district's Chief Financial Officer.
WATCH Brizard's comments following the announcement here:
Popular in the Community