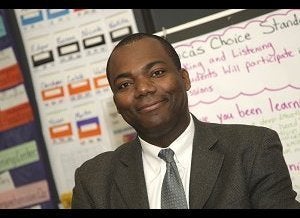 The board approved a temporary one-month contract for the Haitian-born educator, who served most recently as the superintendent of the Rochester school district. He will make $250,000 a year, $15,000 more than he made in Rochester and $20,000 more than his predecessor, Ron Huberman. (As the Chicago News Cooperative points out, interim CEO Terry Mazany, who has filled the gap since Huberman's retirement in November, took a token salary of $1.)
In a month's time, the new school board will consider a longer-term contract for Brizard, but given that both the Board and Brizard himself are hand-picked favorites of Mayor Rahm Emanuel, it seems unlikely that they'll do anything but approve it.
Unsurprisingly, perhaps, charter school advocates in the city were excited at the prospect of Brizard taking the reins.
"We're really happy that the city has such strong leadership, and that CPS has such a strong leadership team that will keep the focus on where it needs to be, which is ensuring that students are actually learning," said Jennifer Cline, the communications director for New Schools for Chicago, in an interview with Huffington Post Chicago. Formerly the Renaissance Schools Fund, Cline's organization has funneled over $50 million into Chicago schools in the last seven years, mostly to the formation of new public charters.
When asked if Brizard would be explicitly pro-charter, Cline demurred. "I see them bringing a pro-quality public education focus to the city," she said. "The school model doesn't matter, what matters is that they're performing."
Even some of the new CEO's fiercest opponents appear to be taking a watch-and-wait attitude toward his tenure. When she heard about his appointment, Chicago Teachers Union president Karen Lewis reportedly said that she was going out to buy a pair of boxing gloves. But after he signed his contract, she had unusually pleasant words for Brizard.
"He's very charming," Lewis said, according to CBS. "I think he has a good skill set. So, we'll see how that works."
She won't be the only one waiting to see how it works. With the considerable force of Mayor Emanuel's will being brought to school reform, legislation percolating in Springfield, and end-of-year performance data to be released soon, Brizard will be facing intense scrutiny from all corners in his first year.
Related
Popular in the Community