Jean Maurice Eugène Clément Cocteau was the kind of artist who could turn a ravaging addiction to opium, or the death of a lover, into masterpieces of literature and graphic art. An astonishingly versatile creator (poet, filmmaker, novelist, designer, playwright), Cocteau remains on the shortlist of canonized geniuses in a country that reveres artists temperamentally and as state policy. His life was a silk thread of stellar années folles friends and collaborators -- Pablo Picasso, Igor Stravinsky, Sergei Diaghilev, Coco Chanel, Marcel Proust, André Gide, Marlene Dietrich, Amedeo Modigliani, Erik Satie -- and scene-stealing melodrama (it's said that he died the same day as Edith Piaf because news of his dear friend's death made him choke.) His drawings were a dreamy mélange of sophisticated wit, canny observation, Classical remix, gentle self-mockery and joie de vivre. His films -- notably, Blood of a Poet (1930), Beauty and the Beast (1946) and Orpheus (1949) smuggled the first avant-garde notions into French cinema and anticipated French New Wave. For many Cocteau was a flamboyant dandy -- openly gay, he also had an intense affair with a Romanov princess -- whose blithe style made art look easy. But his prolific output over his 74 years, most of it now amassed at the newly christened Musée Jean Cocteau in Menton, proves him to have been as serious and revolutionary an artist as France has ever produced.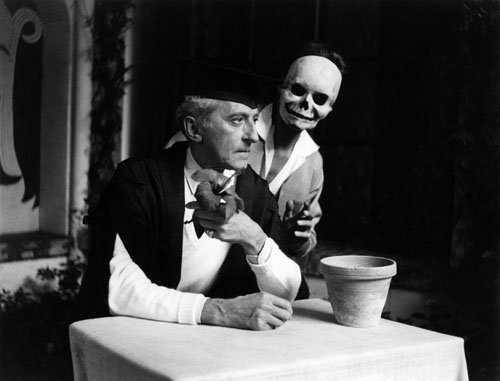 Jean Cocteau et Edouard Dermit avec le masque de mort (1959) © Lucien Clergue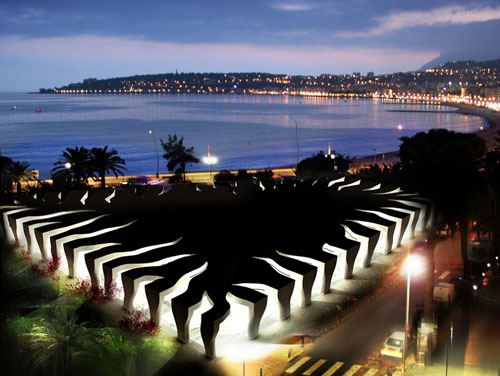 Musée Jean Cocteau © Lisa Ricciotti
Cocteau first came upon Menton, just east of Nice, in 1955 while vacationing at Saint-Jean-Cap-Ferrat. He fell in love with its high-cliffed coastal charms and began the next year, at the request of the mayor, to redecorate the town hall's salle de mariage with frescoes and furnishings. This idyllic corner of the Côte d'Azur had been a favorite retreat of Winston Churchill and Katherine Mansfield. The town fell in love with the man and made him an honorary citizen. As Menton's deputy mayor, Jean-Claude Guibal, has said, the museum grew from the encounter between a renowned artist, a young collector who had been a Holocaust survivor, and the small town near Monaco that embraced them both. Add to that a bold architect, Rudy Ricciotti, who conceived a structure that mirrored Cocteau's ecstatic but refined impulsiveness enough to win the coveted job.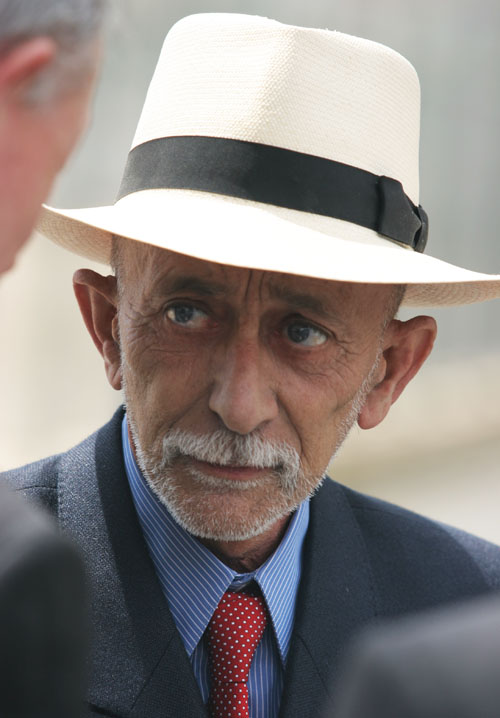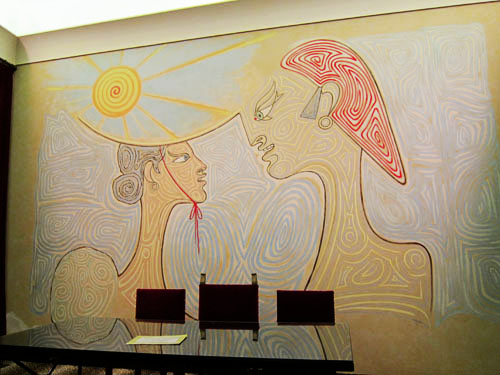 There would be no museum if not for Sévérin Wunderman. A Belgian watchmaker who was forced to seek asylum in the U.S. during WWII, Wunderman returned to make his fortune in the Swiss luxury watchmaking industry. An early obsession with Cocteau (he bought the first of his works at 19 with his entire apprentice salary) evolved into a world-class collection. He resolved toward the end of his life to bring the bulk of his holdings to Menton, knowing that it was a hallowed Cocteau spot that was already home to a modest Cocteau cache. Eventually, all fell into place and a new museum was born: the Musée Jean Cocteau, housing 1800 works (990 by Cocteau) gifted by Wunderman. All of the artist's key periods are represented, from the first self-portraits of the 1910s up to the "Mediterranean" period towards the end of his life. There are drawings, prints, paintings, ceramics, tapestries, jewelry, books and manuscripts... and 172 photographs relating to Cocteau (including images by Germaine Krull, Berenice Abbott, Irving Penn, Philippe Halsmann and Lucien Clergue). There are also 278 works by fellow artists (Picasso, Modigliani, Di Chirico and others), and 360 works related to Sarah Bernhardt, Cocteau's "monstre sacré."
The museum is now the largest accessible resource devoted to Cocteau's oeuvre anywhere in the world. It comes with existing gemlike satellites nearby -- the Bastion, a 17th century micro-fortress overlooking the sea and decorated by the maestro, which in 1966 became the first Cocteau Museum, three years after his death; and the Salle de Mariage in the town hall, which he covered almost every inch of with godlike figures in poses as harmonized as a floral arrangement.
On a tour held just prior to the museum's opening last month, Curator Célia Bernasconi led a group of journalists through the new space. She was young but serenely authoritative as she spoke about each work in the inaugural exhibition. Bernasconi developed an interest in Cocteau as an extension of her earlier focus on the influence of Florentine Early Renaissance painter Paolo Uccello on 20th century artists like Carlo Carra, Apollinaire, André Breton, Antonin Artaud and Cocteau... who signed his works "Jean l'Oiseleur" in honor of Uccello's nom de pinceau, due to his fondness for painting birds. Her passion for the artist is contagious and must be what's behind the intelligent design of its presentation. The museum is organized around seven distinct phases of Cocteau's life, among which are Parades (after the 1917 ballet he worked on with Satie, Diaghilev and Picasso -- an instant succès de scandale), Blood of the Poet (echo of his first feature film, which turned him in a direction both Antique and tragic), and Mysteries (his post-WWII merging of the real and the imaginary into an "unreal realism" embodied in La Belle et La Bête and Orphée). To stroll through the galleries is to witness the ripening and maturing mind and artistry of Cocteau, through countless changes and exhilarating experiments. And the intimacy of the spaces is ideal for focusing in on the artist's quirks and subtleties of expression.
It must be added that a scandal of sorts has shadowed the young museum well before its opening. According to the Guardian, art expert Annie Guédras, who was designated by Cocteau's heirs as the only person authorized to authenticate his works, concluded that some 35 in Wunderman's collection were copies or fakes. Enter the Cocteau committee set up to manage the artist's estate, headed by Pierre Bergé (co-owner of Le Monde and partner of the late fashion designer Yves St Laurent). They flatly disagreed and even got their own expert to counter-evaluate in their favor. Lawsuits and general unpleasantness have ensued. For now, the museum has elected to set aside the disputed works, and in truth it's a drop in the bucket, certainly no reason to stay away from what is an extraordinary trove.
The following slide show offers a glimpse...
Left photo: Sévérin Wunderman
Right photo: Salle de Mariage, Menton, designed by Jean Cocteau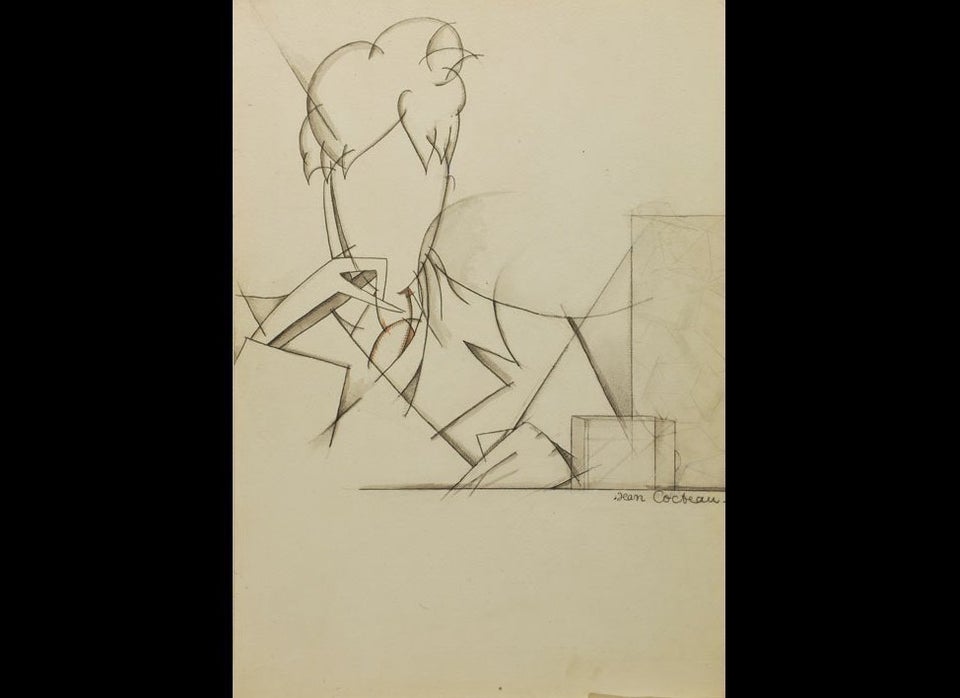 Mus%uFFFDe Jean Cocteau
Michael Kurcfeld is a documentary producer and journalist based in Los Angeles and Paris (http://www.stonehengemedia.com).
Related
Popular in the Community