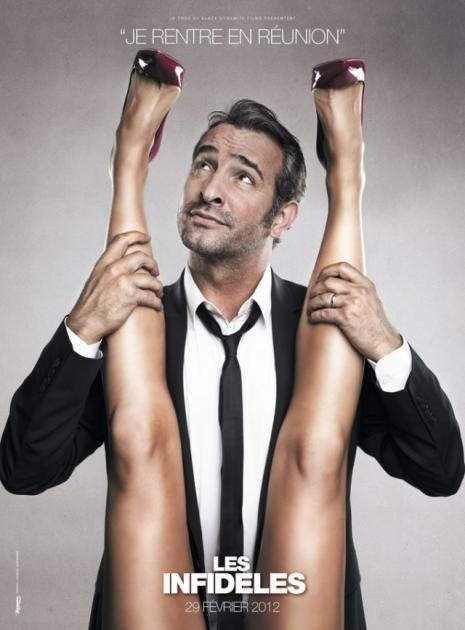 A sudden breakout star in America for a classic homage to old Hollywood, Jean Dujardin is under fire in his home country for a movie campaign that is anything but traditional.
"The Artist" star appears in a series of posters for French film "Les Infideles," which is made up of shorts about male infidelity. A number of the posters, which appear as billboards and in magazines, are sexually suggestive, including one in which Dujardin is holding up the legs of a woman, and another where it appears co-star Gilles Lellouche is receiving oral sex. There are also posters that show Dujardin and Lellouche bare-chested, watching scantily clad women pass by.
Already, complaints have rolled in, and The Hollywood Reporter relays that the magazine Studio Cine Live has announced that the ads will be pulled. French news site The Local reports that Stéphane Martin, of the country's professional ad regulation board, said in a statement that, "There is no pre-control for posters. However we have advised JC Decaux, who manages the poster sites, to take these down."
"Les Infideles" hits theaters on February 29th, just days after Dujardin goes up for his first Academy Award. "The Artist" is favored to win Best Picture, while Dujardin, who has won both a Golden Globe and a Screen Actors' Guild Award for his role as an iconic silent film star who gets left behind with the advent of talkies, is a favorite to win Best Actor.
PHOTOS: