It wouldn't be a French presidential election without high drama. And Jean-Luc Mélenchon, the 65-year-old leftist candidate who has unexpectedly surged in the polls in recent weeks, is rejiggering the state of the race and complicating matters for his three rivals.
Mélenchon, once a distant fifth place in the polls, this week was polling at 20 percent, beating the scandal-ridden conservative François Fillon by 1 percentage point, according to an Ipsos-Sopra Sterna poll for Le Monde newspaper. Centrist Emmanuel Macron was tied in the lead with far-right leader Marine Le Pen at 22 percent.
Mélenchon, a self-proclaimed populist who likens himself to U.S. Sen. Bernie Sanders (I-Vt.), and idolizes Venezuela's Hugo Chavez and Cuba's Castro brothers, joined the Socialist Party in the 1970s and later became a senator.
He said in 2008 that he saw himself as the person who would reinvent the left in the face of a "crisis of capitalism." So, he formed his own Party of the Left, but abandoned it to form another party in 2016: "La France insoumise," which translates to "a France that won't bow down." He drew inspiration from populist anti-liberal movements, like the Spanish Indignados.
"France has always had a history of radical thinking, which for a long time originated from the Communist Party," Roger Martelli, a historian specializing in communism, told HuffPost France. "When that party fizzled, Jean-Luc Mélenchon espoused that radicalism, but without ascribing to communist thinking."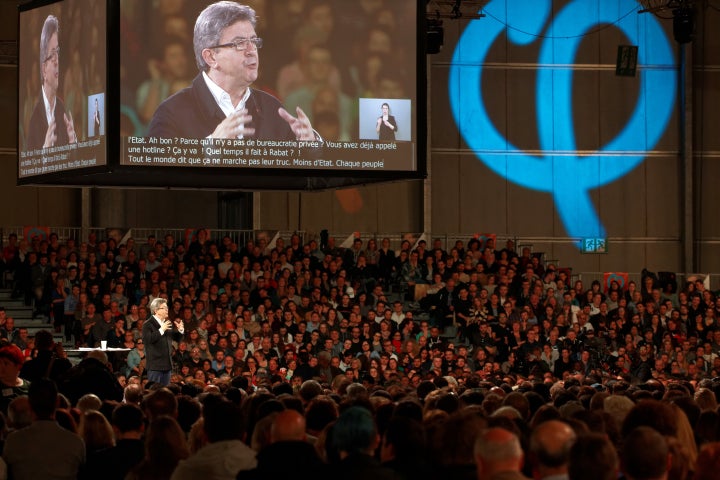 Mélenchon, a skilled orator whose newfound popularity has been attributed by many to animated performances in the last few debates, has rested his campaign on the abolition of France's system of government, the Fifth Republic. He aims to create a new republic defined by the people and not the "oligarchy" now in control, according to his website.
He's also proposing a 100 million-euro (about $106 million) economic stimulus; a "Frexit" from the European Union; a NATO pullout; dropping the retirement age to 60; and a 32-hour work week. He wants to tax those who make more than 400,000 euros a year, or $425,000, at 90 percent.
The irony is that voters drawn to Mélenchon's populist views could, in a sense, be supporting much of what they would get from a candidate on the opposite end of the ideological spectrum.
Le Pen is a populist herself. She's more of a hard-liner when it comes to immigration and terrorism. But like Mélenchon, she's committed to bringing jobs back to the French and withdrawing from the European Union and international treaties. Both Le Pen and Mélenchon have suggested they would hold referendums to let the people of France weigh in before taking action.
Mélenchon has tried repeatedly to refute these supposed similarities.
"I'm not a nationalist," he told Le Point magazine in reference to Le Pen. "I'm a patriot. I'm prepared to negotiate with other countries, not shut France in."
A first round of voting will take place April 23. The second round, which will whittle the race down to two candidates, happens on May 7.
Sign up for the HuffPost Must Reads newsletter. Each Sunday, we will bring you the best original reporting, long form writing and breaking news from The Huffington Post and around the web, plus behind-the-scenes looks at how it's all made. Click here to sign up!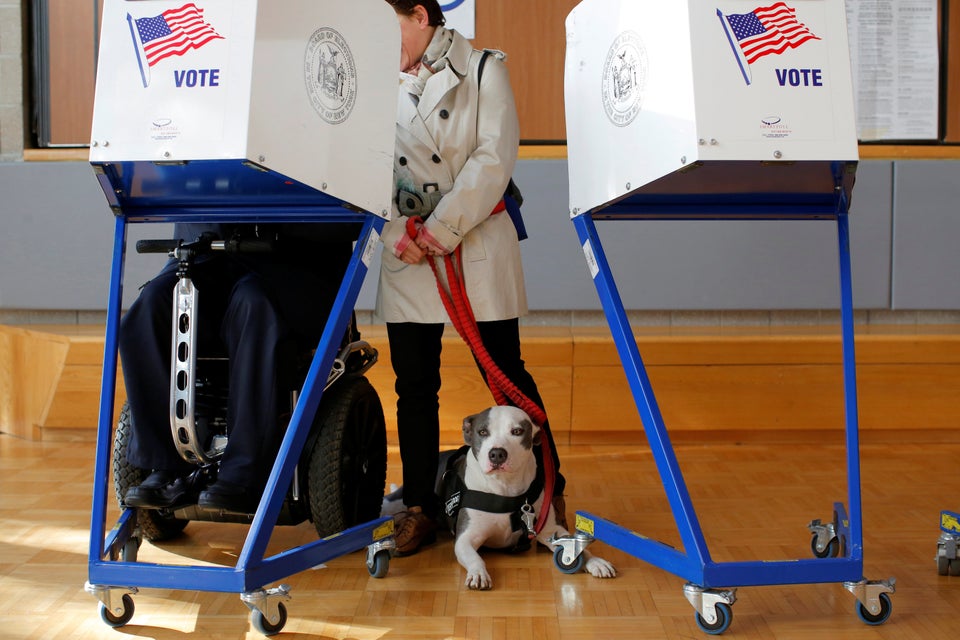 It's Doggone Election Time Again!