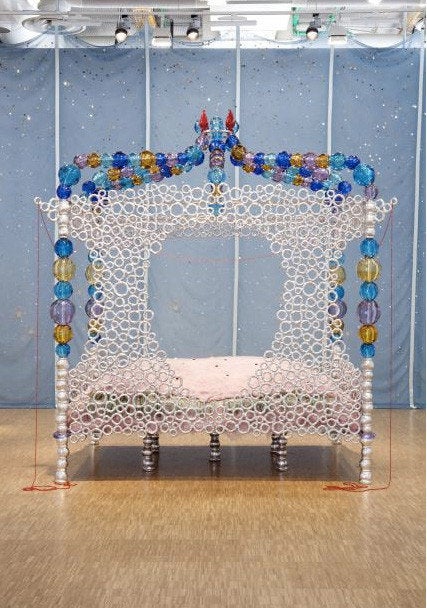 Seeing a Jean-Michel Othoniel work for the first time feels like peering into the forbidden jewelry drawer in your mother's vanity table. To your small eyes the glass beads appear enormous, their crystal ball exterior housing all the elegance, maturity and magic in the world. Propelled by fantasy, the glass beads form ghost ships, candy-coated arches and other forms in flux.
The French artist, who is only 48 years old, is housing a retrospective at the Brooklyn Museum of Art, featuring his beaded poems in their many forms. Othoniel grew up fascinated with the properties of materials and the metamorphosis between them. His first exhibition featured sculptures made of sulfur along with other media with reversible properties like phosphorus and wax. Later he turned his fascination to glass, which Émile Soulier described as "transparency draped in reflections and stitched with metal." In both his media and his style Othoniel gravitated toward reversible properties. Thus his work shared ground with Arte Povera, Minimalism, Conceptual art, and Surrealism.
Othoniel's retrospective features a dazzling range of work, starting with intimately sized experiments, toying with the erotic decay of natural materials. Later Othoniel began constructing monumental sculptures of glass in all its natural perfection. The limits of nature and the lack thereof of the imagination connect Othoniel's works, even when their aesthetics appear worlds apart. "The Threshold of Very Long Suffering" is a sulfurous lump from which the ghostly imprint of hands emerge, making the work look as if it is sculpting itself. The sickly color recalls a gangrenous flesh, although its softness gives the affect of a much needed massage. On the other end of the spectrum we have "The Secret Happy End," an ornately decorated carriage made over ten years later. Somewhere between Cinderella's carriage and a baroque aquarium, the glass-kissed work is the epitome of fantasy. There is no decay to be found, the piece is immaculate in a way that only exists in fairy tales.
Addressing themes of memory, mutation, eroticism and the body, Othoniel's works evoke the mythical feeling of an adult fairy tale if poetry were to replace all narrative. We cannot wait to experience the magic of his works in person.
"Jean-Michel Othoniel: My Way" will come to the Brooklyn Museum from August 17 - December 2, 2012. See a preview of the exhibition below.
PHOTO GALLERY
Jean-Michel Othoniel
Correction: A previous edition of this article had a typo. The correct name of the exhibition is "My Way," we regret the error.
REAL LIFE. REAL NEWS. REAL VOICES.
Help us tell more of the stories that matter from voices that too often remain unheard.
BEFORE YOU GO