Jean Paul Gaultier has brought his new exhibit: The Fashion World of Jean Paul Gaultier: From the Sidewalk to the Catwalk, to the Brooklyn Museum. The show opens on Friday, October 25.
Press and special guests were given a preview show last night.
I'm not sure what was more captivating -- the show or the people attending it. While Jean Paul Gaultier wore an all black classic outfit with a long kilt that ran to the floor, the rest of the crowd seemed to reflect his body of work.
The thought was reinforced when I saw Gaultier's line during the exhibition reading that "clothing was like the second skin." I guess it is. His work made me realize how much control I have over myself, and how while you can't do anything about who you were born as, you have every right to do as you wish with the person you want to become.
This show takes the mind to that level, and gives people like myself, who never really dove into the world of fashion, a new understanding of the art and psychology behind it.
If you're in Brooklyn in the next few months, don't miss out on this unique experience to understand the second skin of humans and the capabilities we have to define ourselves.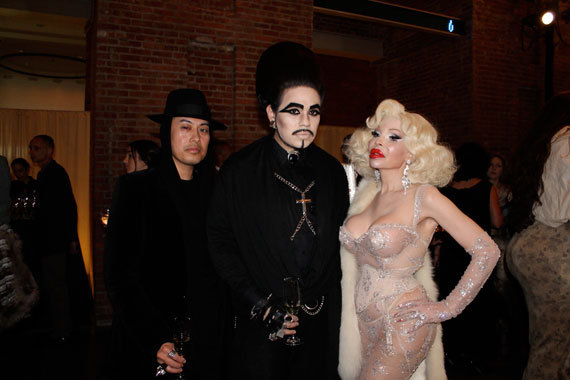 Guests (Amanda Lapore at right) at the The Fashion World of Jean Paul Gaultier exhibit. Photo by Christopher Herz.