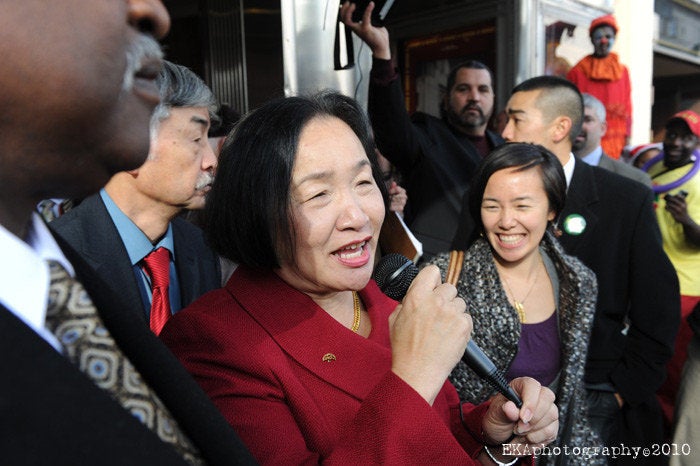 Mayor Quan has had her share of adversaries in the past year. But now, should the recall against her prove successful, she already has an opponent -- her own Vice Mayor Ignacio De La Fuente.
And now, De La Fuente has sealed his vendetta against Quan.
"If the recall qualifies, I'm in," said De La Fuente. "It's no secret that, especially when it comes to public safety, we have a huge disagreement. She has opposed every tool I wanted to give to police, from curfews to gang injunctions to an anti-loitering ordinance."
De La Fuente ran for mayor unsuccessfully against Ron Dellums in 2006, and has served on the Oakland City Council since 1999. He has also served as the International Vice President for the Glass, Molders, Pottery, Plastics and Allied Workers International Union since 1983.
Recall and Restore today suspended its operations for the recall of Oakland Mayor Jean Quan. We will not have the required number of signatures by the May 14, 2012 deadline for this petition. The reality is that paid canvassers are needed to gather 20,000 valid signatures. Recall and Restore was unable to obtain sufficient funds for paid canvassing.
In a Facebook post, the Committee to Recall Mayor Quan Now, another major recall group, announced disappointment at the announcement, but vowed to use the opportunity to double its efforts:
We were sad to learn today that the Recall and Restore committee has suspended its operations. We here at the Committee to Recall Mayor Quan Now applaud their efforts to educate all Oaklanders about the pressing need to recall this Mayor. We plan on working with these committee members and grow our own operations. This will result in an even stronger united front and a force to be reckoned with in our efforts to make the recall of Mayor Quan a reality.
CORRECTION: An earlier version of this article stated that Ignacio De La Fuente is the current City Council President. De La Fuente is actually the Vice Mayor.
Calling all HuffPost superfans!
Sign up for membership to become a founding member and help shape HuffPost's next chapter