Food Informants is a week-in-the-life series profiling fascinating people in the food world. We hope it will give you a first-hand look at the many different corners of the food industry. Know someone who would make a great Food Informant? Tell us why.
Jean K. Reilly MW is the Wine Director for the Morrell Wine Bar and the Wine Buyer at Morrell Wine Co. She is a 10-year veteran of the wine business and has worked in numerous parts of the trade. In 2010, Jean became this country's 26th Master of Wine, only the sixth American woman to hold this prestigious title. Jean's interest in wine began as a hobby while pursuing a career in corporate finance at Bank of Tokyo-Mitsubishi and Deloitte & Touche. Abandoning the corporate track in 2001, Jean plunged into wine full-time, traveling the vineyards of Europe and the U.S. After a stint as sommelier at a small French restaurant in Manhattan, she worked as a wine instructor for several culinary schools, including Schiller International University in Switzerland. From 2007 to 2008, she also served as the Wine Consultant for Hilton Hotels.
Jean was the editor of the 2007 edition of the Professional Wine Reference and is currently at work on a new edition for 2012. Jean appears frequently on television and radio speaking about wine and writes for a variety of publications, including Beverage Media and Wine Enthusiast magazines. Most recently, Jean's work in television includes her role as principle on-camera wine specialist and commentator for "Jet Set Chefs," a culinary adventure travel series scheduled to air next year. To relieve stress that a glass of wine can't handle, Jean is a dedicated skydiver.
Read on to learn how much wine Jean drinks per week, and her skydiving adventures.
Monday, October 31: A Rough Day on the Gums
10am: Hectic last-minute changes to our holiday wine and spirits catalog. Our new format is a huge step up thanks to a new designer. We are behind schedule, however, which puts the owners on edge. Timing of merchandising is everything in retail.
2pm: Four hours tasting the wines of two different importers, about 150 in total. The wines cover an astounding range of regions around the world, from standard areas like Bordeaux and Tuscany to up-and-coming regions like the Jura in France and the Collio region of Slovenia. About 10 of them seem like items that could work for our customers. I leave with purple teeth, debating the feasibility of taking a tax write-off for a tooth-whitening session. While not the worst part of my job, tasting this many wines is hard work. I spit 98% of the wine to avoid becoming inebriated. It's sometimes difficult for people to understand that being drunk at work is as much of a no-no for a wine professional as it is for someone in any other profession. I also often find myself explaining that whether a particular wine suits my personal taste is not really relevant to my job; what I'm looking for at tastings are wines that work for our customers.
7pm: Dinner with a good friend at a Warique, a fantastic Peruvian restaurant next to my building that kindly lets me BYOB. I bring several white Burgundies that I am considering carrying in the store, samples that distributors have provided. The Vincent Girardin Puligny-Montrachet 'Les Folatieres' ($85) is the winner with the spicy tiraditos.
Tuesday, November 1: A Rough Day on the Feet
9:30am: Meeting with a distributor and a small upscale producer of Chardonnay and Pinot from California's Sonoma Coast. He brings photos of his vineyards and soils. "Terroir," the French concept that the soil and local climate is unique to each vineyard and can be expressed in a well-made wine is a linchpin of communicating about upscale wines.
4:00pm: I gather my notes for a two-seating Zagat Presents dinner we're hosting at the wine bar tonight, a 5-course dinner designed as a short course in food-and-wine pairing. Chef and I have come up with some unusual pairings, including white wine with lamb ribs and red wine with crab.
6pm: Chef Jake Klein and I present the theory for the dinner and talk a little bit about how and why a good pairing can do so much to enhance the experience of a particular meal. Several of the wines chosen for the dinner are sweet so I'm nervous; there is a subset of wine consumers that wants to run screaming for the nearest exit when presented with a sweet wine. But the dinner goes exceptionally well; the crowd is unusually open-minded and the guests ask a lot of detailed questions, all of which makes me feel like I've accomplished something by the end of the event.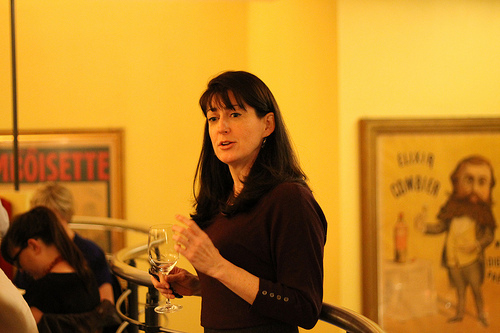 8pm: Starting all over again with a second seating of the same dinner. Note to self: don't wear 3-inch heels when leading wine dinners.
11:00pm: I get home and fall asleep on the couch before I even have a chance to take my coat off.
Wednesday, November 2: A Rough Day on the Waistline
3:00am: I wake up and realize I've still got my bag of groceries in my hand; so much for the milk.
1pm: Lunch at the newly revamped 21 Club with a PR friend, and her client, Antica Terra, an organic winery from the Willamette Valley in Oregon. The Pinot Noir is fantastic; earthy, complex and superbly balanced on a knife-edge of acidity.
3:00pm: I'm back at the office and look through our Pinot Noir portfolio and realize that it makes a good fit. A New Zealand winemaker once told me, "Sauvignon Blanc takes up 90% of our tanks; Pinot Noir takes 90% of our time." I feel the same way as a wine buyer. Unlike, say, Chardonnay, Pinot Noir is very particular about where it's grown and it is often made in very small quantities. Many times, we just develop a following for a wine and then it's sold out and I'm off hunting for a replacement.
4:00pm: I go over the wine lists with the sommelier of the wine bar. We decide to buy some high-end and mid-range Bordeaux. We also discuss our upcoming "Bordeaux Festival," launched in cooperation with the French government body that promotes the export of French wines. We'll feature 7 different red Bordeaux ranging from $9 to $18 per glass, a good addition for the cool weather that is around the corner.
7:00pm: We host a 5-course dinner at the Wine Bar with Bill Phelps of Joseph Phelps Vineyards along with 4 vintages of their iconic Napa cabernet, Insignia. There are numerous last-minute changes to the number of attendees, which is brutal for the people trying to create the intricate dinner; there's smoke coming out of the Chef's ears and the General Manager isn't any happier. Our guest of honor turns out to be very charming and has long discussions with all of the guests. The food is stupendous. Almost all the dishes are new, designed specifically around the Phelps wines; I am bowled over by a truly inspired eel dish that the Chef has created for the Cabernet Sauvignon.
Thursday, November 3: Difficulty Cutting out the Middleman
11:00am: Here is the back story: Like many retailers and restaurants, Morrell can't help crafting a wine for itself. Over the past few months, I've tasted through hundreds of samples from different wineries and come up with three blends that we think are the most appealing to our customer base. We have a Napa Cabernet Sauvignon, a Chardonnay and a Reserve Cabernet Sauvignon. The wine business is highly regulated at the state level, however, and the paperwork surrounding the production of a new wine can be overwhelming. Today I learn that our shipment will be delayed again and we won't have the wines in stock until after several days after our catalog, which features the wines prominently, hits our customers' mailboxes. The delays and the risk have been torturing me. If the bottler makes just one tiny mistake, such as letting too much air get into the wine during bottling, the entire prepaid shipment, with a retail value of $200,000 will be worthless. I won't get a solid night's sleep until the wines arrive and I taste through several bottles.
3:00pm: A conference call with the producers of an upcoming television show that I have been cast in, called Jet Set Chefs. It's as much about adventure travel as food and wine. We have plans for me to skydive (yes, skydive) into various scenic locations from planes or helicopters flown by winemakers. I love the concept and I'm very excited about the possibility but of course I know anything can change at this early stage of the game. They want more pictures of me skydiving, scuba diving and on horseback.
8:00pm: I am pouring through old hard drives and wondering just how old a profile photo can be before it should be considered out of bounds; is 7 years cheating?
Friday, November 4: Celebrating Success
10:00am: The first proofs of our catalog arrive; it's absolutely stunning. There is an audible sigh of relief at the Morrell headquarters. We also notice the first typos and that we are already low on stock on a few items. This is why God invented the Internet.
2:00pm: Meeting with a representative of one of the large distributors. Some of the large wine and liquor distributors are not the most customer-friendly -- we once asked to change sales reps because the guy who had our account for 10 years didn't know our address and it took 8 months to get a replacement. This guy's just holding down a seat; I start looking at my watch 5 minutes into the meeting.
4:00pm: Working on re-aligning our by-the-glass list for the winter. We will get rid of all the rosés and add more big reds. We have 100 wines by-the-glass and it's a constant struggle to get just the right balance to cover as many wine styles as possible and so that all of the wines turn fast enough that they stay fresh.
7:00pm: Dinner at Telepan, a fabulous American restaurant with a great wine list that is managed by a good friend. Last year, I became the fifth American woman to achieve the Master of Wine title. It was a 7-year, $80,000 exercise in tracking down every last ounce of personal strength. I threw myself 24/7 at an exam that has a 1% pass rate and wondered where I parted ways with my better judgment. There are just 300 Masters of Wine around the globe and today I am celebrating because I am welcoming two of my closest friends into the fold, Christy Canterbury and Mary Gorman. We studied together for years, sharing much pain and disappointment along the way and quite a few good laughs. I am unspeakably glad that we all made it.
Saturday, November 5: Jumping Out of Perfectly Good Airplanes
10:00am: I spend most weather-friendly weekends jumping out of airplanes. The adrenaline factor provides a great release from the stress of the week. This weekend I exit simultaneously with 4 friends and we try to body fly into a pre-determined formation. I accidentally knee one of my friends in the face as we are falling 120 mph. My victim is a big tough military guy of the type I never run into in New York City; he takes his licking like a man.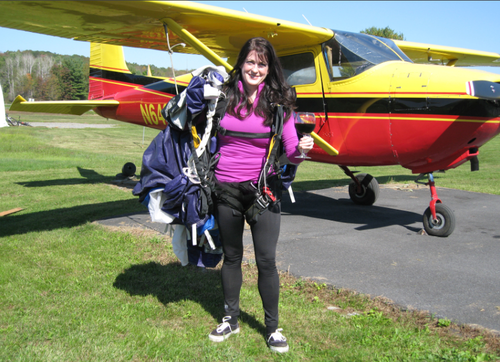 Photo: Eric Halberstadt
12:00pm: I am one of those people who is never far from a laptop. In between jumps, I get lots of work done in the hangar. This weekend, I am going through some distributor catalogs, again looking for that grape that the movie "Sideways" has made so elusive, Pinot Noir. I am also looking for some top Cabernet, in the $100-$400 range; although the pool of customers for wines in this price bracket has shrunk in recent years, there's a core group of collectors that is still devoted to seeking out the best of the best.
7pm: I end up spending a lot of time in the Poconos where I skydive. I am amazed at the good food and the astonishingly low prices for drinks in the nearby town of East Stroudsburg. I have a nigori sake and a dragon roll at the Sarah Street Grill, the best I've ever had (and I've been trying hard to find one in New York that is as good.) This is great beer country but the wine scene in Pennsylvania is a bit dismal. Happy to visit but glad I live in a global wine capital.
See more Food Informants below:
PHOTO GALLERY
Food Informants(CLONED)
REAL LIFE. REAL NEWS. REAL VOICES.
Help us tell more of the stories that matter from voices that too often remain unheard.