Now is the cool of the day
Now is the cool of the day
O, this earth is a garden; the garden of my Lord
And He walks in His garden in the cool of the day
There was never a time when Jean's Ritchie's voice wasn't part of my life. Growing up as I did in a folk music community, she was a constant influence. Dulcimers, autoharps, banjos, guitars and voices rang with songs like "The L&N Don't Stop Here Anymore", "Black Waters", and "My Dear Companion" -- not to mention older ballads and play party songs -- Loving Hannah, The Cuckoo and Jubilee. Best of all was Jean's own singing -- gentle, unassuming and beautiful, with that clear, high voice that took you right to the hollers of Perry County, Kentucky.
I was in my thirties before I got to know Jean personally -- she and her husband George Pickow hosted a folk music picnic at their home in Manhasset, N.Y. We all sat down and sang together, and you've never heard the Long Island suburbs as quiet as it got in that yard when Jean sat down with her dulcimer and started playing "Pretty Saro". That was the day I learned about Jean's graciousness, generosity and humor. This is a woman whose music had given voice to the beauties and tragedies of Appalachian life and culture, who had influenced millions, who had played the Royal Albert Hall and Carnegie Hall, whose singing had helped shape American music, who could rock a baby to sleep in one breath and dress down the strip miners in the next -- and here she was, opening her home to all of us without a second thought. In typical form, she found a kind word for everyone who sang that day.
We made music from afternoon to evening, and as shade began to spread over the yard, Jean sat in her garden and sang:
My Lord, He said unto me,
"Do you like My garden so fair?
You may live in this garden if you keep the grasses green
And I'll return in the cool of the day."
I'd heard the song dozens of times, but I don't know that I'd ever really listened before. In that moment, its full impact hit me -- the beauty and imagery of Jean's words, echoing the biblical story of the Garden of Eden, but also Jean's very contemporary message of responsibility and covenant with earth, the divine and one another.
You may live in this garden if you keep the waters clean. You may live in this garden if you will feed My lambs. You may live in this garden if you keep the people free.
I got to know Jean and her family after that picnic, and she donated a song to an album I co-produced honoring her friend Utah Phillips. When she received her copy she wrote me a note expressing the hope that someday, someone might do something like that for her. A few months later, Jean suffered a stroke, and I began to wonder whether it might be time to make that CD. After George died Jean, now retired, mentioned to our friend Mick Lane that she worried her old music friends might forget her, and we knew the time had come.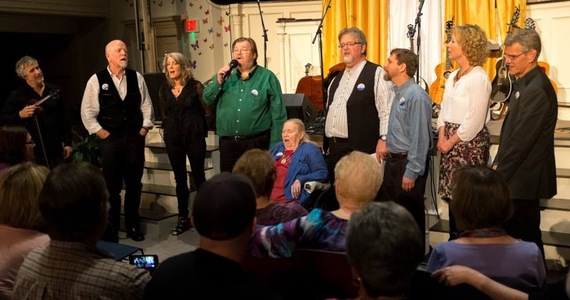 John McCutcheon, Kathy Mattea, Jon Pickow, Jean Ritchie, Mick Lane, Dan Schatz, Susie Glaze and Steve Rankin sing "The Peace Round"
May 23, 2015, Berea, Kentucky (Photo by Don Cardwell. Used by permission.)
By the time Mick, Charlie Pilzer and I started gathering artists to record Dear Jean: Artists Celebrate Jean Ritchie, Jean had returned to Kentucky, where she lived quietly and comfortably for the rest of her life. Recording her songs, every artist gave back to Jean some of the love and support she gave to all of us for so many years. It was as if, recognizing that Jean now walked in the cool of her own day, the music community she helped to create had come back to her garden to return some of the love, beauty and wisdom she put into the world.
Jean died this past week, surrounded by family who sang by her bedside. Her last performance came at a concert in Kentucky just one year ago, when Susie Glaze, John McCutcheon and Kathy Mattea came to sing for Jean one more time at the Union Church in Berea. At the end of the evening, Jean, who had spent the entire evening singing along from her front row seat, turned around in her wheelchair and directed us all in The Peace Round. Then, with Jean's family gathered around her, the room stilled and then echoed with the beauty of the Ritchie family goodnight song, Twilight A-Stealing. Thinking on it now, it was a fitting close to a life of love and music.

The Ritchie Family with Dear Jean performers in Berea, Kentucky
May 23, 2015 (Photo by The Jean Ritchie CD Project Trust. Used by permission.)
These things are important -- honoring friendship, listening to elders, reclaiming our heritage, protecting the land. Music is important, and afternoons spent singing together. Life deserves to be celebrated, and Jean Ritchie taught generations to celebrate life.
Related
Popular in the Community