The only hard and fast rule I know about summer clothing is that, apparently, it's only OK to wear white shoes between Memorial and Labor Day.
I don't know who decided this -- probably the same old rich dudes who find it acceptable to attend yacht parties wearing pastel-colored khakis embossed with tiny lobsters and schooners.
Anyway, the white shoe thing isn't even a problem for me, because wearing white shoes in New York City is a fool's game. After a week, your virginal footwear will take on the fetching, mottled gray hue of diseased pigeon (incidentally one of New York's most prized indigenous species).
No, my summer style conundrum can be summed up in two words: jean shorts.
I love jean shorts... in theory.
In theory, as soon as I put them on I instantly look exactly like Giselle Bundchen from the waist down.
In theory, my skin turns from the color of tracing paper to a golden tan the color of fine scotch, and my legs grow two feet, like Inspector Gadget's did when he needed to climb over tall things.
Of course, this is all in theory. In reality, even doing my model-iest pose I resemble an albino Munchkin when compared to Her Leggyness.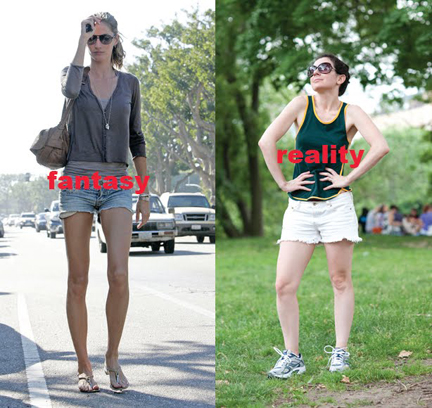 Seriously, here's what a combined photo of the two of us would look like, to scale: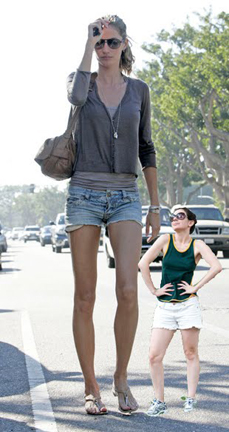 And in those photos I'm wearing store-bought jean shorts. So you can imagine how dire the situation is when I wear cutoffs I made myself.
You know what? Why bother imagining? Let me show you.
OH NO SHE DIY-DN'T!
(Jean shorts mistakes to avoid)
Please note: Lest you think I've succumbed to TTDT disease, know that I'm purposefully standing with my legs apart in these photos, for vanity purposes.
Paranoid about accidentally cutting too short (see #4), you may end up with unflattering -- albeit Vatican-appropriate -- jean-Jams.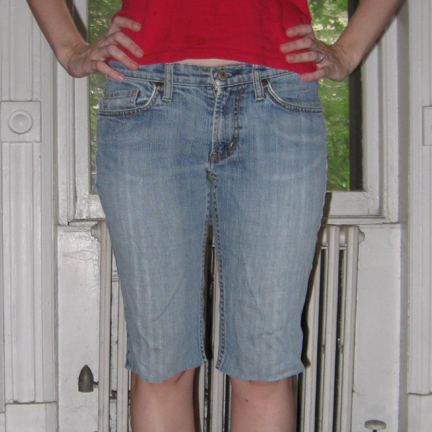 This is a hell-to-the-no style for all but the most coltish among us. Try again.

2. THE FRATERNAL TWINS
If you're anything like me, you don't use measuring tape or even a ruler; you just eyeball the length and hack away. This can result in an Arnold Schwarzenegger-Danny DeVito situation: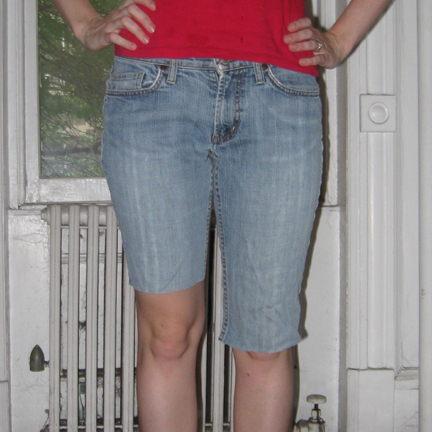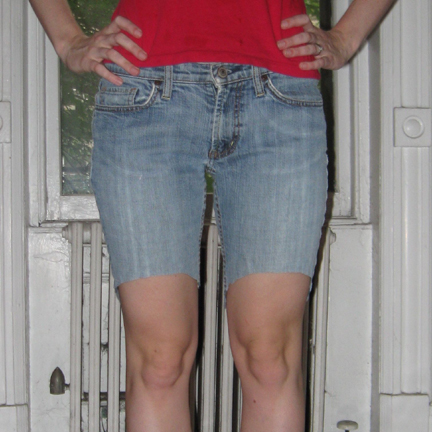 "Oh, hey!" you may be saying to yourself. "These look OK."
Unscientific cutting has led to an uneven, mullet-y effect: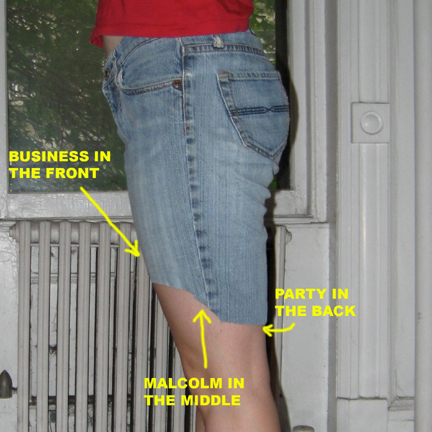 4. THE TRUCKSTOP JAILBAIT
The only thing worse than leaving shorts too long is making the question "Who wears short shorts?" rhetorical.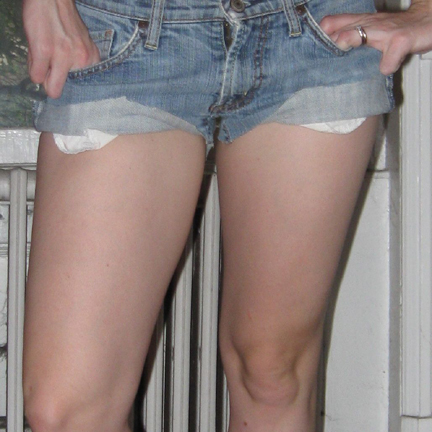 (Fun story: I went to the NYC gay pride parade with my uncles in the mid-90s, and a gentleman was wearing shorts so short his balls were hanging out of one side. Innocence lost!)
PHOTO ESSAY QUESTION
Is there any way to use the remaining legs?
There are only so many ladyparts a denim sleeve can fit on. Herewith, some ill-advised modeling: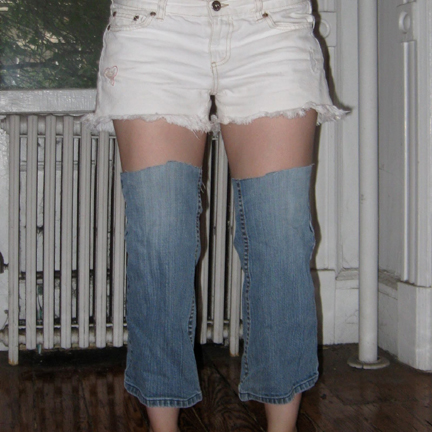 Because the most flattering part of the leg is the upper thigh!
Could this be summer's answer to the Texas tuxedo?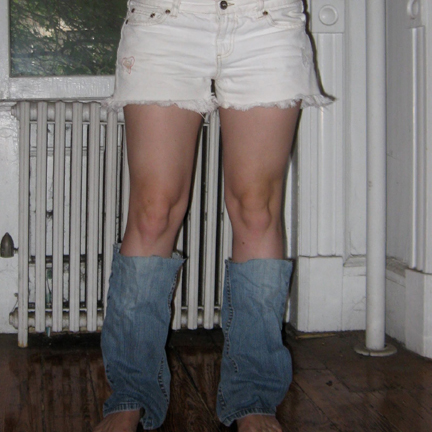 Also, maybe I've just been staring at this photo for too long, but don't my knees look like little faces? I wonder what they'd say if they could talk...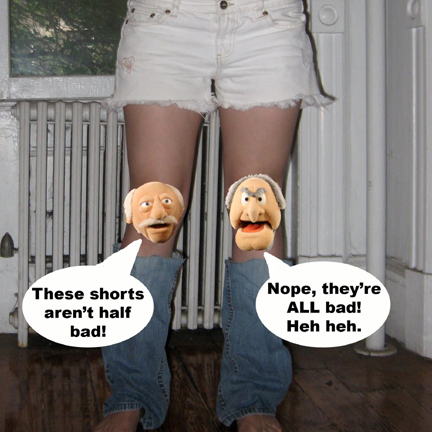 Perhaps best not to know.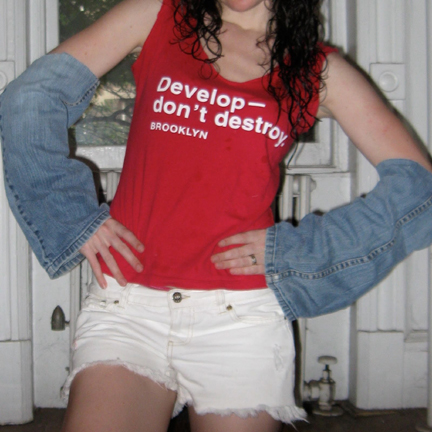 No, I haven't been drinking... why do you ask?
BTW, when I was taking this photo with my self-timer, the settings were off and I wound up with this: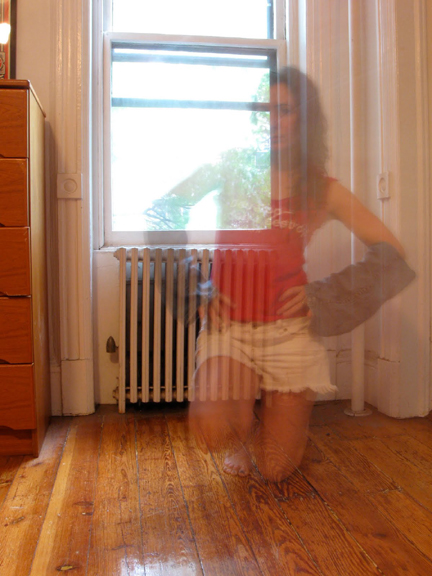 ...which led to a minor freak-out in front of my husband.
Me: JEFF! Jeff, omigah, look!
Jeff: [Playing video games] What?
Me: The camera can't see me! I'm a ghost!
Jeff: It was a natural light photo, so the shutter was open for a long time, and you moved.
Me: No, I'm pretty sure this means I'm going to die.
Jeff: Yeah, probably.
Me: AND if this picture's any indication, I'm going to spend eternity in jean shorts and arm cutoffs!
Jeff: Let's hope St. Peter's blind.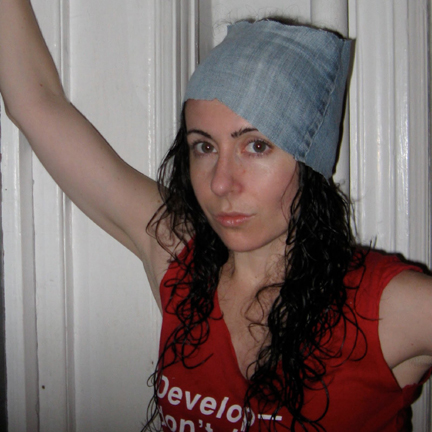 Wait... this means my thighs are the same circumference as my skull. Is that normal? Excuse me while I go stick my head in all of my pants.