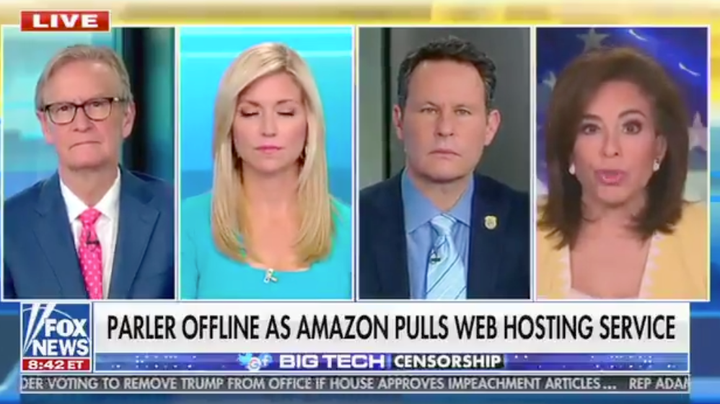 Fox News host Jeanine Pirro slammed the backlash against Parler, claiming that the right-wing social media app has faced "censorship" that is "akin to a Kristallnacht."
On "Fox & Friends" on Monday, Pirro weighed in on Parler being dropped by Apple, Amazon and Google over the weekend, following the Jan. 6 insurrection at the U.S. Capitol, which was led by supporters of President Donald Trump.
Asked simply about her reaction, Pirro said: "Well, look, they gave us a taste of this pre-election when they suppressed the Hunter Biden story," referring to an ongoing right-wing conspiracy theory falsely linking the business dealings of President-elect Joe Biden's son Hunter in Ukraine to U.S. foreign policy.
She went on to say of Democrats: "And now that they've won, what we're seeing is the kind of censorship that is akin to a Kristallnacht, where they decide what we can communicate about."
By bringing up Kristallnacht, or the "Night of Broken Glass," Pirro suggested that Parler being ousted from Apple and Google's app stores and booted from Amazon's web-hosting service is on par with the destruction of 267 synagogues and thousands of other Jewish-owned businesses in Nazi Germany, the arrest of tens of thousands of Jewish people, and the deaths of at least 90 on November 9-10, 1938.
Parler, which touts itself as the "free-speech" platform, has exploded with users in the last week as many extremists have had their posts blocked on mainstream platforms like Twitter and Facebook. BuzzFeed reported last week that Parler was rife with messages encouraging "Patriots" to march on Washington with weapons on Jan. 19, the day before Biden's inauguration.
After dropping Parler from its app store on Saturday, Apple said in a statement that while it has "always supported diverse points of view being represented on the App Store, but there is no place on our platform for threats of violence and illegal activity."
"Parler has not taken adequate measures to address the proliferation of these threats to people's safety," Apple said.
Hours after her initial remarks on "Fox & Friends," Pirro tweeted a clarification. She indicated that her reference to Kristallnacht was "in the context of books," which were destroyed en masse during the event, and that the "Holocaust was the greatest hate crime the world ever tolerated."
Oddly, Pirro was not the only one to evoke an infamous anti-Semitic event from World War II in addressing the current political climate ― although her comparison was very different from that of former California Gov. Arnold Schwarzenegger.
Schwarzenegger spoke out on Sunday against the deadly Capitol insurrection. He tweeted that, as an immigrant from Austria, he's "very aware of Kristallnacht" and noted that last Wednesday's destruction was the "Day of Broken Glass right here in the United States."
"The broken glass was in the windows of the United States Capitol. But the mob did not just shatter the windows of the Capitol. They shattered the ideas we took for granted," he said, adding that the rioters "trampled the very principles on which our country was founded."
Besides her Kristallnacht comparison to the fallout from the Capitol riot, Pirro has also condemned the right-wing theory that left-wing anti-fascists, or antifa, were to blame for the destruction itself.
"The actions at the United States Capitol three days ago were deplorable, reprehensible, outright criminal. These frightening and repulsive actions represent the most significant breach on our Capitol in over 200 years. And I don't care with happened in the past and/or whether those who did it think the election was stolen," she said on her Fox News show on Saturday.
"And stop looking for other people to blame, including those dirtbag terrorists antifa," Pirro added. "To those of you who did this, you did it, of your own will, and you will be held accountable. Take the veil of politics off. Be totally objective ― anyone watching this must condemn it."
Popular in the Community