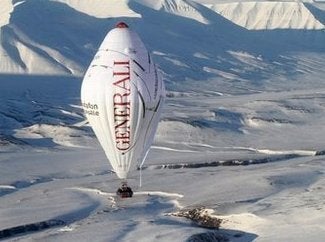 (AP) PARIS — A French explorer's team says he has made the first Arctic crossing by balloon, landing in the tundra of eastern Siberia five days after taking off in Norway.
Jean-Louis Etienne traveled 3,130 kilometeres (1,945 miles) in his special balloon, sailing over the Arctic Circle.
The 63-year-old radioed his team after landing Saturday, expressing relief "because there were difficult moments and I was starting to lose sleep." The landing had been set for Alaska, but Etienne had to change course after a snowstorm Wednesday near the North Pole hindered the recharging of batteries via solar panels.
Etienne measured the atmosphere for C02 during his trip and did other tests.
In 1986, the explorer became the first person to reach the North Pole alone.
REAL LIFE. REAL NEWS. REAL VOICES.
Help us tell more of the stories that matter from voices that too often remain unheard.