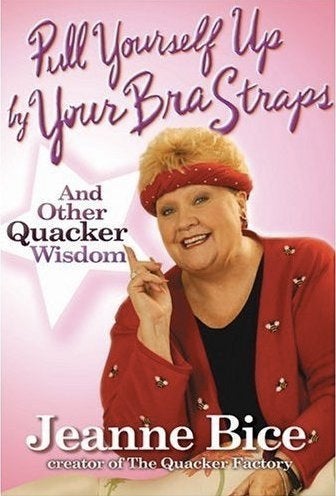 Jeanne Bice, a designer and QVC host known for her headbands and boisterous personality, has passed away at the age of 71. Her cause of death has not been disclosed.
Bice, who started the Quacker Factory clothing line and first appeared on QVC in 1995, brought brightly colored outfits and seasonal-themed clothing to the network and garnered a legion of fans. The Quacker empire spanned television, internet and even fan ocean cruises. She also wrote a book titled, "Pull Yourself Up By The Bra Straps."
She loved QVC. Everything about it. She loved the people: the executives who ran it, and the production people who worked so hard to make every show perfect. She loved the famous stars who appeared there, and had to pinch herself when others considered her one.

She loved the hosts of her shows, her buyers and all the people who worked with her and for her to make Quacker Factory clothes a reality.

But most of all-above everything else-Jeanne loved the Quackers. 'They come as customers, they stay as friends,' she said over and over. Because that was how she felt. 'I owe everything I have to these women who believe in me.'
The Quackers loved her, too. Tributes and well wishes flooded the site, including the following:
So sorry to hear of Jeanne's passing. We have been loyal Quackers for years. My sister was in a nursing home and we would both tune in to watch Jeanne's shows on QVC for years. We would be on the phone chuckling at antics, and admiring new clothes and of course ordering.

She was a friend with inspiration and you could always count on her shows to lighten your spirits with clothing and inspiring tales. Her clothes just say "me" and I wonder how she knew that they would just be so perfect! We will miss you, but what a incredible legacy you have left for all of us. Now you are up in heaven with Angels lining up to say "Quack, Quack", may you rest in peace.
I was so saddened to hear this news yesterday. I loved to watch Jeanne when she was on QVC - her lively spirit always lifted mine. She was a wonderful and giving lady who brought much joy to all of us. I will be forever grateful for her wonderful and fun clothing designs and especially for her Dream Jeanne's - I can finally be comfortable wearing jeans because of her unique design and attention to detail in making us all look fashionable!
My condolences go out to her family and close friends. You are in my thoughts and prayers.

hugs,
josie
We didn't know each other - personally, but in spirit we did. I met you on the Q - have purchased many of your items and love each and every one of them. I just received two items a few weeks ago. Oh how I will miss you. You were always so positive, so up-lifting, motiviating and just passionate about life - everything in life! I am so sad you left us so early. My prayers are with your family during this most difficult time. I know you are designing bling for the angels wings with a dash of color too! :). I hope your family continues the Quacker Factory business so every piece is a iving memory of everyting you were. Rest in peace my sweet little quacker!
WATCH
:
Calling all HuffPost superfans!
Sign up for membership to become a founding member and help shape HuffPost's next chapter