We first met Jeannie Kokan several years ago when she was putting together her young adult novel. Years later, it's become a piece of women's fiction. The Existence of Pity is out now, so we picked Jeannie's brain on her travels through the rocky seas of publication.
The Book Doctors: When did you first become a writer?
Jeannie Zokan: I've written all my life, but I first saw myself as a writer at a poetry workshop in Washington, DC. I was in my twenties, and our leader, Sandy Lyne, had us come up with affirmations to silence our inner critics. Mine was, "I am a courageous poet." I'd filled many notebooks – and burned some of them in a pile in my backyard in Colombia – but that workshop, where I acknowledged my fear and wrote anyway, was my starting block.
TBD: What books did you love as a kid and why?
JZ: Books were my best friends as a kid, and although my generation didn't have Harry Potter, we had The Chronicles of Narnia by C.S. Lewis, which my mom read to my brothers and me over and over. There were many, many more books, but one author influenced me the most. Betty Cavanna wrote in a clear, easy voice about strong young women facing life with honesty and openness. Every one of her books resonated deeply with me.
TBD: What books are you reading right now?
JZ: I am reading My Name is Lucy Barton by Elizabeth Strout for a book club, and I'm really enjoying her style. Also, Zen and the Art of Motorcycle Maintenance is on my bedside table for the third time. Such a thought-provoking read!
TBD: How did you learn to become a writer?
JZ: Oh, the usual, I suppose. By reading, writing, taking classes, and studying books about writing. But learning to write a novel tripped me up for many years. I wrote poetry, short stories, articles, even my memoirs, but I couldn't see how to create a complete novel.
Then NaNoWriMo came into my life. I'll never forget making that seemingly insignificant decision to buy Chris Baty's No Plot? No Problem! in Barnes & Noble back in 2008. It turned out to be exactly the primer I needed to create a riveting story with complex characters and an amazing setting. And writing a novel in one month worked perfectly for me. My daughters, then seven and ten, and my sweet husband were willing to let me have November.
I wrote my first novel in 2008 and have written seven more since then. The Existence of Pity was written in November of 2010. I'm also grateful NaNoWriMo introduced me to your indispensable book, The Essential Guide to Getting Your Book Published.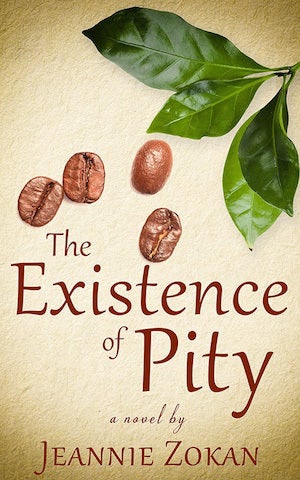 TBD: How did you end up getting published?
JZ: For three years, I worked on The Existence of Pity with a critique group at the West Florida Literary Federation. Then I sent it to a list of agents who promptly rejected it. I worked on the manuscript another year with college instructor and English teacher Diane Skelton. Her critiques were absolutely invaluable. Even so, the second time I sent out the manuscript, I was rejected again.
The third time proved to be a charm. With the help of two more critique groups and my daughter, who was fourteen at the time, I knew the book was finally where it needed to be. Among this wave of agents and publishers was Red Adept Publishing, and on November 14, 2015, they called and told me they wanted to publish my manuscript. Exactly one year later, my book was released, and I can't thank Red Adept Publishing enough for giving my story a chance. It all comes down to publishers and acquisitions editors who read through their slush piles, making dreams come true one manuscript at a time, and I will be forever grateful!
TBD: What was the editing process like for you?
JZ: "Brace yourself," my publisher told me! But since I'd been through so many critiques with The Existence of Pity, I was prepared. Of course there were moments when my editor wanted more than I thought I could give, but one thing I've learned is that there is always a way to resolve scene issues or clunky sentences. I've also learned to love feedback. Thoughtful edits always make writing better. I just remind myself I'd rather be happy than right. I've been given many gifts of perfect edits: the right word or turn of a phrase, the right addition—or subtraction—of a scene. All I had to do was brace myself and graciously accept each one.
TBD: What the heck is aerial yoga and why does anyone do it?
JZ: Aerial yoga is Cirque du Soleil in my living room! On a much smaller scale. I bought our aerial yoga swing on Amazon and had a professional bolt it to the ceiling. Now my husband, daughters, and I hang upside down and flip around on it whenever we want. I'm half an inch taller as a result. It's also fun to watch the braver of my friends try it when they come over.
TBD: You are also a writing coach. What do you feel like you've learned about your own writing from coaching other writers?
JZ: The writing coach gig hasn't quite taken off yet, that's why there's still an introductory rate of $25 per hour! But I've spent hundreds of hours in critique groups over the past decade, and my writing has improved not only because of their edits, suggestions, and comments, but also because of their dedication to writing, and their willingness to show up week in and week out.
TBD: Your book is so much about family. Did you draw from your own experiences? Has your family read this book? Are they still speaking to you?
JZ: Yes, I drew the setting from my experience as a missionary kid in Colombia, mostly because people have always asked me what it was like to grow up overseas. This book is my answer.
My immediate family loves my book like I do, and they are my biggest fans. As for my family of origin, the jury is still out. I don't think any of them have read it yet, and though I dedicate it to them, this book is more for those who find themselves in Josie's predicament, not sharing the same beliefs as their families. I want them to know they aren't alone. I wrote this for my younger self, who felt very much alone, and she really appreciates it.
You could say Josie's mother is the antagonist, but don't forget I'm a mother, too. I can relate to Astrid getting caught up in her life's work, believing she knows what's best for her children, forgetting to notice how they are changing. It takes an effort to set one's beliefs aside and allow others their own points of view, and any mother can relate to that.
The Existence of Pity was scary to write, and even scarier to pursue publication, but I did it for my husband and daughters, and for others who loved the story. Besides, if we only wrote what our mamas and daddies approved of, where would we be?
TBD: Have you been back to Colombia?
JZ: I left Colombia after graduating from high school, and was able to visit many times before my parents retired to the States. Around the same time, travel to Colombia became too dangerous. It seemed I'd never get to go back, and I felt like an exile. But then, in a heartbreaking twist of fate, I was given a reason to visit Colombia again.
In 2012, we became aware that my mother had Alzheimer's. Within two years, my father took her back to Colombia. Healthcare for her was much more affordable and compassionate there. My parents lived in a beautiful compound with cheerful nurses and cooks, and I cherished visiting and being able to take my husband and children to see the country of my youth. I've written about these bittersweet trips to paradise in my blog at www.JeannieZokan.blogspot.com.
My parents are back in the States now, since being far from family was difficult for my father. My mom is in a Personal Care Home, living always and only in the now, oblivious of Astrid and Josie. We sing together often, and she tells me she loves me. I can't ask for any more than this.
TBD: We hate to ask you this, but what advice do you have for writers?
JZ: You know the answer to this one, David! My advice to writers comes from your book, and the quote is still taped to my computer.
"The more you know in your heart that you are the perfect author for your book and that your book is salable and/or necessary, the better your chances of convincing someone else."
So to writers everywhere, read the guide (it really is essential!) and then write what is yours to write. Be the courageous poet you were born to be.
Jeannie Zokan grew up in Colombia, South America as the daughter of missionaries. She now lives in Florida's Gulf Coast with her husband, two daughters, two dachshunds, and a cat.
Related
Popular in the Community