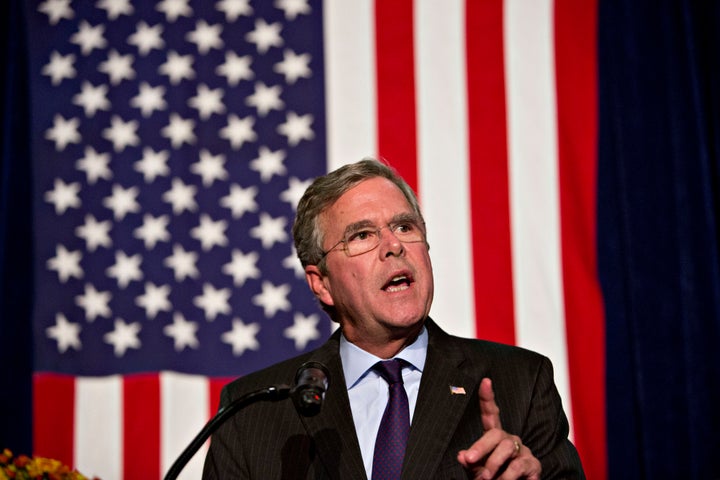 WASHINGTON --Republican presidential candidate Jeb Bush on Thursday will release the names of bundlers raising money for his campaign, making him the first GOP candidate to make such a disclosure since 2008 nominee John McCain.
The Bush campaign will release online the names of donors who have raised at least $17,600, according to The Wall Street Journal.
The total is a rather low threshold for bundlers, who usually collect six figures worth of checks from other donors. The Bush disclosure won't provide details on which fundraisers have actually raised large sums.
For comparison, Democratic presidential candidate Hillary Clinton released a list of her bundlers in July that showed those raising at least $100,000 for her campaign. These included Morgan Stanley executive Tom Nides, television producer Haim Saban, lobbyist Steve Elmendorf and hedge fund executives Blair Effron and Marc Lasry.
President Barack Obama, during his two presidential campaigns, disclosed his bundlers in even more detail. Obama divided his bundlers into categories of $50,000 to $100,000, $100,001 to $200,000, $200,000 to $500,000 and those giving above $500,000.
Former President George W. Bush, Jeb Bush's brother, was the first GOP presidential candidate to disclose bundlers in 2000. The Bush campaign released bundler names for those giving above $100,000, which they called "Rangers," and above $200,000, known as "Pioneers."
"Tomorrow's donor disclosure is a first in the Republican field and follows his previous unprecedented release of nearly 300,000 emails from his time in public office and 33 years of tax returns," Bush spokeswoman Kristy Campbell told Fox News on Wednesday. "This display of transparency is consistent with the high level of disclosure he practiced as governor of Florida, and, frankly, should be expected of those seeking the nation's highest office."
Calling all HuffPost superfans!
Sign up for membership to become a founding member and help shape HuffPost's next chapter