It started as a joke, or for those obsessed with conspiracies, a new obsession.
The conspiracy? Donald Trump is running for president of the United States only to concede to Hillary Clinton. Former Florida Gov. Jeb accuses Trump and former Secretary of State Hillary Clinton in his new ad of having a secret master plan:
Bill and Hillary Clinton at the reception of Donald Trump and Melania Knauss in Palm Beach, Fla., on January 22, 2005
(Getty Images)
The two families were once close--the Clintons, who attended Trump's wedding reception, back in 2005 for his marriage to Melania Knuass, have a past of being friendly with the Trumps.
But recently accusations against Trump have been circulating as conservatives feel he has walked both sides of several issues before. Bush's ad accuses Trump and Clinton of conspiring to take down the GOP.
Dreams of Commander in Chief
April 12, 2015, Clinton announces she will again, be running for president.
Then just two months later on June 16, Trump announces his big news, "So ladies and gentlemen, I am officially running for president of the United States."
Beef with the GOP
In 1999 Donald Trump renounces the Republican Party saying, "I really believe that Republicans are just too crazy right." He said when "he declared he would register with the Independence party, the New York version of the Reform Party," according to a New York Times article written in 1999.
GOP Fears Mole
Trump had previously supported Clinton's presidential candidacy and supported her during her time as a New York senator. Trump interviewed with Fox and Friends on July 15, 2015 where he admitted to past contributions to Clinton's campaign, "I'm a businessman, I contribute to everybody ... That's part of the problem with the system," Trump said nearly six months ago. He defended his contribution and downplayed it after suspicions from the GOP of a liberal mole.
In this same interview Trump attacks the then Texas Gov. and presidential candidate Rick Perry on his failure to maintain the border but appears nonchalant about friend Hillary, ""Nice person, has no energy, will never bring our country back," Trump said on Fox and Friends.
Changing Positions on Big GOP Issues
Abortion
On October 24, 1999, Trump interviewed on Meet the Press and said, "I'm very pro-choice. I hate the concept of abortion... But you still... I just believe in choice. It may be a little bit of a New York background... I am pro choice in every respect."
Ontheissues.org reported that in 2011 Trump changed his stance on abortion, the once 'pro-choice' individual switches to 'pro-life'. Then 10 months later says it should be defunded.
In August of 2015 he says Planned Parenthood is important, but it should be defunded after the allegations were made that the government-funded organization was using aborted fetuses for research.
Gun Control
2000 In Trump's book "The America We Deserve" "I generally oppose gun control, but I support the ban on assault weapons and I also support a slightly longer waiting period to purchase a gun," he said. "With today's Internet technology we should be able to tell within seventy-two hours if a potential gun owner has a record."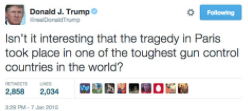 Trump's views on gun control are listed clearly on his campaign site "The Second Amendment to our Constitution is clear. The right of the people to keep and bear Arms shall not be infringed upon. Period."
Trump has become so pro-guns that he has even blamed the Paris terror attacks on too strict of gun control "Had there been some guys with a gun, there would have been a shootout and probably the primary people that would have got whacked would have been the killers," Trump said on CNBC's "Squawk Box."
Health Care
In 2000, Trump said it was important for Americans to have universal health care, with the then 42 million who were uninsured at the time. Trump said as a country, "we take care of our own" but now the presidential hopeful is changing his tone in hopes to eradicate Obamacare and possibly utilize a 'health savings account', which has been discussed by Republican candidate Ben Carson.
Presidential Dreams Coming True
The Republican presidential candidate has almost thrown himself onto the ballot, going back to 1988. While in 1988, the real estate tycoon traveled to New Hampshire, he did not start a presidential run. Then in 2000, he realigned himself with another party, making him ideologically ineligible to run for the Republican nomination. In early September 3 2015, the New York native, signed the Republican National Committee's Loyalty Pledge, to ensure he would not run as an independent. Since then, Trump has remained vocal about his political ideas and openly stated his ideas on gun control, abortion and other highly discussed issues. Now, Trump is in high gear, leading in the majority of Iowa polls, and all of the national polls.
Is it Real?
Tell us what you think, is Bush making a desperate swipe at Trump? Or is the conspiracy real? Comment below. For the both of us, we will have to wait until the Republican National Convention in Cleveland, July 21, 2016.

Co-Written with Aimee Schnebeck
Popular in the Community