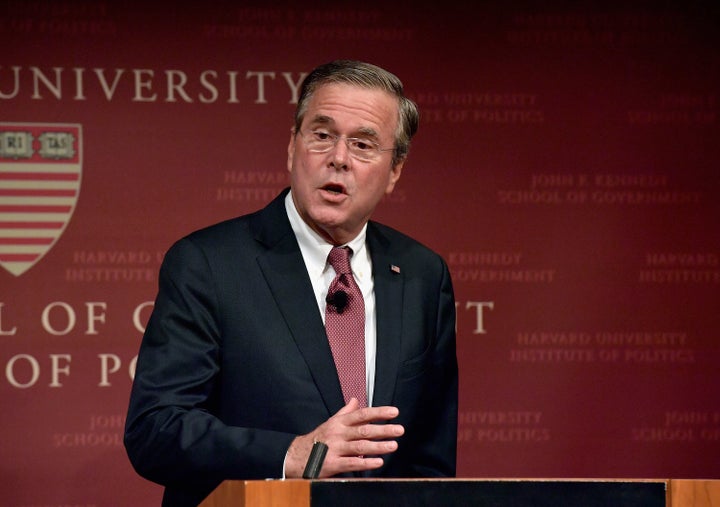 Former Florida Gov. Jeb Bush (R) worked for years with a group that specifically told politicians not to use the term "anchor baby" because the offensive term would alienate Latino voters.
The Hispanic Leadership Network issued a memo in 2013, in the wake of GOP presidential candidate Mitt Romney's abysmal performance among Latino voters, outlining "tonally sensitive messaging points" on immigration. The memo, titled "Suggested Messaging Dos and Don'ts of Immigration Reform," aimed to offer alternatives to the "negative and harsh rhetoric that has hurt conservatives in the past."
"Don't use the term 'anchor baby,'" one of the memo's bullet points reads. Two months after the memo was released, Bush co-chaired HLN's annual Miami Conference to promote his book and discuss Latino political engagement. He had served as the conference's co-chairman the two years before as well.
The memo offers a sharp contrast to Bush's use of the term this week, as he campaigned for the GOP presidential nomination. True to the memo's predictions, Bush sparked an uproar on Wednesday among Hispanic groups and immigrant rights activists, who pounced on him for rattling off the term in a radio interview.
Bush stood by the term in televised comments Thursday, arguing that the English language does not offer a less derogatory, shorthand substitute.
"Do you have a better term?" Bush asked a reporter who questioned whether he regreted calling Americans with undocumented parented "anchor babies." "You give me a better term and I'll use it."
"Is that not bombastic?" a different reporter then asked.
"No, it isn't," Bush answered. "Give me another word."
"For me, this is personal. I view these attacks and it's personal to me," Sanchez said, according to Latin Post. "Immigrants come to this country to contribute. They come for opportunity, they give back so much to this country, they make it vibrant, they make it economically a powerhouse in the world and here we have presidential candidates -- these are people who want the top spot in the land… and using a term that is so vile."
Emily Benavides, a spokeswoman for the Bush campaign who also worked for the HLN back when the memo was published, emphasized the candidate's comments about his personal experience with the immigration issue and his commitment to pursuing reform in an email to HuffPost.
"Governor Bush has been clear that we need to have a respectful tone in this debate," Benavides wrote. She pointed to comments Bush made just before explaining to reporters why he uses the term "anchor baby."
"This whole immigration debate is hurtful for a lot of people," Bush said. "Really hurtful, I'm not talking about my family here, I'm talking about in general when you just choose this tidal wave of accusations or bombastic talk. There are a lot of people that share the immigrant experience. When they hear this what they hear is you don't think I'm part of this, you don't think I'm part of this country. I know that for a fact because I have hundreds of people that tell me that. I think we need to tone down the rhetoric a little bit, talk about solutions, and get on with fixing things in this country and turn this into a driver for success for our country rather than this defeatist attitude that we now have."
Popular in the Community