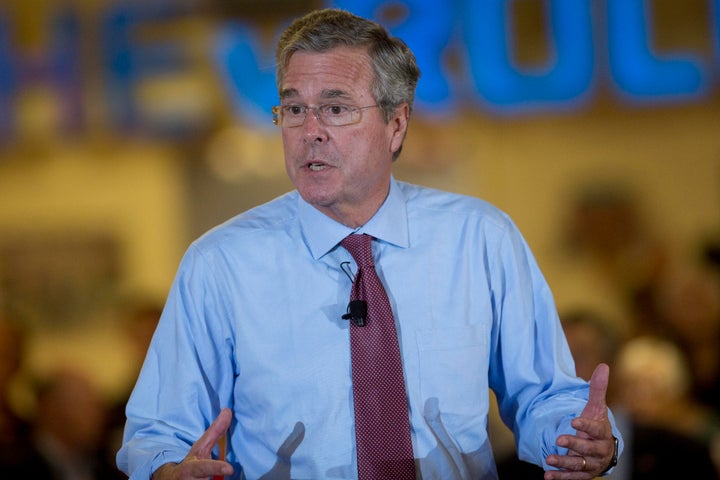 WASHINGTON -- A Las Vegas campaign event for GOP presidential contender Jeb Bush came to a sudden end this week as activists, unhappy with how Bush addressed a question on racial injustice, chanted, "Black Lives Matter."
After the confrontation, the Bush campaign said the candidate had privately met with advocates for the movement before the event, an assertion that appeared in multiple articles about the disruption.
But that description is misleading, The Huffington Post has learned.
There was a meeting, but no activists from the Black Lives Matter movement participated. Instead, Bush met with a local elected official, a GOP lobbyist and a staffer from an anti-poverty organization.
Kevin Hooks, president and CEO of the Las Vegas Urban League, told HuffPost he set up the meeting at the Bush campaign's behest. His organization focuses on providing job opportunities for low-income residents. Hooks said that while he respects Bush for reaching out, he would not characterize the people at the meeting as Black Lives Matter activists. "It's a little disingenuous," he said.
There were three people at the table with Bush. Hooks confirmed that a member of his staff was one of them. North Las Vegas Mayor Pro Tem Pamela Goynes-Brown was the second, and she said the third attendee was Sean Fellows, a registered lobbyist for a communications firm who once ran as a Republican candidate for state assembly. The Las Vegas Sun once reported that he wore through his New Balances campaigning, and the photo accompanying the article showed him sporting pleated khakis.
Fellows did not respond to multiple requests for comment. The Bush campaign did not comment on the list of attendees.
The meeting came about after BuzzFeed reported that Black Lives Matter activists might attempt a demonstration at the event, the Bush campaign said. Campaign staff members reached out to Hooks to see if activists wanted to meet with the presidential candidate prior to the event.
Hooks told HuffPost that the campaign was earnest in its outreach attempts and willing to talk to anyone, but "people didn't really want to talk to them."
The Bush campaign did not comment on whether it stood by its statement that the candidate met with Black Lives Matter advocates. The campaign said that advocates were invited, and couldn't speak to why people might not want to attend.
The private meeting was about fifteen minutes long, according to those who attended. Goynes-Brown told HuffPost that the meeting did not focus on the Black Lives Matter movement, although attendees did discuss criminal justice issues. Goynes-Brown said she strongly supports the movement, but would not call herself an activist.
Hooks said his organization brought up the Voting Rights Act and a black man, allegedly armed, who was shot in Ferguson recently. "There was as lot of non-response," Hooks said.
HuffPost also spoke to activists from Unity Vegas, a group formed in the wake of the Eric Garner's death. Unity Vegas members questioned Bush at the town hall event, but said they didn't attend the private meeting.
Jamie Hall, who supports Black Lives Matter, stood up during the Q&A session and listed statistics about racial disparities in police killings. She asked Bush how he planned to address issues such as the school-to-prison pipeline.
Bush responded that there are "serious problems," and that "there is racism in America, no one should deny that."
Tenisha Martin asked Bush, "How do you relate to it?" She told HuffPost that she is a single mom with a teenage son whom she sends out every day, "nervous he may not come home."
Bush, visibly annoyed at the interruption, pivoted to discussing his plan for education reform and took no more questions. Jeanne DuBose told HuffPost, "We weren't interrupting; we were listening. And once [Hall] asked her question, that was it. He turned around, he started to walk away," she said. "We stood up and we started chanting, 'Black Lives Matter.' He just ignored that."
Attendees described the chant as a spontaneous outbreak. "We weren't happy or satisfied or any of that with his answers," Martin said.
Bush is the latest candidate to have a campaign event disrupted by Black Lives Matter advocates. Activists shut down a recent rally for Democratic presidential candidate Bernie Sanders in Seattle.
Hooks told HuffPost that he was impressed that Bush was willing to go into the "lion's den," and he urged candidates from both sides of the aisle to come back to Las Vegas and speak to the community. The Bush campaign said that it plans to return to the city.
But Patrisse Cullors, co-founder of Black Lives Matter, was not impressed. "He lied, or does he not get what's happening? And he thinks he's meeting with people when he's not?" she asked. "Incredible. In-fucking-credible."
Ryan Grim contributed reporting.
Support HuffPost
The Stakes Have Never Been Higher
Popular in the Community