WASHINGTON -- In a new book, former Florida Gov. Jeb Bush (R) makes a notable reversal on immigration reform, arguing that creating a pathway to citizenship for undocumented immigrants would only encourage future unauthorized immigration.
"It is absolutely vital to the integrity of our immigration system that actions have consequences -- in this case, that those who violated the law can remain but cannot obtain the cherished fruits of citizenship," Bush and lawyer Clint Bolick argue in a new book, Immigration Wars: Forging an American Solution. "To do otherwise would signal once again that people who circumvent the system can still obtain the full benefits of American citizenship."
The book, which The Huffington Post obtained before its Tuesday release, lays out the two men's proposals for comprehensive immigration reform. Both are longtime proponents of reform, and Bush in particular has long beat the drum for the GOP to take a new tone on the matter.
But the book's treatment of a pathway to citizenship stands in contrast to Bush's previous statements on immigration reform. And ironically, later in the book Bush argues that former Massachusetts Gov. Mitt Romney, the Republican presidential nominee in 2012, suffered immense political damage by moving to the right on the issue during the GOP primary.
"Mitt Romney moved so far to the right on immigration issues that it proved all but impossible for him to appeal to Hispanic voters in the general election," Bush and Bolick write. "Although Romney eventually called for comprehensive immigration reform, a platform that hardened the party's stance on immigration hung like an anvil around his candidacy," they continue.
Bush's reversal doesn't appear as severe as some of the tough rhetoric used by Romney during the primary. Still, it creates a contrast between him and some of Bush's possible 2016 Republican primary opponents, and shows what could be the biggest problem in finding a compromise on immigration reform this year. While some Republicans, including potential 2016 candidate Sen. Marco Rubio (R-Fla.), are calling for a pathway to citizenship, most members of the party are arguing for only legalization. Democrats, meanwhile, argue a special road to become citizens is absolutely necessary. The American people for the most part also support such a measure, according to a number of polls.
As of June 2012, Bush asserted that he supported a pathway to citizenship.
"You have to deal with this issue," Bush told CBS' Charlie Rose. "You can't ignore it, and so either a path to citizenship, which I would support -- and that does put me probably out of the mainstream of most conservatives -- or ... a path ... to residency of some kind."
In the book, however, Bush and Bolick write that there should be "two penalties for illegal entry: fines and/or community service and ineligibility for citizenship."
They don't fully rule out citizenship, however, despite what that sentence implies. Although Bush and Bolick state there should be no special pathway, they say undocumented immigrants should be allowed to go through normal channels to naturalize by going to their native country to apply. That process currently requires three- or 10-year bars and no guarantee of return, making it untenable to many undocumented immigrants.
"A grant of citizenship is an undeserving reward for conduct that we cannot afford to encourage," they write. "However, illegal immigrants who wish to become citizens should have the choice of returning to their native countries and applying through normal immigration processes that now would be much more open than before."
Bush and Bolick propose a different solution for Dreamers, young undocumented immigrants who entered the United States as children. They argue citizenship should be granted to people who entered the country under the age of 18, have lived in the U.S. for at least five years, committed no "significant crimes" and either graduated from high school, obtained a GED or entered military service.
For legal immigration, they argue there must be a better process that makes it less appealing to come to the United States without authorization.
"There is one reason above all others that we have millions of illegal immigrants in our country: because under our current immigration system, there is no lawful avenue for them to enter the country. ... So that saying 'they should wait in line like everyone else' is hollow because there is no line in which to wait," they write. "The days in which people could lawfully emigrate to the United States just because they wanted to pursue the American Dream are as much a memory as Ellis Island."
UPDATE: 2:55 p.m. -- Bush defended his stance to the Miami Herald's Marc Caputo after an anonymous Romney adviser accused him of advocating for the same positions that he said tanked the former GOP presidential candidate.
"[I] am not advocating self deportation. read the book," Bush wrote in an email.
The advisor argued to Caputo that it was the same stance.
"Where the hell was this Jeb Bush during the campaign?" the advisor said. "He spent all this time criticizing Romney and it turns out he has basically the same position. So he wants people to go back to their country and apply for citizenship? Well, that's self deportation. We got creamed for talking about that. And now Jeb is saying the same thing."
Before You Go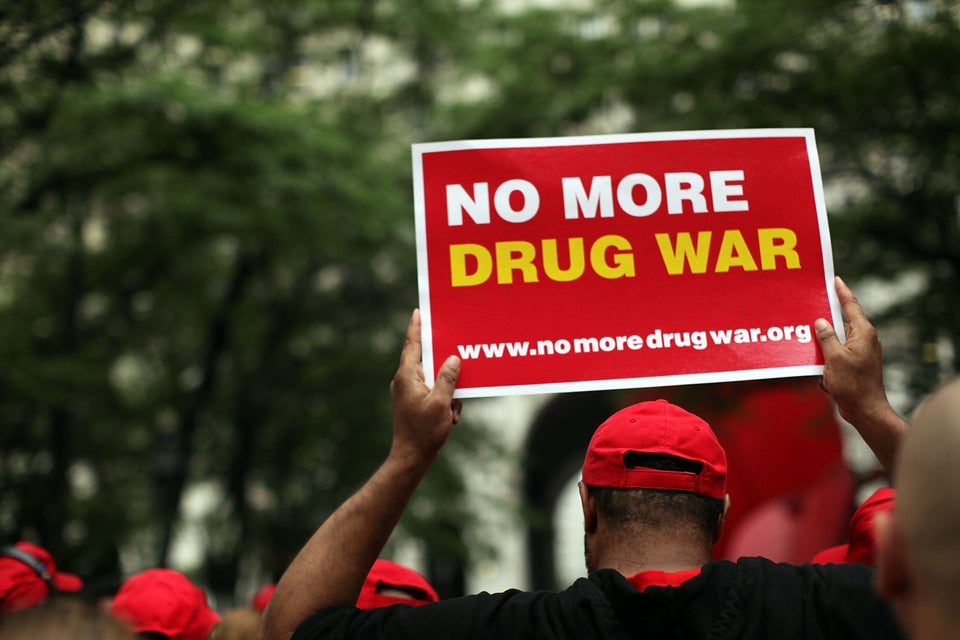 27 Reasons Why The U.S. Shouldn't Lead The War On Drugs
Popular in the Community