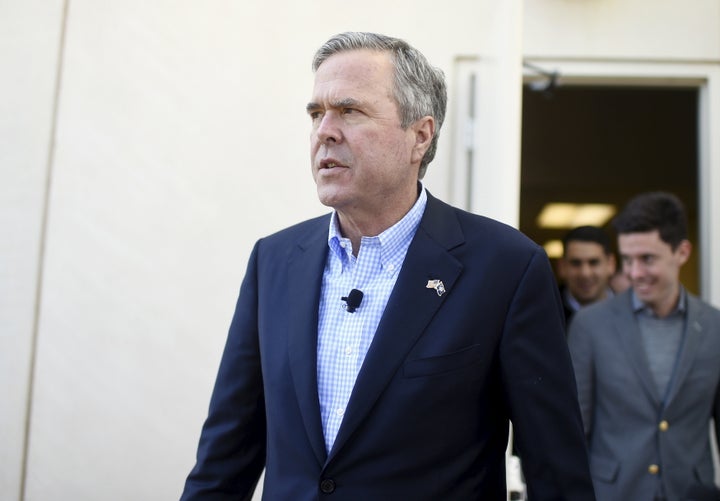 The demands on politicians to raise money are notoriously awful. Candidates can spend upward of 40 hours a week just hitting the phones, a process that begins days after the elections. Then there are the informal meetings, party functions and fancy dinners you have to attend to keep the cash flowing -- a regular stream of political prostituting that many members of Congress describe as soul-crushing.
But beyond the sheer number of hours that a politician puts into raising cash is another terrible downside: virtually all major donors view themselves as top-notch campaign operatives as well. And in exchange for their checks, they feel entitled to tell you just what exactly you're doing wrong.
As Jeb Bush's presidential bid entered a tailspin over the summer of 2015, the overbearing donor political advice began piling up.
"We could have probably had 19 full-time staffers dedicated just to the donor advice," Bush's former communications director, Tim Miller, said in the latest Candidate Confessional podcast. "I would sit next to him in the car and he would read me some of the advice."
Not surprisingly, people who have been highly successful in the world of finance feel that their acumen translates well to the world of politics. And on certain occasions the insights can be valuable. But what stood out to Miller was the type of issues that the Bush donors obsessed over. 
They worried about his clothes.
"It was honestly sartorial," Miller recalled. "Donors had a lot of thoughts about his cable TV look. Donors are obsessed with cable TV. The most feedback we got was with regards to cable TV: Why aren't you on enough? When you are on? Why is he not wearing a suit coat rather than a sweater? Can he get a new suit coat jacket?'"
"I would probably say that 80 to 90 percent of the feedback I got directly or through Jeb was related to cable news," Miller added. "We got specific feedback about colors… and about whether he should be in studio or on satellite."
With this revealed, we asked Miller if it was a donor who ended up persuading Bush to go without his glasses. Alas, big money didn't buy that switch to contacts. The former governor took them off because they had fogged up and he couldn't see. Miller thought he looked good without the glasses and encouraged him to go bare, especially during satellite hits when all he had to do was stare into a camera.
Listen to the podcast above or download it on iTunes. And while you're there, please subscribe to, rate and review our show. Make sure to tune in to next week's episode, when our guest will be Sandra Fluke, the famed women's reproductive rights advocate who lost her race for the California State Senate.
Calling all HuffPost superfans!
Sign up for membership to become a founding member and help shape HuffPost's next chapter
BEFORE YOU GO
PHOTO GALLERY
Jeb Bush Emails