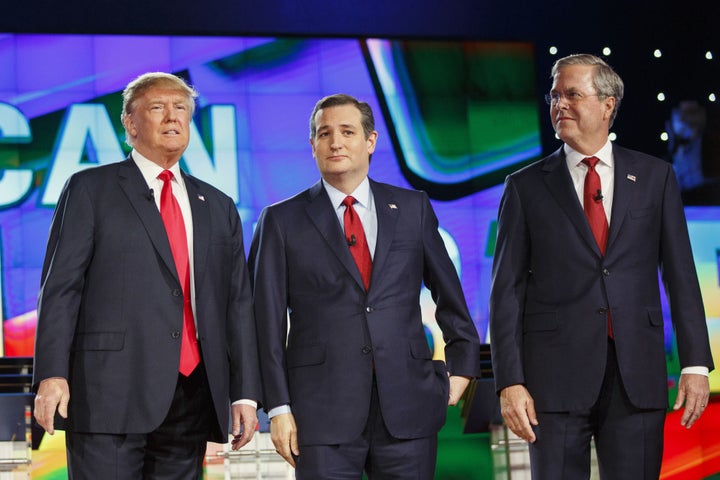 The former Florida governor clearly ate some nails for breakfast on Tuesday, delivering a high-energy performance in which he finally stood up to real estate mogul and strongman Donald Trump and calmed skittish donors backing his run for the White House.
Unlike other candidates on stage during the Republican presidential debate in Las Vegas, Nevada, who preferred to meekly duck and dodge on the controversial topic, Bush condemned the businessman for his proposal to bar all Muslims from entering the United States. He further argued that Trump's proposal would antagonize Muslim allies, like Kurdish fighters in Syria, in the fight against the self-described Islamic State.
"Donald, you're not going to be able to insult your way to the presidency. That's not going to happen," Bush said, before calling Trump a "chaos candidate" who would be a "chaos president."
It was the best moment on stage for Bush all year, made better only by Trump's annoyed faces captured by host CNN's split-screen camera work. Trump held his ground, however, sticking to predictable boasts about his high poll numbers.
"Jeb doesn't really believe I'm unhinged," Trump said. "He said that very simply because he has failed in this campaign. It's been a total disaster. Nobody cares and, frankly, I'm the most solid person up here. I built a tremendous company."
In previous debates, going up against Trump and Sen. Marco Rubio (R-Fla.), Bush had a tendency to wilt -- slinking back into his lectern to more loud-mouthed opponents. Not so this go around.
"Am I talking or are you talking, Jeb?" Trump complained at one point, after Bush interjected during an exchange on the Islamic State.
"I'm talking right now," an amused Bush shot back. "I'm talking."
"You're not talking. You interrupted me," Trump said. "Are you going to apologize, Jeb? No."
The million-dollar question, however, is whether any of it will matter for Bush less than two months from the Iowa caucuses. If he had executed such an attack during the first or second debate, things may have been different. But Trump left Vegas largely unscathed -- a victory due in large part to every other candidate whacking each other instead of the leading front-runner. 
Bush's campaign is making a renewed effort in the New Hampshire primary, a contest that was instrumental to the presidential victories of his brother and father before him. But the fact that he remains mired in single digits in the Granite State, and that other establishment rivals like New Jersey Gov. Chris Christie are rising, doesn't bode well for hopes of reviving his campaign.
REAL LIFE. REAL NEWS. REAL VOICES.
Help us tell more of the stories that matter from voices that too often remain unheard.