 TAMPA -- Lobbyists are not allowed to finance perks like trips for state officials, but those at the Foundation for Excellence in Education get around that ban by being registered to another foundation run by Jeb Bush.
Former Gov. Jeb Bush's nonprofit, education reform foundation is taking heat for using donations from for-profit companies to lobby for state education laws that could benefit those companies.
Among the activities of Bush's Foundation for Excellence in Education that have come in for criticism: It pays for state officials and legislators to go to conferences where they meet with the company's donors, including officials of corporations who stand to gain from the policymakers' decisions.
In recent years, several Florida Department of Education officials and legislators have attended the conferences, and in some cases, their flights, hotel stays, meals and incidentals were paid for with money that came partly from the foundation's corporate donors.
At these events, the state officials attended meetings, panel discussions, meals and receptions also attended by those donors.
The donors include companies that sell testing services, high-tech learning products and charter school services to the state and to Florida school systems, or that would like to.
Normally, it's illegal for lobbyists or lobbying organizations to provide benefits such as free trips to Florida legislators or top executive branch officials.
But the Foundation for Excellence in Education escapes that prohibition because lobbyists on its staff are registered to another, closely related Bush foundation -- even though the two share key staff members and even their Tallahassee address.
Among the corporate donors:
* Pearson, a $9 billion-a-year media conglomerate which has a $250 million, four-year contract to administer the Florida Comprehensive Achievement Test. In the last few years, the company has been fined $14 million by the state for delayed test score results and criticized for its grading of writing tests.
* Amplify, the education division of Rupert Murdoch's News Corp., which sells classroom and curriculum software.
* Charter Schools USA, a Fort Lauderdale-based for-profit company that manages charter schools under contract.
* IQity, which sells online learning materials.
The two-day summits include speeches by national figures including Bush, plus panel discussions on topics pertinent to the foundation's reform philosophy.
Last year's summit, for example, at the JW Marriott hotel near the White House, included "strategy sessions" on such topics as "Reaching more students with vouchers and tax-credit scholarships" and banquets with speeches by Bush, Condoleeza Rice and U.S. Education Secretary Arne Duncan.
The 2011 conference at the historic Palace Hotel in San Francisco -- one of the city's most luxurious, with rooms starting at $350 per night -- featured a speech by Murdoch.
It also included a fundraiser hosted by Bush for Tony Bennett, then running for re-election as Indiana education superintendent and a champion of the kind of conservative education reform advocated by the foundation -- more charter schools, tax-paid tuition vouchers, more emphasis on testing, mandatory on-line courses and "virtual schools."
In an upset that surprised political analysts in the Republican state, Bennett lost his race in November but was appointed soon afterward by Gov. Rick Scott as Florida education commissioner.
In states including Florida, the foundation lobbies actively for its vision of public school reform. A peek into that activity was provided recently by In the Public Interest, an organization that calls itself a watchdog on privatization of government services.
The emails also show sympathy and agreement between the foundation and Florida education officials, particularly Bennett and his predecessor, Gerard Robinson, who solicited the group's advice on legislation.
In Florida, the foundation has lobbied for such goals as counting FCAT results for more than half of the annual grade given to public schools, and a "parent trigger" that would allow parents to demand the conversion of their traditional public school into a charter school.
Narrowly defeated in Florida last year, parent-trigger legislation has been filed again for the coming legislative session.
In an email response to questions about the foundation's activities, foundation spokeswoman Jaryn Emhof said the organization doesn't endorse specific companies or products, and "The financial interest of specific companies or sectors is not a factor."
Instead, it "advocates for proven policies and innovative reforms that will improve the quality of education ... (to) ensure every student has access to the high-quality education experience that best fits them."
Emhof said the foundation gets most of its money from individuals or philanthropic groups, but uses corporate donations mainly to sponsor its conferences, which it calls education "summits."
As a nonprofit charity, the organization is not required to disclose its donors. In 2011, it reported revenues of about $8.5 million and cash and pledges totaling about $9.5 million.
The summits, Emhof said, are "an opportunity for ... lawmakers, policymakers, researchers, experts, innovators, and more to gather in one location to learn from each other."
She said the foundation reimburses public officials' travel because, "We don't want public officials to have to use taxpayer dollars to attend." She said state officials report receiving the gifts if their state laws require it.
"It certainly is not surprising that In the Public Interest, a union-backed organization, opposes school choice and the expansion of digital education," Emhof added.
Public school teachers' unions often oppose the reforms advocated by the foundation. In addition, there's a history of political hostility between Bush and the Florida Education Association, the Florida teachers' union, which heavily funded Bush's opponent in the 2002 governor's race, the late Bill McBride of Tampa.
In the Public Interest Chairman Donald Cohen is a former political director for the San Diego area AFL-CIO. He said the group "has relationships" with unions, nonprofit community groups and business organizations, but receives most of its funding from charitable foundations.
The group charged in a news release that the foundation "is writing state education laws and regulations in ways that could benefit its corporate funders."
"Testing companies and for-profit online schools see education as big business," and hope to use the foundation to write laws and promote policies that will expand the market for their products, the news release said.
It said the public records it obtained show the organization "wrote and edited laws, regulations and executive orders, often in ways that improved profit opportunities for the organization's financial backers."
In an interview, Cohen added, "When private corporations pay public officials or provide them benefits including trips, there's a clear attempt to influence public policy in a way that will benefit the corporation.
"There's no reason the corporation would spend the money other than to advance their own interest," he said. "They're paying to develop relationships with people with power."
Spokesmen for some of the foundation's donors said their interest is in fostering education reform, not expanding markets.
"Probably the best way to describe our support for the foundation and Gov. Bush's work is that there's a growing bipartisan consensus that education is one of the most important issues in the country," said Justin Hamilton of Murdoch's firm, Amplify. "We're lagging behind the rest of the world, we have to catch up fast."
He said the company's motive for sponsoring and attending the summits is "fostering a robust conversation about improving education in America."
A publicist representing Charter Schools USA forwarded a written statement from the company, saying, "We're not interested in being used in an article meant to misrepresent the great work the Foundation for Educational Excellence does to promote positive educational choices for students and parents by improving the performance of public schools in the U.S."
The state Department of Education said it couldn't produce records of how many of its employees have taken the free trips, nor could the foundation.
But according to the emails and to accounts of the 2011 summit on the foundation's website, about a half-dozen employees of the state Department of Education and three legislators attended the event.
At least one legislator and one employee got reimbursements for attending.
State Rep. Janet Adkins, a Fernandina Beach Republican, apparently was the only one of those officials who reported the reimbursements as a gift from the foundation, $961.
"I'm a stickler for this stuff. It's not worth it to me to accept something I'm not supposed to," Adkins said.
In spite of the foundation's role in advocating education policies and laws, its activities may not qualify legally as lobbying, said Florida ethics and elections law expert Mark Herron.
A lobbyist, in state law, is someone employed solely or mainly to influence the government.
The foundation's executive director, Patricia Levesque, is a registered lobbyist as well as a long-time Bush adviser. Her lobbying clients have included both nonprofit and for-profit education companies such as the College Board and IQity.
But she isn't registered as a lobbyist for the Foundation for Excellence in Education -- it has no lobbyist registered in its own name.
Instead, Levesque represents Bush's Foundation for Florida's Future, a group he founded shortly after his first, unsuccessful run for governor in 1994. Levesque is also executive director of Foundation for Florida's Future.
According to the foundations' tax returns, the Foundation for Florida's Future pays Levesque's lobbying firm, Meridian Strategies, for "consulting and management services" provided to both foundations by Levesque and her partner in the lobbying firm, Dierdre Finn, who is deputy executive director of both groups.
The two foundations also share other key staff members including another registered lobbyist, Joanna Hassell. Both foundations also list the same address on Monroe Street in Tallahassee.
Before getting reimbursement for her trip, Adkins received an opinion approving it from the state House counsel, who, at the time, was George Levesque, husband of Patricia Levesque. He's now state Senate counsel.
Rep. Erik Fresen, a Miami Republican, and Senate President Don Gaetz, Republican from Niceville, also attended the 2011 conference but neither sought reimbursement from the foundation, they said.
Emhof said Bush would not be available to interview for this story.
Since leaving the governor's office in 2006, Bush has devoted himself to education reform.
The Foundation for Excellence in Education has helped him create a national political profile as he prepares for what could be a 2016 run for president. He has travelled the nation representing the foundation and speaking on education.
In that way, the education foundation duplicates the earlier role of his Foundation for Florida's Future. After his unsuccessful 1994 campaign, Foundation for Florida's Future served as an advocacy group for Bush's conservative vision for state government reform, leading up to his successful 1998 campaign.
Mark Pudlow, spokesman for the Florida Education Association, the state teachers' union, said he considers the mission of Bush's education foundation more about profit and politics than education.
Asked about state officials attending the conferences, Pudlow said, "I think what it points out more than anything else is that the foundation and everything it does is all about business, and making sure there's plenty of opportunity for people in the business to make money off Florida's public education." ___
(c)2013 the Tampa Tribune (Tampa, Fla.)
Distributed by MCT Information Services
Related
Before You Go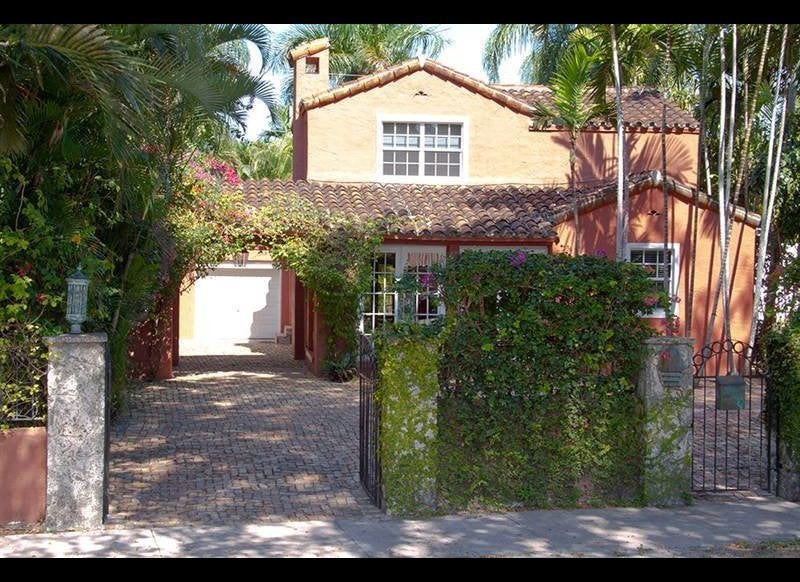 Jeb Bush Coral Gables Home Sells For $775,000
Popular in the Community