 CHARLOTTE, N.C. -– It's been six years since Jeb Bush held political office, but since he left Florida's governorship, he has been working on an issue now at the center of escalating political headwinds: education reform.
And when even former teacher union organizers like Los Angeles Mayor Antonio Villagairosa are siding with the reform movement, that's a clear sign of significant momentum.
Bush, now 59, could benefit from his long association with education reform efforts if he harbors any ambitions for higher office. Bush was the subject of speculation about whether he might run for president in 2012. If the GOP's current nominee Mitt Romney loses this fall, Bush's name will be in the running for 2016.
In a recent interview, Bush predicted that politicians who have pushed for changes to the public education system, in the face of opposition from teachers unions, will be rewarded.
"When people begin to see the benefits that their children are getting from a quality education, those that support school choice for example, they'll get credit eventually," Bush told The Huffington Post.
He was talking specifically about Indiana Gov. Mitch Daniels and Louisiana Gov. Bobby Jindal, both Republicans who have overseen sweeping education reforms in their states. But the comment could also apply to the little brother of former President George W. Bush at some point.
At the Republican convention in Tampa last week, Jeb Bush was "doing too much to not be up to something," according to one Republican operative. Jon Stewart's "Daily Show" titled its week of coverage in Tampa, "The Road To Jeb Bush 2016."
One of Bush's current causes is helping to promote a new movie that tells, in Hollywood fashion, the story of two single moms who take over a failing public school in the hopes of turning it around. Titled, "Won't Back Down," it was produced by Walden Media and is being distributed by 20th Century Fox.
"I think it's going to have a game-changing effect," Bush said. "And it looks like commercially it's going to be viable, which is pretty great."
After the film was shown in Tampa last week, Bush sat on stage with Michelle Rhee, the former chancellor of D.C. public schools, a Democrat, and the two discussed education reforms.
The reform movement has thrust Republicans like Bush and Democrats like Rhee together in a patchwork of oddball relationships that are putting the Democratic Party -– which counts teacher unions as some of its largest and most loyal political contributors -– in an increasingly difficult position.
The Democratic National Committee, when HuffPost first asked on Sunday, originally waved off the idea that organizers from Rhee's group, StudentsFirst, or any other of the "Won't Back Down" promoters, were turned down for official coordination between the screening of the movie here this week and the official convention.
But after HuffPost wrote Monday that DNC political director Patrick Gaspard "raised no objections" when informed of the movie organizer's intentions to screen the film in Charlotte, Gaspard added more details to the story that made clear that he had given a firm stiff arm to attempts by Rhee's husband, Sacramento Mayor Kevin Johnson, to get official Democratic support or sanction for the movie.
Gaspard said in a phone interview Tuesday that Johnson "reached out and asked whether or not this film could be shown in conjunction with the Democratic National Convention."
"I informed them that that would not be possible, that we would not have a relationship with the film," Gaspard told HuffPost.
"And then after they asked whether or not they could be a part of the convention program, they then asked if the film could be shown on the convention through the auspices of the convention in a space provided by the convention, and whether or not it would be possible to spread word about the screening at official DNC events," he said, "and I reiterated again that the Democratic Party would not have any relationship at all with the screening and would not be involved, in any way, shape or form, with the promotion of the film."
Johnson also asked Gaspard if the movie could be advertised on the DNC's e-mail list. Gaspard said he also turned down that request.
The American Federation of Teachers, the nation's second-largest teachers union, has attacked the movie for inaccuracies and also gone after the owner of Walden Media, Philip Anschutz.
But anti-union fervor grows, as more high-profile Democrats abandon them. Chicago Mayor Rahm Emanuel, Obama's former White House chief of staff, is currently locked in his own battle with the Windy City's teacher unions.
Bush called education "the one little Switzerland perhaps where left and right can agree," during his remarks on the panel with Rhee.
Later, he told HuffPost: "There's an emerging coalition between left and right that's uncommon in most policy -– I think maybe the only place of major policy where it exists in the country. And these movies will help accelerate that I think."

Before You Go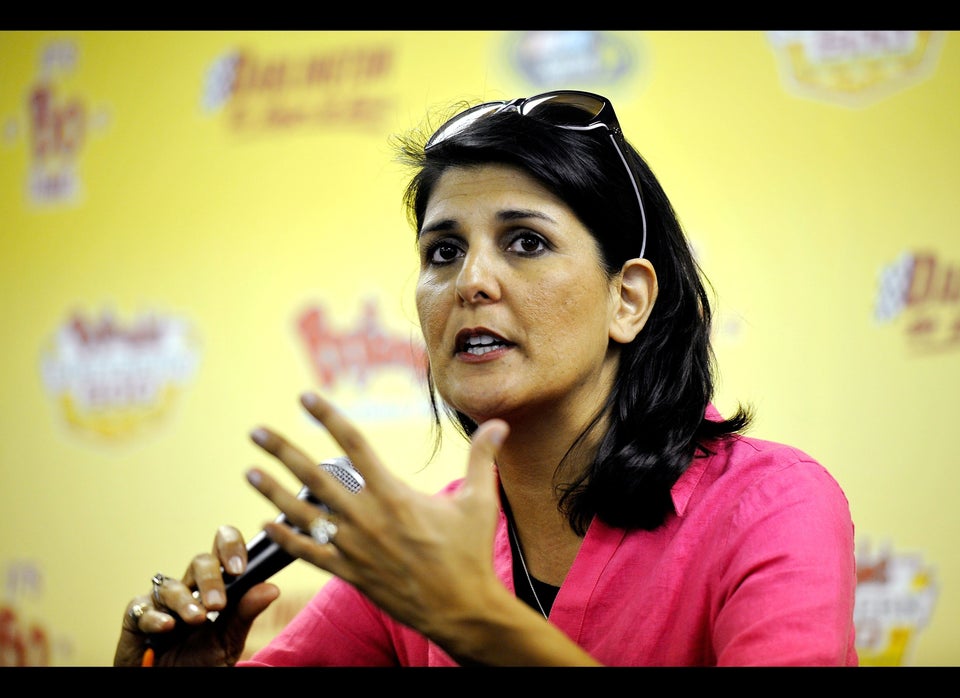 Republican National Convention 2012 Speakers
Popular in the Community