Jeb Bush, the son of one president and the brother of another, said on Friday that he's a Washington outsider and that his last name doesn't matter.
The GOP presidential candidate told reporters at the Iowa State Fair that he has never lived in Washington and would barely know how to drive in the city.
Pressed on the fact that he comes from a family of Washington insiders, the former Florida governor said, "I got that. I got the family thing. That's definitely true. I'm blessed with a great family, but my record of success is something people yearn for in Washington, D.C."
Later in the day, Bush also downplayed his connections to his brother and his father when he was asked why he was receiving advice from Paul Wolfowitz, an architect of the Iraq War, who served in the administrations of both Bush presidents.
"Paul Wolfowitz is providing some advice. I get most of my advice from a team that we have in Miami, Florida -- young people that are gonna be either not assigned or they have experience either in Congress or in the previous administration."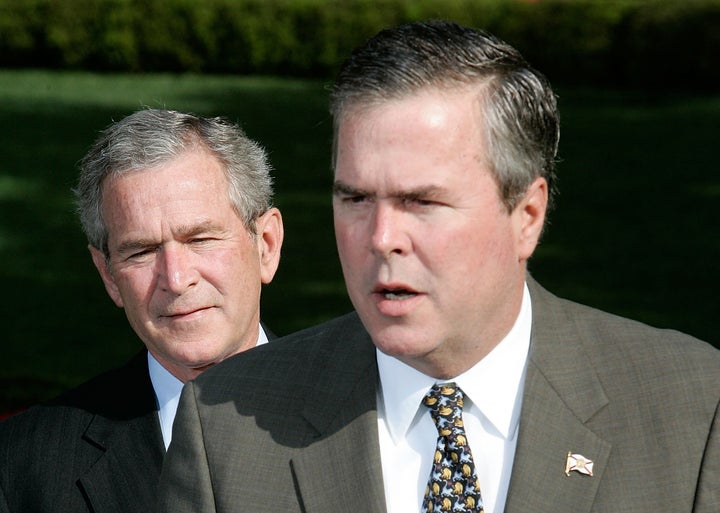 Still, Bush said he faces a unique challenge in distinguishing himself from the administrations of his father and brother.
"The parlor game that's played where you know you have 35 or 40 people that are helping you with foreign policy and if they have any executive experience, they've had to do with two Republican administrations," Bush said. "Who were the people who were presidents  -- the last two Republicans? I mean, this is kind of a tough game for me to be playing to be honest with you."
Radio host Hugh Hewitt also focused on Bush's family on Friday, asking the former governor whether his last name made it easier or more difficult to put forth a vision of American foreign policy.
"It doesn't matter. I'm the first candidate to have a view on this with enough detail for people to see what the world would look like if I'm president. It doesn't change my views," Bush said.
Calling all HuffPost superfans!
Sign up for membership to become a founding member and help shape HuffPost's next chapter