This is the seventh installment of '16 And President, the Huffington Post series that takes you behind the scenes for a day in the life on the campaign trail with the candidates running for president.
HOLLIS, N.H. -- There are many reasons why Jeb Bush has struggled as a presidential candidate. Among the most glaring is that the former Florida governor is an introvert and sometimes painfully self-aware policy wonk running in a Republican primary campaign that has rewarded the flashiest and most obstinate political newcomers in the race.
But in our interview aboard his campaign bus earlier this month, we found the one-time GOP front-runner-turned-scrappy underdog to be approachable, conversational and sanguine about his chances in 2016.
"I don't fret," Bush said. "I don't wring my hands and go, 'Oh, woe is me. This is so unfair.' It's like, let's just get going, baby. I mean, I'm excited about this. And I believe going through tough times is a great way to show your mettle -- to show who you are. And I'm looking forward to making the comeback."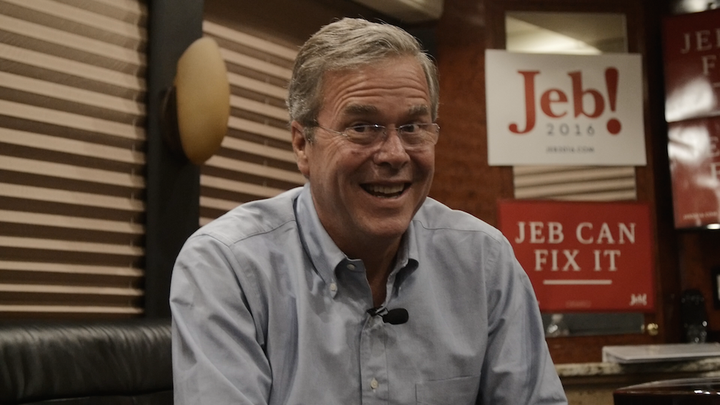 Bush opened up in a surprisingly personal manner on subjects ranging from the advice that his older brother gives him and his daughter's struggles with drug addiction to his own deeply conflicted views on the death penalty and the meaning of life.
And then there was Bush's not-to-be-missed anecdote about his off-camera conversation with Donald Trump -- which took place during a commercial break in a recent debate -- regarding the business mogul's concerns about the high cost of manufacturing his branded neckties in the United States.
The terrorist attacks in Paris have sparked conjecture about whether the Republican electorate may finally end its extended dalliance with amateur hour and start looking toward candidates with the experience and stature more befitting a future world leader and commander in chief.
Our day on the trail with Bush occurred before the Paris attacks, but one thing was abundantly clear even then: Bush has no plans to call it quits.
"It's dogged, dogged, dogged determination -- never giving up," he said. "It's doing the little things over and over again when no one's watching. That's how you win."
Watch the video above for the latest installment of the HuffPost series '16 And President.
Video produced by Jon Strauss.
Cinematography by Jon Strauss, Marielle Olentine, and Sam Wilkes.