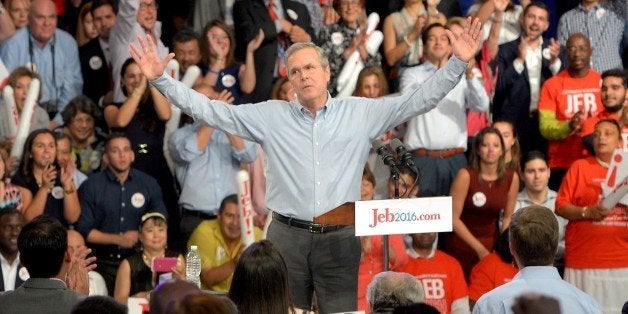 On Friday morning, former Florida Gov. Jeb Bush continued to emphasize his push for a more inclusive Republican Party in a much anticipated speech at the annual National Urban League Conference.
Bush has centered his presidential campaign around his efforts to emphasize upward mobility, particularly in minority communities.
But Bush's relationship with the African-American community in Florida during his governorship was rocky, particularly as it related to the botched felon "voter purge" that took place under his tenure preceding the 2000 and 2004 presidential elections.
In light of Bush's speech this morning, we are reposting our story from last month on that complicated episode. Read it below.
MIAMI –- Something was noticeably different about the crowd packed inside a gymnasium at Miami Dade College's Kendall campus last week to welcome Jeb Bush into the ranks of the announced 2016 Republican presidential candidates.

In a vivid departure from the nearly all-white audiences that typically turn out to greet GOP White House contenders, Bush's racially and ethnically diverse supporters mirrored the demographics of this multicultural city.
The scene was meant to emphasize a core Bush strength, if not send a message to fellow Republicans, that an inclusive and aspirational brand of politics offers the GOP an opportunity to re-engage with minority voters, including African-Americans, who long ago abandoned the party of Lincoln en masse.

Even some Democratic operatives acknowledge privately that Bush -- a fluent Spanish speaker with a Mexican-born wife -- has a biography and demeanor that could chip away at the coalition that twice propelled Barack Obama to the White House.

Bush's critics in Florida, however, scoff.

As the 2016 campaign heats up, an episode from his tenure as Florida governor reveals why Bush's image as a "uniter, not a divider," as his older brother used to put it, may not stand up. The state's deeply flawed purge of felons from its voting rolls in advance of the 2000 presidential election remains a scar that still has not healed for many in the state.
"I'll never the forget people that came up to me and said, 'You let them steal our votes,'" Rep. Corrine Brown (D-Fla.), who became state's first African-American elected to Congress since Reconstruction when she won her seat in 1992, told The Huffington Post. "So many people were just wiped off the rolls -- people who'd been voting for years and years. You had the obligation to prove that you weren't a felon."
The felon purge wrongfully denied thousands of legitimate voters the ability to participate in a presidential election pitting Republican George W. Bush against Democrat Al Gore. Ultimately, a few hundred Florida ballots would determine the presidency, and with it, the nation's path for the next eight years and, really, well beyond.

Though it received little notice outside of Florida in the election's immediate aftermath, as hanging chads and butterfly ballots took center stage during the recount, the purge remains for many the most egregious example of voter disenfranchisement that took place during the 2000 presidential election, which was ultimately decided by a Supreme Court ruling.

"The purge was right out of one of these playbooks in how you diminish minority turnout -- there was absolutely no justification for it," said Dan Gelber, a former Democratic state legislator and a longtime Bush nemesis. "It was almost a purposeful crashing of a car. They knew it was irresponsible and about something incredibly important, and they went forward knowing that the only mistakes were going to benefit them."

Florida has banned convicted felons from participating in elections since 1868. But it wasn't until 1998 -- the year before Bush took office -- that state legislators passed a law intended to clean up the voter rolls after a Miami mayoral election was overturned amid widespread cases of absentee ballot fraud.

The secretary of state's office subsequently awarded Database Technologies Inc., or DBT, a $4 million contract to carry out the effort to ensure that felons, deceased voters, and non-residents would be blocked from participating in the 2000 election.

It would not be an easy task.

Since Florida did not track its voters by Social Security number, the company was instructed to engage in a subjective process that attempted to match felon names and dates of birth with voter records, allowing for " near matches" that were close, but not exact.

After Jeb Bush took office in 1999, this process continued. In the months leading up to the 2000 presidential election, local election supervisors began receiving lists from state officials of people DBT had identified as convicted felons and thus needed to be eliminated from the voting rolls.

It became immediately clear that the effort was generating a slew of false positives. Voters in good standing, who happened to share names with convicted felons, but had never been in trouble with the law, were being taken off the voting rolls.

But election officials in Tallahassee -- led by Secretary of State Katherine Harris, who would later gain infamy over her controversial handling of the election recount -- declined to make the process more transparent and uniform.

Charges that the purge was politically motivated grew louder when it was revealed that the man responsible for determining the parameters for voter removal was Emmett "Bucky" Mitchell IV -- a Division of Election attorney who went on to become general counsel for the Florida Republican Party.

In early 1999, DBT product manager Marlene Thorogood warned Mitchell of false positives generated by the guidelines that he had set. But in an email Mitchell sent in March of that year, he instructed Thorogood not to concern herself with wrongly eliminating non-felons from the voter rolls. It was better to purge too many people than too few, in Mitchell's estimation.

"Obviously, we want to capture more names that possibly aren't matches and let the [county elections] supervisors make a final determination rather than exclude certain matches altogether," Mitchell wrote.

This decree from Tallahassee having been made clear, county-level election officials began receiving lists of voters they were told to remove from their rolls in the months leading up to an Election Day that would prove to be among the most memorable in American history. The local officials' responses to this instruction varied. Some tossed out the lists altogether. Others used their discretion to try to correct them. Some used the lists with full knowledge that they were defective.

Many county officials decided to mail certified letters notifying people on the lists that the Department of Law Enforcement had identified them as felons and that they would need to provide evidence to challenge that conclusion or face permanent removal from the voter rolls. In short, voters who had been swept up in the net had to prove their innocence.

Some Floridians who learned that they had been wrongfully removed from the voting rolls attempted to bring the matter directly to the governor.

In a message sent on Aug. 28, 2000, to jeb@myflorida.com -- one of the governor's official email addresses -- a man named Gene Gay noted that he had recently received a letter indicating that he had lost his right to vote.

"I have search all weekend for a site to access that type of records with no success," Gay wrote. "Where do U go online to get that sort of information without paying these scalpers prices … This is a lot of stuff, for a person whom knows, he has NOT been convicted of any felony. This is very important to me please respond asap."

In another email to an official gubernatorial account (flagov@myflorida.com), sent on the Wednesday before Election Day, a man named John Browne expressed intense frustration to Bush in a 760-word note about a brother, who Browne said had stolen his identity repeatedly over the previous decade. This traumatic experience, Browne explained, had led to an erroneous determination from Martin County that he was a convicted felon.
"I have spent an enormous amount of time dealing with the local county Sheriff's offices, the State Attorney's Office, the Social Security Administration, private attorneys and the Florida Department of Law Enforcement. Not one person to date has told me what I can do to protect myself or how to file charges against this person or anyone else using my personal information ... Mr. Bush, I have a family to provide for and I have worked very hard to get to where I am today. This continued abuse of my records is seriously impacting on my ability to continue a normal and productive life. I also think the fact that I am being denied the right to vote is a violation of my civil rights. I would hope that you take this situation very seriously and offer some measure of relief."
It's unclear whether Bush read either email. As governor, he primarily used the email address Jeb@Jeb.org, but also had access to several other state email accounts, including the two in question. A campaign aide told The Huffington Post that these accounts were primarily used by the governor's Office of Citizen Services and that Bush himself did not see most of the incoming messages sent there, unless they were forwarded to his Jeb.org account.
(Coincidentally, on the same day that Gene Gay sent his email to Bush, likely 2016 rival Scott Walker -- then a Wisconsin state legislator -- sent Bush a request via jeb@myflorida.com for information on a new Florida law that prohibited possession of vehicle airbags that lacked identification stickers.)

Estimates vary on just how many non-felons in Florida were wrongly denied the right to vote on Election Day, but the total was at least 1,100, according to a 2001 Palm Beach Post analysis, and may have been much higher.

Following the election recount, in which he officially recused himself, Jeb Bush sought to distance himself from the botched purge, arguing that as governor, he was not charged with administering the election.

A post-election investigation by the U.S. Commission On Civil Rights, however, in which Bush was subpoenaed, was dubious about this reasoning, noting that the actions Bush took immediately after the 2000 election demonstrated that he did, in fact, have the ability to act on voting-related matters.

"Florida's governor insisted that he had no specific role in election operations and pointed to his secretary of state as the responsible official," the commission wrote in its report. "After the election, however, the governor exercised leadership and responsibility in electoral matters in the commendable action of appointing a task force to make recommendations to fix the problems that occurred."

The report found a "strong basis" for determining that violations of the 1965 Voting Rights Act had occurred during the election in Florida. While it did not find that "the highest officials of the state conspired to disenfranchise voters," the report singled out Bush and Harris, saying their "overall lack of leadership in protecting voting rights was largely responsible for the broad array of problems in Florida during the 2000 election."
"The state's highest officials responsible for ensuring efficiency, uniformity, and fairness in the election failed to fulfill their responsibilities and were subsequently unwilling to take responsibility," the report said.

African-Americans were nearly 10 times more likely than white voters to have their ballots discounted in Florida, the report found, and it singled out for criticism the felon voter purge's "sloppy and irresponsible" implementation.
"The governor, the secretary of state, or the director of the Division of Elections should have provided clear instructions to their subordinates on list maintenance strategies that would protect eligible voters from being erroneously purged from the voter registration rolls," the report said.

Aides to Jeb Bush at the time criticized the report by the Commission On Civil Rights, controlled by a Democratic majority, as "biased" and "sloppy" in its own right -- charges that did nothing to quell widespread outrage, particularly among African-Americans, in Florida.

But any lingering bad feelings about Bush were not apparent at his presidential campaign announcement last week, when R.B. Holmes, Jr. -- an African-American minister from Tallahassee -- delivered impassioned praise of the former governor in introducing him on stage.

In an interview with The Huffington Post, Holmes noted that he appreciated Bush's efforts to appoint more African-Americans to judgeships in Florida when he was governor.

"Jeb Bush is a very compassionate person," Holmes said. "I respect his core values. I respect that he married a minority, and he did that back in the day. Think of how unpopular that was for a Bush of his status to go to Mexico and find a bride."
Holmes is far from the only African-American in Florida who retains positive feelings toward Bush.
After famously saying during his failed 1994 gubernatorial run that he would do "probably nothing" to help blacks, Bush changed his tone dramatically when it came to engaging in matters of race and identity during his 1998 campaign. That year, he ended up earning the support of 61 percent of Hispanics and 14 percent of African-Americans -- impressive numbers for a Republican.

Even though he didn't do as well with either group during his successful 2002 re-election bid, Bush's reputation as a bridge-builder who actively concerned himself with lifting up minority communities -- boosted, in part, by his high-profile push for expanded educational opportunities -- remains a central tenet of his political identity.

Mac Stipanovich, a Florida Republican lobbyist who advised Harris throughout the 2000 recount, was blunt in arguing that Bush had not erred in failing to provide any oversight of the botched felon purge.

"Any time you attempt to pare the voting rolls in Florida, regardless of what the reason is, you are anti-democratic with a small-D and probably racist," Stipanovich said by way of discounting those accusations.

But criticism of how Bush and members of his administration handled the purge became even louder four years later, when he and other Florida officials failed to correct the problems that arose during the previous presidential election year and, in fact, may have made it worse.

The 2004 iteration of the felon voter purge -- this time carried out by the Department of Elections itself -- ended with a whimper when a peculiar (some would say "fishy") anomaly was discovered the summer before Bush's brother stood for re-election.

That year's list of 48,000 felons who were to be purged from the voting rolls contained more than 22,000 African-Americans' names, but just 61 Hispanics. (In Florida, Hispanic communities tend to be more Republican-leaning than they are nationally.)

Bush administration officials denied there was any partisan motivation in the discrepancy, calling it "unintentional." But as Democrats scoffed and public pressure mounted, Florida officials ended up scrapping the list entirely.
Some 15 years later, Jeb Bush, now running his own presidential campaign, has treated the Florida voting purge as a foreign object -- an episode that had little if nothing to do with him.

Asked during a press conference during a campaign swing through Iowa last week whether he believes that African-Americans were disproportionately affected by those efforts, he waffled a bit before rephrasing the question in his own manner.

"I don't think so," he said. "I don't think there was any -- no, if you're going to say, 'Did the Florida Department of Law Enforcement target African-Americans?' No."

Meanwhile, Florida remains one of just three states where all convicted felons automatically lose their voting rights and must petition the governor and a clemency board in an arduous process in order to try to get them restored.

In 2007, Gov. Charlie Crist, then a Republican, initiated a change in the clemency policy, which made it so that most convicted felons in Florida would automatically have their voting rights restored after the state ensured that they had paid restitution to victims.
Those new guidelines were then rolled back by Gov. Rick Scott (R) shortly after he took office in 2011.

According to a 2012 study by The Sentencing Project, a nonprofit group advocating for judicial sentencing reform, Florida continues to have the highest rate of African-American disenfranchisement in the country with 23 percent of the adult African-American population in the state barred from voting.

"I think that the purge system brought a real apartheid type of politics that was going on in Florida," said former Democratic state Rep. Tony Hill. "Look at the people who were purged -- they were African-American. They just discounted our votes without any recourse."
Before You Go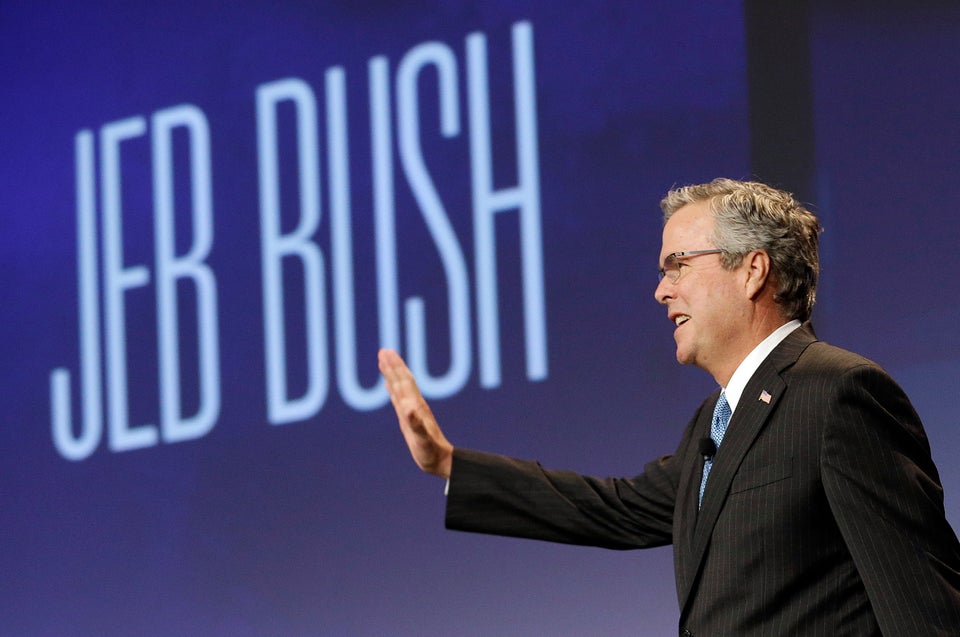 Jeb Bush
Popular in the Community