WASHINGTON -- Republican presidential hopeful Jeb Bush would get rid of food stamps, housing assistance and other federal safety net programs if elected, replacing them with a scheme to let states figure out how to deal with poverty. 
"Governor Bush's empowerment agenda for the 21st century will end wasteful welfare programs, give power and money back to the states and empower recipients by focusing on work and families," the Bush campaign said in a plan posted on its website Friday. "His plan will create a safety net that protects hardworking Americans when they fall but no longer traps families in perpetual dependence."
Bush's plan is similar to what House Speaker Paul Ryan (R-Wis.) has proposed in recent years -- getting rid of federal programs and letting states have the money and decide how to use it to help the poor.
The $78 billion Supplemental Nutrition Assistance Program, which provides monthly food assistance to 45 million Americans, is the largest of the several in Bush's crosshairs. His plan notes that the program requires that able-bodied recipients without dependents are supposed to work if they want to receive benefits, but that in 2015 most states waived the requirement. 
"These waivers help explain why only 16 percent of the 4.5 million households with able-bodied adults without dependents receiving assistance report any earnings," the plan says. 
One quibble with this is that almost all of the waivers are expiring this year thanks to federal law and a falling unemployment rate. The Obama administration notified states in 2015 that they'd be losing their waiver authority, and some states have been eager to show it the door. 
Another quibble is that the overall percentage of SNAP recipients earning money from work has increased over the years, as the White House noted in a December report.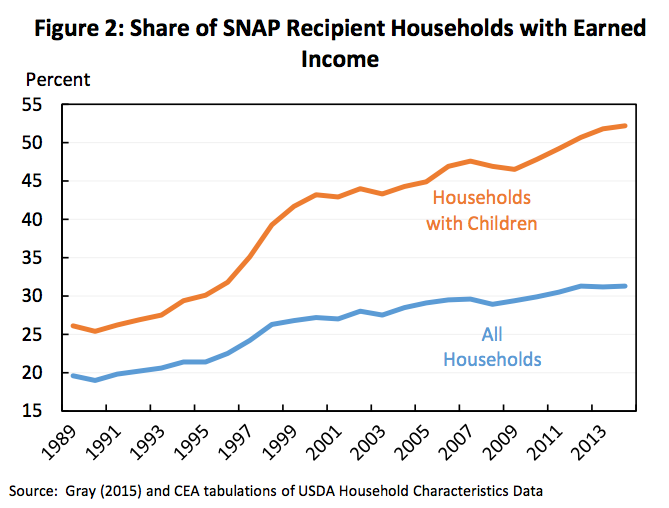 The Bush campaign says his proposed "Right to Rise" grants would be comparable in dollar amount to what state residents currently receive from federal programs, meaning he wouldn't necessarily be cutting benefits immediately. The block grant structure, however, is usually designed to remain fixed, so benefits would effectively decline over time. 
Bush also favors expanding the Earned Income Tax Credit -- one of the country's biggest antipoverty policies -- an idea that has bipartisan appeal. 
REAL LIFE. REAL NEWS. REAL VOICES.
Help us tell more of the stories that matter from voices that too often remain unheard.