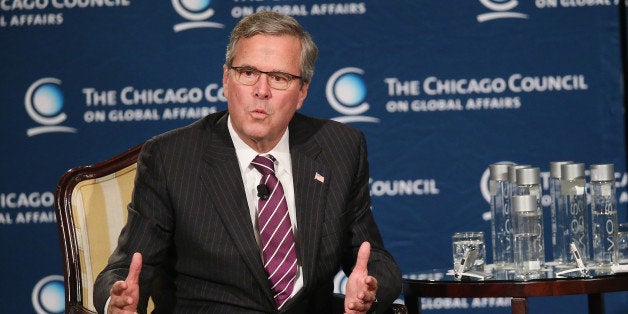 Supporters of Jeb Bush insist he isn't his brother. They believe it's unfair for him to be judged for the countless mistakes, misjudgments and overall ineptitude of the George W. Bush administration.
But Jeb -- with full knowledge of hindsight and pervious performance -- just announced he is bringing on many of the architects of his brother's war in Iraq as "policy advisors" to his nascent campaign.
I deployed to Iraq as U.S. Marine in 2005. I cleared houses, fought insurgents and lost friends.
For anyone who served on the ground in Iraq there is something horrifying about the idea of the ideologically blind, strategically ignorant "thinkers" -- Paul Wolfowitz chief among them -- who sent us into a misguided war without a plan to win the peace coming back into office.
The world will be suffering the consequences of their misadventure in Iraq for decades. ISIS is a direct result of the instability George W. Bush's administration generated in the region. And even after a decade of war and the deaths of thousands of young Americans, we're still engaged in a country that was supposed to greet us "as liberators."
And yet, Jeb wants to get the gang back together.
Earlier this week -- while un-ironically declaring himself his "own man" -- Jeb announced his list of foreign policy advisors. Seventeen of the twenty-one are relics of the same group that brought us the Iraq War, faulty intelligence on WMDs and the mistakes that led to insurgency and sectarian war.
Jeb's roster of advisors includes:
Paul Wolfowitz, one of the chief architects of the invasion of Iraq, after lobbying for a war in Iraq for years.
Stephen Hadley, the Deputy National Security Advisor who pushed for disputed intelligence over Iraq's WMD program to be included in the State of the Union.
Michael Mukasey, who as Attorney General to the United States was one of the Bush administrations top defenders of allowing prisoners to be tortured.
The list goes on from there -- and the idea of this group coming back to power is horrifying.
Not only is Jeb's foreign policy team filled with those who advocated for one of the biggest foreign policy mistakes in American history, they also seem to be wholly unaware of how badly they erred.
Wolfowitz and his ilk are just as out of touch now as when they were lobbying for a war in Iraq.
Jeb Bush likes to present himself as contemplative, embracing a wide array of ideas and influences. He's fond of talking about nuances in education and immigration policy as a demonstration of how he approaches issues.
But if this is who Jeb wants to bring to the White House to lead his foreign policy, it's clear that he possesses neither the judgment nor the independence of thought he'd like voters to believe.
Jeb would double down on his brother's foreign policy disasters. And unlike his brother, Jeb would do so even with the knowledge of how wrong this group was when the world desperately needed them to be right.
Popular in the Community