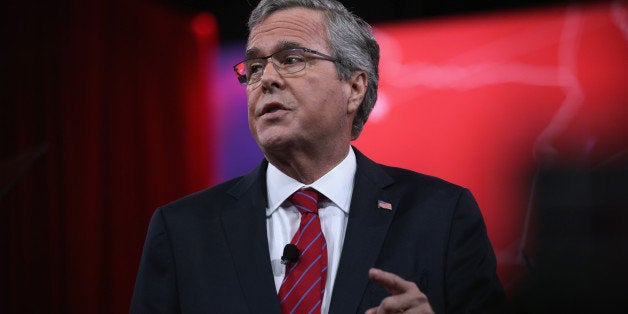 WASHINGTON -- After the attempted Christmas Day underwear bombing of a jetliner in 2009, former Homeland Security Secretary Michael Chertoff blanketed cable news to reiterate his long-standing support for the adoption of full body scanners at airports. His revelation on CNN that Rapiscan Systems, the manufacturer of those machines, had been a client of his consulting firm sparked criticism that his advocacy was self-serving.
Airport security is not the only area in which Chertoff might offer advice that aids his bottom line -- and, more importantly, CNN is not his only listener.
The Chertoff Group boasts a rich and mostly secret client list of intelligence and security companies, as previously detailed by The Huffington Post, that benefit financially from the global war on terror through government contracts and policies. The founder of that firm now has the ear of potential White House candidate Jeb Bush.
The former two-term Florida governor has assembled a foreign policy advisory team laden with officials who served in his father's and brother's presidential administrations and have since spun through the revolving door into the world of influence peddling. They are consultants, lobbyists, lawyers and corporate board members for business interests eager to be heard by the man who might become the 45th president of the United States.
Besides Chertoff himself, they include former CIA Director Michael Hayden, who works for the Chertoff Group, and former National Security Advisor Stephen Hadley, retired Adm. Robert Natter and Tom Ridge, the first Homeland Security secretary -- the latter three all run their own consulting firms. All of these men also sit on the boards of companies ready to reap huge rewards from defense, intelligence and security contracts.
Chertoff and Ridge did not respond to requests for comment. A spokeswoman for Hadley's firm stated that Hadley is not saying anything related to a potential White House run by Jeb Bush.
But their advice to the not-yet-formed Bush campaign certainly puts them in a position to increase their influence -- as Washington door openers or even future Cabinet officials -- and their clients' profits.
"Former government officials who are now in the private sector, there are concerns about what you are going to get [with their advice]," said Scott Amey, general counsel for the Project on Government Oversight, a nonprofit that tracks government contracts and the revolving door.
"Are they representing the taxpayer and are they promoting government interests and what's in the best interest of taxpayers?" asked Amey. "Or now that they wear a hat that's outside of public service, at that point are they just going to be promoting interests that favor special interests or their clients?"
If Bush runs and wins in November 2016, his foreign policy advisers would not only have a foot in the door on the scope of government contracts and the direction of federal policy; they might also hope for a friendly ear on antitrust enforcement and a helpful hand in smoothing deals with foreign governments. Their current clients would surely be pleased.
The Chertoff Group operates a mergers and acquisitions arm that has helped numerous large contractors purchase smaller companies and advised rival companies on merging -- and thereby decreasing the competition for government funds.
RiceHadleyGates -- the firm run by Hadley, former Secretary of State Condoleezza Rice and former Defense Secretary Robert Gates (the latter two are not listed as Bush advisers) -- boasts Silicon Valley venture capital firm Khosla Ventures as a client. The firm's work for Khosla includes helping the companies in which it invests operate in foreign markets like China and Vietnam.
The Hadley firm also advises ExxonMobil on issues related to Iraq, where Exxon holds contracts, and the rest of the Middle East. The company was awarded oil exploration contracts by the Kurdistan Regional Government in Iraq that were initially opposed by the Iraqi government. That exploration has also faced local opposition.
Clients of the Bush advisers were likely pleased by the ideas the pre-candidate laid out in his "big" foreign policy speech last month. He said he would support a rise in defense spending, increased bombing of the Islamic State and the continuation of National Security Agency spying programs.
Multiple companies whose boards include Bush campaign advisers stand to benefit from greater defense spending and more overseas bombing, particularly in the Middle East.
Raytheon, where Hadley holds a board position, manufactures missiles and other weapons systems. It saw its stock boom as the U.S. began attacking Islamic State positions.
BAE Systems, on whose board Chertoff and Natter sit, sells its wares to Saudi Arabia, which is likely to spend more on weaponry in the face of continued unrest in the Middle East. BAE Systems CEO Ian King recently stated that the Islamic State battle as well as tensions in Ukraine will likely aid the company's bottom line.
Swiftships, where Ridge sits on the board, benefits from sales to the Iraqi government and the military dictatorship in Egypt.
Besides the consultants and the board members, Bush is also being advised by a raft of Washington lobbyists who work for those with foreign business interests.
Consider BAE Systems, a British company with an American subsidiary. In 2010, it pleaded guilty in both the United States and the United Kingdom to misrepresenting how vigorously it complied with anti-bribery and export control laws. (If that sounds mealy-mouthed, note that the company was hit with a $400 million fine.)
Under the federal Foreign Corrupt Practices Act, offering bribes to foreign government officials -- whether directly or indirectly -- is illegal. The U.S. Chamber of Commerce, the nation's biggest business lobby, wants to loosen those rules, and it has hired former Attorney General Michael Mukasey to lobby the Justice Department to help.
Mukasey is also featured on Bush's foreign policy team. Other registered lobbyists in that group include former State Department official Otto Reich and former Rep. Lincoln Diaz-Balart (R-Fla.). Roger Noriega, another former State official and current Bush adviser, was a registered lobbyist as recently as 2012.
Reich and Diaz-Balart are both hired lobbyists for interests in Central America, their area of foreign policy expertise. Reich was hired by the new right-leaning government in Guatemala, while Diaz-Balart works for a trade association of textile manufacturers in that country. Diaz-Balart is similarly registered to lobby for a textile trade group in El Salvador. Reich is registered for the Canadian multinational Pacific Rim Mining Company, which is suing El Salvador for shutting down its operations there over environmental concerns.
Nonprofits connected to the governments of Morocco and Taiwan also employ Diaz-Balart as a lobbyist. The Moroccan American Center for Policy, which is an arm of the North African country's lobbying enterprise in Washington, has hired Diaz-Balart and others to advance the idea that Morocco's ongoing occupation of neighboring Western Sahara is a part of the global war on terror. The Taipei Economic and Cultural Representative Office advocates for increased military support for Taiwan in its diplomatic scuffles with mainland China.
Mukasey and Diaz-Balart did not respond to requests for comment.
Overlap between a presidential wannabe's advisers and the worldwide influence-peddling web is, unfortunately, nothing new. But recently, some candidates have made an effort to cut those ties. In 2008, Sens. Barack Obama and John McCain did not allow federally registered lobbyists to advise their campaigns. After McCain issued an internal policy requiring his advisers to break away from their lobbying clients, both foreign and domestic, at least five advisers quit the campaign.
Jeb Bush's campaign did not respond to a request for comment on the makeup of his foreign policy team or whether it had adopted any policies to deal with the commercial conflicts of lobbyists and consultants.
Christina Wilkie contributed reporting.
Support HuffPost
The Stakes Have Never Been Higher
Before You Go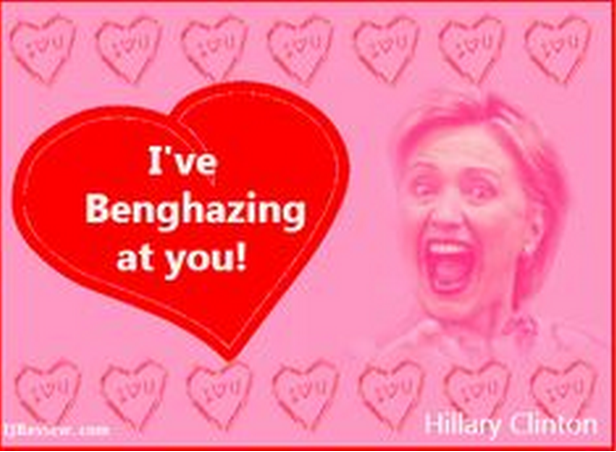 Rand Paul Trolls 2016 Candidates
Popular in the Community