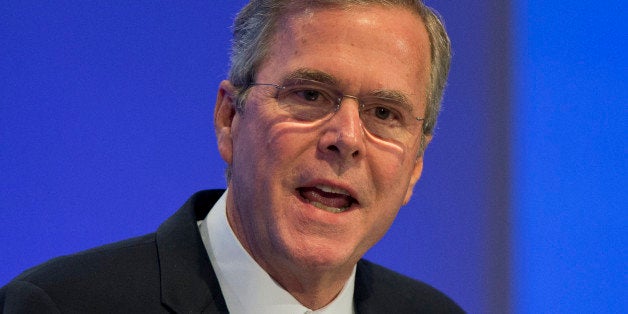 Would-be presidential aspirant Jeb Bush and his campaign team have a #squadgoal: They would like to sock away a cool $100 million in campaign money through Bush's "Right To Rise" super PAC by the end of June, when this fundraising quarter ends. But when you ask Bush's squad about whether they are going to pull this off, accounts differ. The New York Times' sources within the squad say that Bush is going to hit the target. The Washington Post's squad sources are saying, "Nah, not gonna happen, [punctuation that looks like a guy shrugging]." All of which means: Someone is wrong on the Internet! But who?
Believe it or not, this isn't a trivial issue for the Bush campaign. It's widely assumed that the former Florida governor's strategy, during the early part of the "invisible primary," was to come crashing into the race -- and into the public eye, which he'd been out of for a while -- on a wave of tall dollars and elite support, in the hopes of scaring away potential rivals. You know: shock and awe. But things haven't quite worked out that way. With the affections of so many pet billionaires in play, lots of people in the GOP field are stacking coin, and there isn't much sign that anyone's particularly scared of Jeb.
In short, things just aren't going that well for Bush, who's notched his first big campaign "shake-up" before he's even officially gotten into the race. So missing that $100 million target -- the promised result of two fundraising quarters' worth of hustle -- would just add weight to a campaign that's already starting to look leaden.
Therefore, it's weird to see two different sets of expectations featured in two different major newspapers within 48 hours of each other. Someone's sources -- either the Times' or the Post's -- are going to be wrong come July, when fundraising numbers are reported. Let's try to figure out who it's going to be, using Eat The Press' proprietary analytical tools (i.e. "guessing").
Publication date: June 8, 2015
Claim: "His aides, trying to deflect attention from the reshuffling, said Monday that Mr. Bush would raise $100 million in the first six months of the year, a figure that they once waved off as unrealistic and that almost certainly will be higher than any other Republican contender."
Who did they talk to? Bush's "longtime advisors," "people who have spoken with [Republican strategist Brad Kochel]," Bush campaign communications director Tim Miller, Bush's "aides," Bush's "loyalists," "several Republicans with direct knowledge of his team," "two people involved in the staff discussions," "three people with direct knowledge of the campaign," campaign strategist Sally Bradshaw and various officials.
Does The New York Times appear to naively believe that campaigns and super PACs will not "coordinate" with one another? Yes, and they are incorrect.
Why might this article be wrong about the fundraising claim? No real apparent reason.
Why might it be right? Haberman and Martin are fairly formidable reporters. Their article is deeply skeptical of the Bush team's whole operation. Though the fundraising claim is advanced, it's implied that nothing is really going right for Bush's campaign at the moment. Sooo... the article is sort of having it both ways.
Publication date: June 9, 2015
Claim: "A super PAC backing former Florida governor Jeb Bush is likely to fall short of collecting $100 million by the end of this month, despite widespread expectations that the group would hit that record-breaking sum... The total that the Right to Rise super PAC will report in mid-July could be substantially lower than the nine figures that senior Republicans have anticipated."
Who did they talk to? "People close to the operation," "two individuals familiar with internal discussions [of the Right To Rise super PAC]," Right To Rise overseer Mike Murphy, "one veteran bundler raising money for Bush" and various "aides."
Does The Washington Post appear to naively believe that campaigns and super PACs will not "coordinate" with one another? They do not make this claim. Nice work!
Why might this article be wrong about the fundraising claim? Gold and Hamburger themselves acknowledge that there's more than one way to skin this cat. "It is possible that Bush will approach the $100 million figure if his campaign includes the entire sprawling political apparatus that he and his allies have built since January," they write. "By the end of the month, that operation will include a super PAC, a leadership PAC, a nonprofit and the soon-to-be announced campaign." Sooo... they're hedging their bets.
Why might it be right? Fewer sources, but they seem much closer to the action. Also, Gold and Hamburger are on the Post's "intersection of money and politics" team; this sort of story is their specialty.
There's a lot to consider here, but the important thing is that one of these papers has advanced a claim that's going to turn out to be wrong, and the consequences for people who cover politics and botch a story are -- ha ha, just kidding, there are none, don't be insane.
And so, with that in mind, Eat The Press will go with "Right To Rise will miss their $100 million target." Also, the Republican presidential nomination will go to... oh, let's say Moe.
REAL LIFE. REAL NEWS. REAL VOICES.
Help us tell more of the stories that matter from voices that too often remain unheard.
BEFORE YOU GO