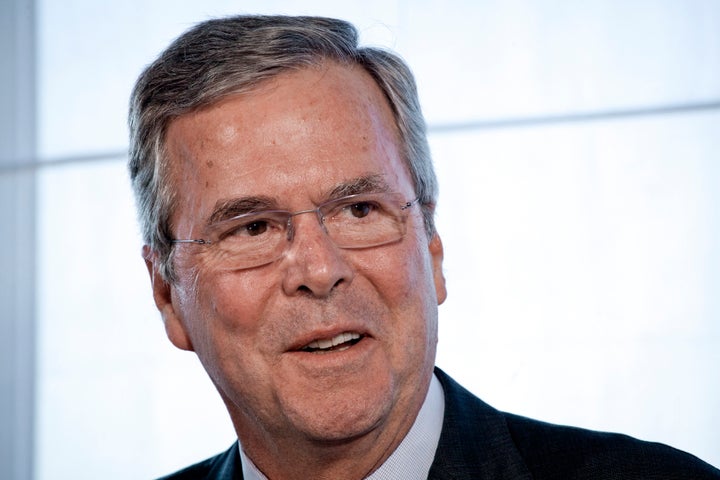 NEW YORK -- BuzzFeed senior political writer McKay Coppins reveals in his new book on the future of the Republican Party that George W. Bush urged Jeb Bush to just say what he would have done in Iraq without concern for his brother's feelings. 
"Stop it with this shit," the former president reportedly said. "Say whatever you have to say."
Coppins writes in The Wilderness that "the private phone call between Dubya and Jeb never made the news, but word traveled through the Bush family's network of friends and allies, and those who knew the brothers best weren't surprised."
Though the private call didn't make the news, several members of the news media, including Coppins, had heard about it more than four months ago. On June 11, Jeb Bush mentioned the call with his brother during an off-the-record session with reporters at a beer garden in Warsaw, Poland, according to sources present.
"I was at that happy hour in Warsaw, but I've honored the off-the-record nature of the event and will continue to do so," Coppins said in a statement. "My book is based on more than 300 interviews, and the quote you're asking about came from that reporting process."
A spokesman for presidential candidate Bush declined to comment. 
In June, the group of journalists -- from major TV networks and outlets such as The New York Times, The Washington Post and Politico -- squeezed around a table for drinks on the second night of a three-day European swing that Bush took before officially announcing his candidacy. Such off-the-record gatherings are occasionally held so that candidates can speak more freely without fear that every utterance will be immediately tweeted. 
Given the off-the-record rules, journalists didn't report the Bush brothers' anecdote -- which has led to some private grumbling that Coppins, who was also at the Warsaw gathering, included the anecdote in his book. Coppins maintains that he didn't break the ground rules, but was able to tell the story based on his broad reporting for the new book. 
The brothers' conversation appeared to have an impact. 
For several days in May, Jeb Bush had struggled with addressing the Iraq War question and his brother's legacy. But after the conversation, he told an Arizona audience that he would not have invaded Iraq knowing what is now known about the absence of weapons of mass destruction.
Calling all HuffPost superfans!
Sign up for membership to become a founding member and help shape HuffPost's next chapter