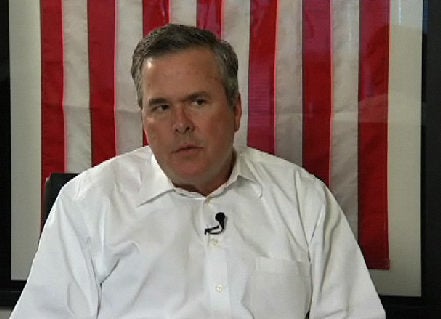 Marc Ambinder is reporting that Jeb Bush is considering a run for the Senate to replace the retiring Mel Martinez:
Two sources close to Jeb Bush, including one who has spoken to the former Florida governor within the past few hours, say he is seriously considering a run for Senate now that incumbent Republican Mel Martinez has retired.

"He is receiving a lot of encouragement from both in and out of the state," an longtime Bush adviser said tonight. "He is going to take his time and approach this very methodically." Bush will weigh, according to this adviser, how a run would impact his family, his business, and whether the Senate would be the best platform for the causes he'd advocate -- education, immigration, GOP solutions to health care and energy.

Bush did not respond to an e-mail seeking comment.

If he decides to run, Republicans expect the field to clear for him. Maybe. Gov. Charlie Crist, with whom Bush has not had the warmest of relations, is said to be interested in moving to the Senate. Florida Attorney General Bill McCollum is weighing a bid, as is former state House Speaker Marco Rubio, Orange County executive Richard Crotty, and U.S. Rep. Connie Mack.
Via ThinkProgress, in an interview with NewsMax, President Bush's brother Jeb says the Republican party should not cave to a Democratic majority. Rather, they should set up a "shadow government" to provide a counter-agenda.
Former Florida Gov. Jeb Bush tells Newsmax that the GOP must broaden its appeal to avoid becoming "the old white-guy party," and recommends that Republicans create a "shadow government" to engage Democrats on important issues as the incoming Obama administration seeks to enact its agenda.

In a wide-ranging interview with Newsmax, the popular former governor and younger brother of President George W. Bush said the 2008 election was neither "transformational" nor a landslide. For example, he noted that Barack Obama's significant fundraising advantage over John McCain played a key role in Democratic success this year.

Bush urged Republicans not to abandon their core conservative principles in favor of a "Democratic-lite" agenda. Still, the GOP does need to do some real soul-searching, he said.

"If you take the [last] two election cycles, there's real cause for concern, no question about it," he said.

There is good news for Republicans, Bush said: The United States remains "basically a center-right country." He cited President-elect Barack Obama's stance on taxes as an example.

...

The party should establish a loyal opposition and "organize ourselves in the form of a shadow government" that would address key issues, providing the public with "a loftier debate about policy" rather than mere partisanship.
Read more of the interview here.
Popular in the Community