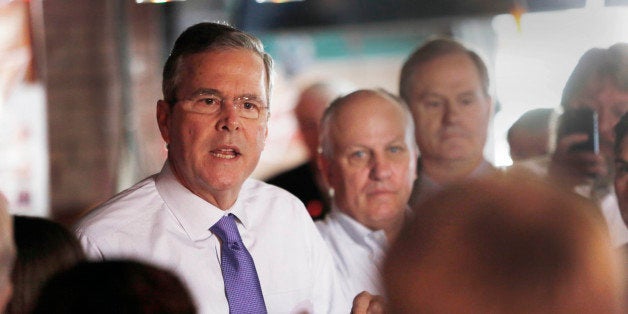 On Wednesday, 2016 presidential candidate Jeb Bush revealed that his mother-in-law, Josefina Gallo Esquivel, is living with Alzheimer's. He asked for people to email him (at Jeb@jeb.org) if they have ideas or suggestions about how to wipe out this deadly disease.
In March I launched the Wipe Out Alzheimer's Challenge, in partnership with the Alzheimer's Association, to raise both funds and awareness about a disease that over 5 million Americans have today[1]. Jeb Bush is among many more millions in the U.S. whose lives have been touched by Alzheimer's. It's not a coincidence that Ms. Esquivel is a woman. Nearly two thirds of those affected by the disease are women[2]. Alzheimer's is bankrupting America, causing a personal, emotional and financial tsunami for millions. This year alone it will cost this country an estimated $226 billion.
So, I'm glad that Jeb Bush is asking for suggestions on how to tackle this disease. I'm emailing the following four points to him, but I thought it was important to share them with everybody. Because I'm asking everyone to send him their own emails with suggestions on how those in government can help our communities and families deal with a disease in which someone is diagnosed every 67 seconds in our country[3].
1. Make Alzheimer's disease and the need for increased federal research to find a cure a centerpiece of your Presidential campaign. Use the next year of campaigning to educate the public about the disease and what it will take to ensure the objectives of the National Alzheimer's Project Act (NAPA) are met.
2. Talk about the role of caregivers in our society and their importance. Make sure that those who find themselves in a caregiving field as a career make a living wage. Many people have to leave their jobs in order to become a full-time caregiver – it's estimated that more than 15 million men and women provided caregiving services without pay in America in 2014 to people suffering from Alzheimer's[4]. They need support.
3. Jeb, become a champion for FDA reform of the drug trial approval process, ensuring that our government reduces the time it will take for safe and effective Alzheimer's drugs to pass through clinical trials and into the hands of American families.
4. Much like President Kennedy launched an expedition to the moon, why not launch a national expedition into the brain? Tap the best and the brightest to join you. It's not just Alzheimer's that is affecting people's minds, bodies, families and communities. Parkinson's, depression, Autism, PTSD, ALS and so many other diseases are ravaging our brains as well. Let's all come together to try and find cures. Let's make it a centerpiece of the future. Let's get innovative and be entrepreneurial with how we address this disease.
This is a national epidemic and it's up to us to stop it. Join me and write to Jeb. And then ask all the other presidential candidates -- Republican, Democratic and Independent -- to make it a focal point of their own campaigns. This is not a partisan issue, it's a global issue and it's time it became a presidential issue.
And finally, join me at Wipe Out Alzheimer's and take my challengeto raise awareness and money for this disease. We've launched the first fund of it's kind, dedicated solely to fueling research projects for women's brains and Alzheimer's and we want to work with anyone, Democratic, Republican, Independent, male or female, who's interested in joining this fight. The only way we can really Wipe Out Alzheimer's is if we all put brains together and think outside the box.