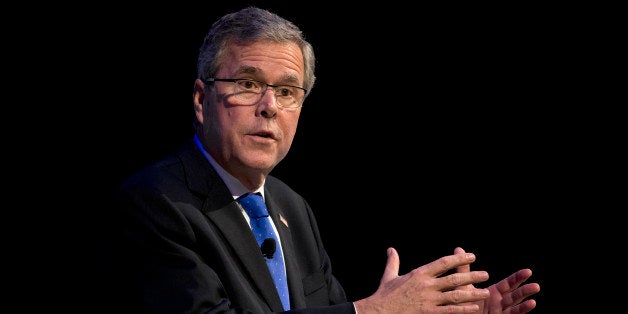 This week, the 2016 campaign takes us back to Iraq as the media grapples with the emerging foreign policy philosophy and advisory team of Jeb Bush. The potential presidential candidate is laden with the burden of memory -- specifically, the memory of his brother's misadventures in Iraq. The early indication is that Jeb reckons he may as well turn into the skid. As the Washington Post's Philip Bump explains, "If Bush's goal is to present himself as his 'own man,' that list of advisers undermines the point somewhat: 19 of the 21 people on it worked in the administrations of his father or brother."
As Bump notes, "the foreign policy team of any Republican president would probably draw heavily from the experience of the past three Republican administrations." This is, sadly, the drawback of a political culture that's insular in just about every way -- it's hard to simply excommunicate the incompetents. For the same reason, most Democratic administrations will inevitably be advised by the dim goobers that brought you the Commodity Futures Modernization Act.
One way of looking at this is to ponder the gleam of the polished turd and find virtue in the shine. That's what one of President George W. Bush's former Iraq advisers insists we do in another Washington Post piece from Ed O'Keefe and Philip Rucker, telling those reporters that Jeb is taking a "big-tent approach" to his foreign policy team. But unlike the approach taken by former GOP nominee Mitt Romney, who Bump reports at least "branched out" from the Bush era because "the Bush-era advisers on foreign policy were too damaged" at the time, what "big tent" means in this instance is big enough to find room for the cock-ups of yesteryear.
As Feaver explains: "He's not giving in to the idea that anyone associated with the Iraq war is out of consideration. That's not practical. Keeping them out would reinforce a cartoon critique of the former president's Iraq policy."
The one exception, according to O'Keefe/Rucker, is former Secretary of State Condoleezza Rice, who we learn has had "more complicated" interactions with Jeb because "there's a sensitivity that it would be a carbon copy of his brother's administration," according to an anonymous "foreign policy expert" who is now in the running for the 2015 "You Don't Say!" Award.
Meanwhile, also in contention for the same award is this throwaway line from O'Keefe and Rucker: "Democrats have long blamed George W. Bush with a failed execution of the Iraq War."
That's a pretty curious way of putting it, considering the fact that the matter is not up for debate. But it's a construction that the media seems to want to use, nowadays. Here's a CNN report doing much the same (emphasis mine):
Democrats are vowing to tether him to the controversial decisions of his brother, President George W. Bush, who they blame for starting a war in Iraq on false pretenses and for presiding over a disastrous occupation that cost trillions of dollars, thousands of U.S. and Iraqi lives and destabilized the region.
Well, in the first place, it shouldn't be too hard to "tether" Jeb Bush to those controversial decisions, considering Jeb Bush literally signed his name to them. But more to the point, you sort of see why Democrats might have to make this Herculean effort (complete with vows!) to do so. It becomes necessary if the media is going to use that amnesiac construction in which Democrats "blame" Jeb's brother for starting the war in Iraq ... as if this weren't simply a fact beyond dispute. It's sort of like the way I blame the driver of a blue four-door sedan for side-swiping my car in a hit-and-run on Gallows Road back in 1998, because that driver was the guy who did it. It's not a great mystery. The problem I face is that they never caught the guy, so I run the risk of one day incorporating him into some future administration of mine.
Would that I had the luxury afforded Jeb Bush, who seems puzzlingly averse to taking it. There are undoubtedly some foreign policy minds Bush could tap who are not only untainted by the Iraq War, but who are also willing to acknowledge those failings and be informed by that critique. But this is not how our political meritocracy works: The existence of Iraq war critics -- conservative, liberal, or otherwise -- is a "cartoon," and they should be shunned as "not serious."
At any rate, I think the answer to the question, "Can Jeb Bush escape his brother's legacy in Iraq?" is, "Sure, he easily can if he wanted to, simply by not consorting with the people who brought about that legacy. But Jeb clearly doesn't want to, so he won't." This stuff isn't hard.
REAL LIFE. REAL NEWS. REAL VOICES.
Help us tell more of the stories that matter from voices that too often remain unheard.
BEFORE YOU GO