A college student told likely GOP presidential candidate Jeb Bush on Wednesday that his brother, former President George W. Bush, was to blame for the rise of the Islamic State.
The heated confrontation took place at a town hall meeting in Reno, Nevada, according to The New York Times. Ivy Ziedrich, 19, a student at the University of Nevada, approached the former Florida governor to question him about comments he had made during the event. Bush had argued that the Obama administration's weak foreign policy was responsible for the rise of the terrorist group, also known as ISIS, in the Middle East.
Ziedrich countered that Obama wasn't to blame -- and that it was his predecessor's decision to disband the Iraqi army that made the group's formation possible.
"Your brother created ISIS," she told Bush.
What followed was a contentious exchange, according to the Times. Ziedrich accused Bush of "spouting nationalist rhetoric to get us involved in more wars," pointing out that under his brother, the U.S. had spent years in the Middle East, waging "pointless wars where we send young American men to die for the idea of American exceptionalism."
Bush responded by defending the war in Iraq. "When we left Iraq, security had been arranged, al Qaeda had been taken out," he said. "There was a fragile system that could have been brought up to eliminate the sectarian violence."
Ziedrich's case is stronger than it may seem. To be sure, had the U.S. not invaded Iraq, the region's history would have unfolded differently. But more to her point, specific decisions made by the Bush administration also led to the rise of ISIS. Most notably, the administration engaged in a widespread and controversial policy known as debaathification, which made most people, even low-level bureaucrats, who had been associated with the former regime, ineligible for government employment in the new era. The German magazine Der Spiegel in April published a trove of documents that once belonged to the mastermind of ISIS, Haji Bakr, who created the infrastructure of the Islamic State.
Der Spiegel describes the route Bakr took to found ISIS:

In 2010, Bakr and a small group of former Iraqi intelligence officers made Abu Bakr al-Baghdadi, the emir and later "caliph," the official leader of the Islamic State. They reasoned that Baghdadi, an educated cleric, would give the group a religious face.

Bakr was "a nationalist, not an Islamist," says Iraqi journalist Hisham al-Hashimi, as he recalls the former career officer, who was stationed with Hashimi's cousin at the Habbaniya Air Base. "Colonel Samir," as Hashimi calls him, "was highly intelligent, firm and an excellent logistician." But when Paul Bremer, then head of the US occupational authority in Baghdad, "dissolved the army by decree in May 2003, he was bitter and unemployed."

Thousands of well-trained Sunni officers were robbed of their livelihood with the stroke of a pen. In doing so, America created its most bitter and intelligent enemies. Bakr went underground and met Abu Musab al-Zarqawi in Anbar Province in western Iraq. Zarqawi, a Jordanian by birth, had previously run a training camp for international terrorist pilgrims in Afghanistan. Starting in 2003, he gained global notoriety as the mastermind of attacks against the United Nations, US troops and Shiite Muslims. He was even too radical for former Al-Qaida leader Osama bin Laden. Zarqawi died in a US air strike in 2006.

Bush has had difficulty distancing himself from his brother's controversial foreign policy legacy, chiefly the Iraq war. On Monday, he fumbled a question about whether he would have authorized the war if he had today's intelligence, responding that he would have. He later claimed to have misheard the question, and then backtracked and refused to give a definitive answer, saying instead that "mistakes were made." At the town hall on Wednesday, he shrugged off further questions about the war by claiming they were "hypotheticals" and "a disservice for a lot of people that sacrificed a lot."
Bush has advocated a hawkish approach to dealing with the Islamic State, and has repeatedly criticized Obama for not combating the extremist group more aggressively.
"Restrain them, tighten the noose and then take them out," Bush said in February.
Have a tip or story idea to share with us? Email us at scoops@huffingtonpost.com. We'll keep your identity private unless you tell us otherwise.
Help support Huffington Post journalism by signing up to get an email when Ryan Grim publishes a new story.
Before You Go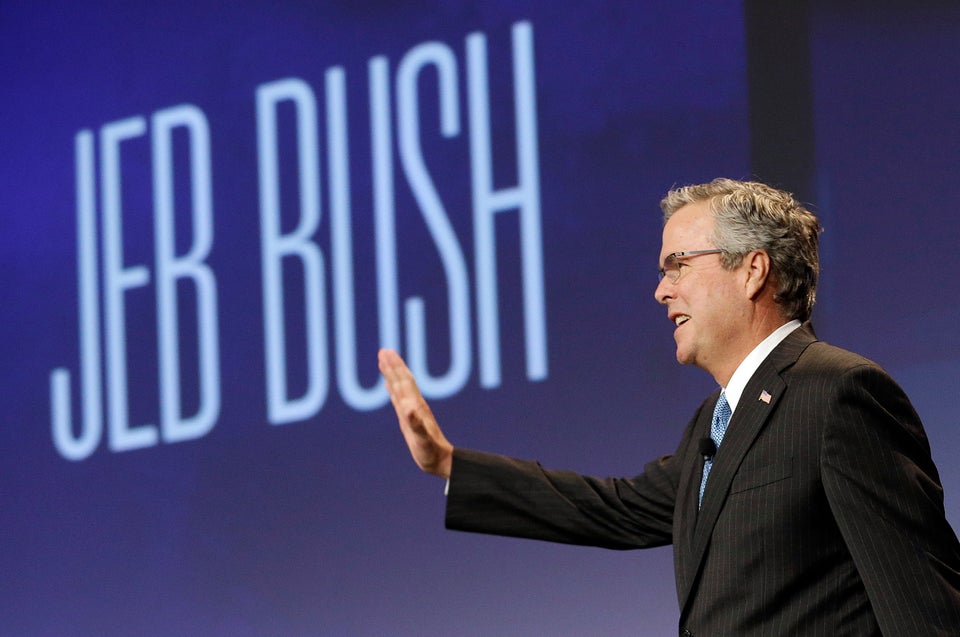 Jeb Bush
Popular in the Community