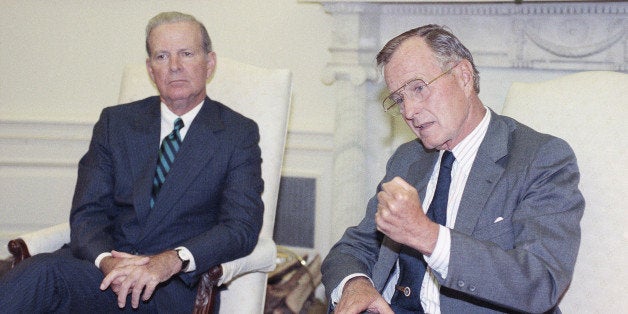 WASHINGTON -- James Baker denies that he ever said "F*** the Jews, they didn't vote for us" while discussing the low share of the Jewish vote that former President George H.W. Bush received in 1988.
But what isn't up for debate is that Baker, Bush's former secretary of state, will be the most senior Republican ex-official ever to speak at a J Street Conference when he delivers the keynote at the advocacy group's gala dinner later this month. The group, which presses for American leadership to bring about a two-state solution to the Israeli-Palestinian conflict, is reviled by many conservatives and other Israel-focused groups.
Given J Street's relatively moderate views on Israel, Baker's speech will be significant for another reason: He is advising former Florida Gov. Jeb Bush (R) on foreign policy in the lead-up to Bush's likely 2016 presidential bid. Baker told Haaretz last year that Bush "would, in my view, make an excellent president."
"Of course I'm still very, very close to the family, particularly to his father and to his brother," Baker added.
If Jeb Bush runs for president, he will need to appeal not just to the moderate factions of the Republican Party, but also to to segments that are more hawkish on foreign policy. This means Bush will have to decide how much Baker's views -- and, by extension, his father's -- will shape his own international outlook. Even as the former Florida governor insists that he has different foreign policy views from both his father and his brother, former President George W. Bush, some conservatives are already pointing to Jeb's family history and questioning how influential Baker will be in his circle.
For many of Jeb Bush's Republican rivals for the GOP nomination, Baker's tough approach to Israel during his time in the George H.W. Bush administration would likely be a dealbreaker. In 1991, for instance, Baker and Bush refused to allow an automatic grant of $10 billion in housing loan guarantees for the Israelis, who were grappling with an influx of Jews leaving the collapsing Soviet Union, to go through unless then-Prime Minister Yitzhak Shamir promised that the funds wouldn't go towards expanding settlements in the West Bank.
At another point, while testifying before Congress, Baker expressed doubts that Shamir was willing to invest a "good faith, affirmative effort" in the peace process, famously reciting the White House switchboard number and telling Israelis the ball was in their court.
"Everybody over there should know that the telephone number is 1-202-456-1414; when you're serious about peace, call us," Baker quipped.
The perception that Baker and Bush weren't afraid to pressure Israel to accept American terms for peace negotiations had ripple effects both abroad and at home. Israel's governing coalition collapsed in 1990 while fighting over whether to accept Baker's proposal. And in 1992, Bush got just 15 percent of the Jewish vote -- the worst showing by a Republican presidential candidate since Barry Goldwater in 1964.
By contrast, President Barack Obama and Secretary of State John Kerry have done relatively little in recent years to criticize settlements beyond calling them "illegitimate." Though the Obama administration did successfully pressure the Israelis early on to halt construction, that agreement has expired. Since then, military or economic aid has not been tied to any settlement freeze.
In light of Baker's history, Alan Elsner, J Street's vice president for communications, suggested the former secretary of state wouldn't soften his support for a two-state solution when he addresses the group this month.
"I think he will reiterate that a two-state solution remains the only solution to the conflict," Elsner told The Huffington Post. "Beyond that, I wouldn't want to speak for him, but he's clearly on the record as favoring strong U.S. leadership to get to a peace deal and he has some personal experience to bear."
Elsner, who covered Baker at the State Department as a reporter for Reuters from 1989 to 1993, called his tenure as secretary "consequential," citing the breakthrough Baker achieved with the Madrid Peace Conference in 1991. THe conference brought Israel and its neighbors, including a Jordanian-Palestinian delegation, face to face for the first time.
"He obviously represents a different worldview, a more pragmatic way of doing foreign policy rather than this kind of ideology-driven foreign policy that so many Republicans espouse today," Elsner said. "His record stands as a real model of how to get things done."
Baker stands apart from most of the 20 other foreign policy advisers Jeb Bush has brought onto his nascent campaign, like Paul Wolfowitz, who was George W. Bush's deputy defense secretary and an architect of his Iraq policy. The wide net Jeb Bush cast in assembling the list of advisers suggests he is trying to balance among the competing ideologies within his party.
To receive financial support from Republican mega-donors like Jewish casino magnate Sheldon Adelson, Jeb Bush may have to tilt towards his brother's foreign policy philosophy. George W. Bush maintained a steadfast devotion to Israel during his presidency after visiting in 1998 while serving as the governor of Texas. Although Bush did put some pressure on Israel to eliminate settlements, his administration kept up largely positive relations with Israel. The Washington Post noted in 2006 that "Both sides say relations have never been closer."
Peter Feaver, a professor of political science at Duke University who served on the National Security Council under George W. Bush, said that Jeb Bush was clearly in the "mainstream camp" of Republicans who advocate for a muscular foreign policy.
"Within the mainstream there are many sub-groups that might differ on one issue or another, including the issue of the best way to further prospects for Israel-Palestinian peace," Feaver told HuffPost. "Bush, by announcing a fairly broad swath of mainstream advisors, has made it clear that he does not want to get pigeon-holed further. So far as I know, he has not spoken in sufficient granularity to know in which direction he is leading."
While the diverse makeup of Jeb Bush's team has prompted uncertainty about which way he will lean on foreign policy, his early moves suggest he may be tacking to the right in order to appeal to donors like Adelson. In a speech on foreign policy last month in Chicago, for instance, the former Florida governor lavished praise on Israel, saying he looked forward Netanyahu's controversial March 3 address to Congress. He expressed surprise that the White House was opposed to Netanyahu's visit, saying that the United States had "lost the trust and the confidence of our friends." (J Street had demanded that Netanyahu's speech be postponed, saying that it was inappropriate for House Speaker John Boehner (R-Ohio) to invite Netanyahu to speak without first consulting the White House. Baker also criticized the move as a breach of protocol.)
"I am disappointed that the administration is going out of its way to undermine the visit," he said.
Bush added that as strong allies, the United States and Israel should be completely coordinated in their policies, which contrasts markedly with the prevailing view of Baker and George H.W. Bush in the early 1990s.
"Obama is simply mistaken in creating differences and attacking the Israeli leaders," Jeb said. "This is inappropriate behavior."
Calling all HuffPost superfans!
Sign up for membership to become a founding member and help shape HuffPost's next chapter
BEFORE YOU GO
PHOTO GALLERY
Secretaries Of State