After months of speculation over what, precisely, it was doing with the tens of millions of dollars in its coffers, Jeb Bush's super PAC, Right To Rise, announced Tuesday that it plans to run attack ads against Sen. Marco Rubio (R-Fla.) in Iowa.
It was a somewhat confounding announcement, and not just because Rubio is Bush's protégé and Iowa is a state that Bush, a former governor of Florida, has virtually no chance of winning. The subject of the ad -- Rubio's poor attendance record at national security hearings -- is one that Bush already tried to capitalize on, only to swing and whiff during a now-infamous October debate performance.
Right To Rise says it is putting $1.4 million behind the spot over the next two weeks -- no small amount, even considering the elevated rates that super PACs must pay to reserve ad time. Which, in turn, raises the question of just what the honchos at that operation are thinking.
The answer is threefold.
First and foremost, the agreement in Bush world is that the Iowa contest has become a race for third place, behind Sen. Ted Cruz (R-Texas) and Donald Trump. The candidate who wins the bronze in Iowa will be able to claim to lead the "establishment lane" of the GOP field. Bush's main competitors for this semi-dubious distinction are Rubio and New Jersey Gov. Chris Christie.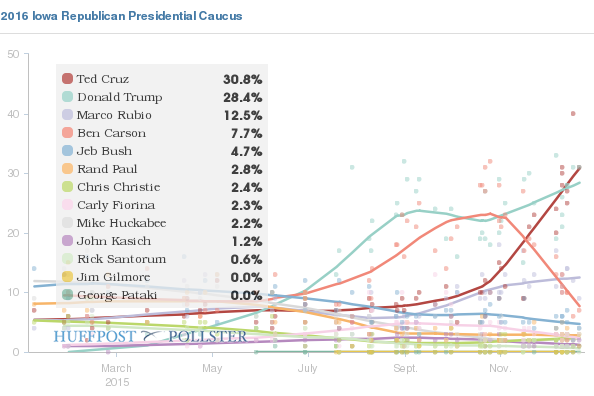 Second, Bush's super PAC -- in spite of the October debate whiff -- does believe that Rubio's attendance record in the Senate is an issue that voters care about. The "real world doesn't like it," as one Bush associate put it.
Rubio's campaign mocks this, pointing out that Rubio currently has a better attendance record than Barack Obama did when he ran for president in 2008, and that Rubio actually attended a classified briefing on the Paris attacks even if he skipped a separate closed-door briefing. The campaign also dismembered the attack on Rubio for fundraising during the San Bernardino attacks by noting that Bush himself did exactly the same.
"No other candidate for president has received more classified Intelligence briefings or better understands the threats facing our nation today than Marco," said Rubio aide Alex Conant. "It's sad to see Jeb's 'joyful' campaign reduced to such intellectual dishonesty."
Still, Bush enjoys a luxury that Rubio and Christie don't: He doesn't hold any elected office at the moment, and therefore he can't be accused of neglecting his job. Or, to put it another way, he won't be dogged by infographics like the one C-SPAN tweeted on Monday, which listed Rubio as the senator with the worst attendance record this year, making just 64.6 percent of the chamber's votes.
Which leads to the third reason that Bush's super PAC is doing this ad: The "attendance record" line of attack is a nuisance for whomever it targets. And no one knows that better than Rubio's own team.
In 2014, Conant and Todd Harris, a top Rubio strategist, were once again in Iowa, this time working for state Sen. Joni Ernst's campaign for U.S. Senate. Ernst ended up winning, thanks in large part to a series of ads hammering the Democrat in that race -- U.S. Rep. Bruce Braley -- for, you guessed it, missing committee hearings to attend fundraisers.
Popular in the Community