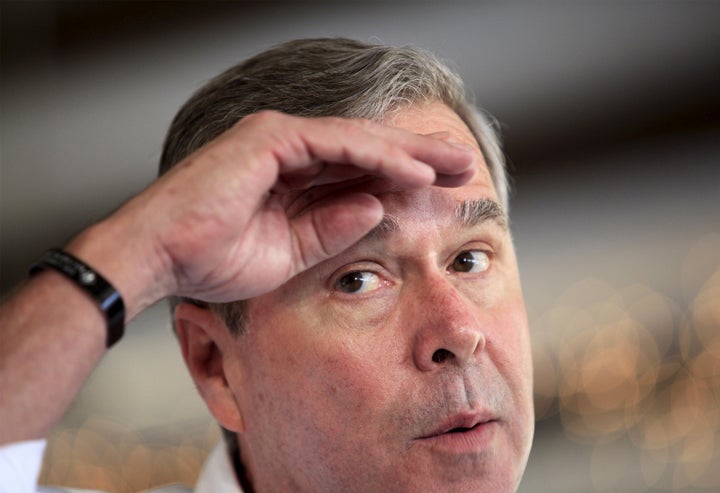 Former Florida Gov. Jeb Bush (R) repudiated multiculturalism on Tuesday at an Iowa campaign event, saying that immigrants limit their own economic potential when they fail to assimilate to their new country.
"We should not have a multicultural society," said Bush, who is seeking the Republican nomination for president, in response to a question about how to integrate refugees and immigrants. "When you create pockets of isolation -- and in some places the process of assimilation has been retarded because they've slowed down -- it's wrong ... It limits people's aspirations."
"You have to have people assimilate into society. But that doesn't mean we have a monolithic, homogeneous population," he went on. "To the contrary, the power of America is a set of shared values with a very diverse population embracing it."
But it seems unlikely that Bush himself shares such a commitment to cultural uniformity -- especially given his own multicultural lifestyle, which he's described as an asset in the past. "The fact that I'm bilingual, bicultural, can't hurt," he told reporters in February, describing his potential to reach Hispanic voters.
Perhaps Bush has embraced Latin culture so thoroughly that now he can't even relate to Americans who haven't. Whatever the case, here's a quick reminder that few Republican presidential contenders embody multiculturalism better than Bush himself.
His wife is Mexican.
Bush met his wife, Columba Garnica de Gallo, while studying abroad in Mexico. "My life really began in earnest when I was 17 years old in León, Mexico," Bush has said of the 1971 encounter, according to Politico. Having established a family that stretches across borders, it's no surprise that Bush embraces multiculturalism at home.
He studied Latin America in school.
He speaks Spanish.
In fact, he speaks it very well. That's no surprise, since he gets to practice every day in his multicultural household.
As well he should -- Mexican culture existed within the present-day borders of the United States for decades before the English established their first North American settlement in 1607. It's just one of the numberless aspects of American multiculturalism.
In 2009, he identified himself as Hispanic on his voter registration.
Bush later described the ethnic identification as a "mistake." But is it possible that, in fact, Bush's multiculturalism clouded his judgment of his own ethnicity, reflecting the confusion over racial identification so common to U.S. Latinos, who are forced to use American racial categories that poorly reflect the diversity of our multiracial ethnicity? We just don't know.
He lives in one of the most conspicuously multicultural cities in the U.S.
And being multicultural hasn't hurt Miami -- it's helped. A flurry of South American and Mexican migrants have joined the city's long-established Cuban-American community in recent years, driving an economic resurgence described in a New York Times article last year.
"Their growing numbers and influence, both as immigrants and as visitors, have transformed Miami's once recession-dampened downtown, enriched its culture and magnified its allure for businesses around the world as a crossroads of the Spanish-speaking world," the Times wrote.
Popular in the Community