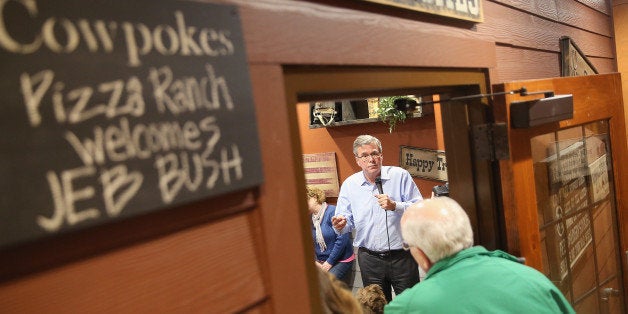 KEENE, N.H. -– It's one of the most vexing and recurring problems that any modern presidential operation has to contend with.
First, a reporter raises uncomfortable questions about campaign strategy, citing anonymous sources. Next, attempts to shoot down the story's premise with an on-the-record comment fall short.
And then, once the story is published, the pack of howling, wild dogs that any cynical political operative will tell you inhabits today's media ecosystem breaks free from the tenuous chains that restrain it, barking out the alarm.
And before you know it, voilà! A new conventional wisdom has taken hold.
For Jeb Bush's campaign-in-waiting, it happened last week, when Buzzfeed cited "three sources with knowledge of Bush's campaign strategy" to report that the former Florida governor did not plan to compete seriously in the Iowa caucuses and "may ultimately skip the state altogether."
Despite emphatic, on-the-record denials from the Bush camp, the resulting snowball was as predictable as it was unstoppable.
Within hours, CNN flashed a chyron with a telltale question mark that did just enough to inoculate it from any charge that it was jumping to conclusions: "JEB TO SKIP IOWA?" Meanwhile, The Washington Post published an analysis of why Bush's apparent decision was prudent.
Mike Murphy, Bush's longtime strategist, told The Huffington Post that he and fellow senior Bush operatives "had a huge horse laugh" over the episode. But Murphy made clear that the report was not the kind of thing that Bush's organization could afford to dismiss with a mere chortle.
"Total bullshit," Murphy said of the Buzzfeed story. "All it takes is someone who probably has a very sketchy connection to us to whisper an unattributed source thing, and all of the sudden, we're not going to Iowa? If he decides to campaign, he'll be in Iowa."
Over the weekend, the would-be candidate himself did his best to put to bed any doubts about his commitment to Iowa. During a campaign-style swing in (wouldn't you know it) Iowa, Bush said he intended to "campaign hard" in the state and would attempt to win next year's caucuses, in spite of his decision to skip the quadrennial Straw Poll beauty contest in August.
I'm here right now!" Bush rather convincingly told reporters. "Why would I be here if I wasn't going to compete in Iowa?"
The efforts the Bush camp have taken to shoot down the Buzzfeed story show a pressing reality for the top-tier Republican contender that has sometimes been lost amid the broader narrative surrounding his impending candidacy.
Despite the head start that Bush will enjoy over the rest of the GOP field in fundraising, name recognition and stature within the national GOP establishment, he is more or less on equal footing with everyone else when it comes to what remains a lynchpin to any successful presidential candidacy: strength in the early-voting states.
Bush's focus thus far on fundraising notwithstanding, it is not the townhouses of the Upper East side or the pool decks of South Florida five-star hotels where he risks falling behind before his candidacy has the chance to get off the ground. Instead, it's in far less elegant locales in Iowa, New Hampshire, South Carolina and Nevada.
His financial advantage figures to give him a boost in these early-voting states. But money won't be enough by itself to push him over the top, especially considering that he is no where near the juggernaut in the polls that his brother was in 2000.
It's a reality that Bush's campaign-in-waiting acknowledges readily.
"Should Gov. Bush decide to go forward, our effort will be exceedingly aware of the importance of the February primary and caucus states," said Bush spokesman Tim Miller. "And while we believe his candidacy will have a national appeal, we recognize that you have to put in the time and effort to be successful in those early states, in order to have long-term success."
The problem for Bush is that there is a reason why so many people assume he will end up downplaying Iowa's importance, even if he is not conceding it.
A Quinnipiac poll released this month showed Bush in seventh place, with the support of just 5 percent of likely GOP caucus-goers. His Iowa standing has been better than that in other recent surveys, but there is little doubt that the state will be an uphill climb.
For Bush's path to victory, Iowa is a secondary concern: a state that would be fantastic to have, yet one in which a defeat would be minimally damaging.
New Hampshire is a different story.
To a greater extent than in any other early voting state, it is here where Bush will have his his best opportunity to prove that his strategic gamble to, in his own words, "lose the primary to win the general" will be put to the test.
In stark contrast to the evangelical and conservative-rich Iowa caucuses, New Hampshire's independents and mainline Republicans tend to hold sway in the state's primary. In theory, those are the voters most responsive to Bush's message of expanding the GOP tent -- and they may be more inclined to forgive his conservative apostasies on immigration reform and the Common Core educational standards.
To say that Bush has to win New Hampshire is probably a stretch. But he can't afford a poor showing.
It is difficult -- though not impossible -- to imagine a scenario in which Bush were to fall short of victory in both Iowa and New Hampshire and then turn things around in Nevada or (more likely) South Carolina. No matter what happens in the earliest contests, Bush will have the financial resources to take him at least to the March 15 winner-take-all Florida primary -- giving him a chance to grab 99 delegates in his home state.
But if Bush were under any illusions about his capacity to last that long without first notching a win or two, he need only look at the experience of Rudy Giuliani's 2008 White House run.
In that infamously mismanaged campaign, the once front-running former New York City mayor initially appeared to be in a strong position to win the New Hampshire primary and campaigned here often in the early going.
"Rudy was great when we had him up here and did a really good job of taking a lot of questions," said Wayne Semprini, who chaired Giuliani's campaign in New Hampshire. "We did have trouble trying to schedule doing some good retail stuff, but I'll say this: When Rudy would go into a restaurant or when he did have an opportunity to mix it up, he did a really good job."
But as Sen. John McCain (R-Ariz.) surged back from the political dead in the fall of 2007 and Giuliani began to drift downward in the polls, his national strategists began to look further ahead on the calendar -- to Florida -- as the best opportunity for his first victory.
First, his campaign schedule in New Hampshire became sparse. And then, almost before anyone knew it, Giuliani abandoned the state altogether.
"It was just getting him up here [enough] that was the problem," Semprini said. "I remember he was all over the country doing fundraisers. It was almost like a national primary."
Giuliani had spent more time and resources in Florida than any other candidate. But by the time the Sunshine State's primary rolled around, nearly a month after that year's Iowa caucuses, it didn't matter. The lack of early-state momentum was too much to overcome, and Giuliani finished a distant third, dropping out of the race the next day.
Mark Campbell -- who is reprising for Ted Cruz's current presidential bid the role of national political director that he held during Giuliani's 2008 campaign -- offered an impish comparison of his experience from eight years ago with where he says Bush now stands.
"I think the similarities are that both the mayor and Jeb are suffering from expectations that are so incredibly high," Campbell said. "You could make the argument that Jeb's got the best political name in the last hundred years and is going to have all the money in the world that he'd possibly need, so how could you possibly meet those expectations?"
The early polls do show Bush to be in fine position in the Granite State, as the campaign kicks into gear. He is slated on Wednesday to embark on his third visit to the state since March.
Bush has at his disposal a strong team of New Hampshire political operatives, led by veteran strategist Rich Killion, who have already focused the likely candidate's schedule on traditional house parties, small business roundtables and other kinds of low-key events that Giuliani avoided.
Nonetheless, if history is a guide, Bush may have a deep-seated problem on his hands. Over the last three decades, each winner of a contested New Hampshire primary has fallen into one of three categories:
1. A candidate with deep ties to the state by virtue of having spent significant time here during a previous presidential run (George H.W. Bush in 1988 and 1992, Al Gore in 2000, John McCain in 2008 and Mitt Romney in 2012).
2. A candidate who hails from neighboring Massachusetts and was thus previously a subject of attention in the Boston media market, which covers most of New Hampshire's population (Michael Dukakis in 1988, Paul Tsongas in 1992, and John Kerry in 2004).
3. A candidate who cultivated a reputation as a scrappy underdog, playing on New Hampshire voters' penchant for facilitating a good comeback story and upsetting the national narrative (Gary Hart in 1984, Pat Buchanan in 1996, John McCain in 2000 and Hillary Clinton in 2008).
Jeb Bush won't be able to claim membership in either of the first two categories, and it is difficult to imagine the son and brother of former presidents being able to position himself as a dark horse.
So if Bush is to succeed in New Hampshire, he'll have to carve out a path to victory that has never before been tested -- a stark challenge that belies his image as a national frontrunner.
"I don't believe in predetermined outcomes, like, you know, 'We've never had a left-handed president with only one vowel in his last name,'" Mike Murphy said of Bush's chances in New Hampshire. "But there's no question he's starting from the beginning up there."

Calling all HuffPost superfans!
Sign up for membership to become a founding member and help shape HuffPost's next chapter
BEFORE YOU GO